Study: Depression From Job Loss Is Long Lasting
Job loss and the resulting financial strain can lead to depression and strain on relationships, lost personal control, lowered self-esteem.
While it may not be surprising that job loss and the resulting financial strain can lead to depression, new study findings show that this and other negative consequences of unemployment can last for up to 2 years, even after a person gets another job.
It is not simply the loss of employment that keeps individuals in a prolonged state of depression or otherwise poor health, the report indicates, but rather the "cascade of negative events" that follows that loss.
"It is the crises that follow job loss that are more damaging than the loss itself," says study author Dr. Richard H. Price of the University of Michigan, Ann Arbor.
Price and his colleagues investigated the link between job loss and depression, impaired functioning and poor health in a study of 756 job-seekers who were involuntarily unemployed for roughly 3 months or less and had no hopes of being recalled to their former position. The study participants were 36 years old, on average, and most had completed high school.
Overall, the financial strain that resulted from the participants' unemployment led to what Price called a "cascade of negative life events."
For example, if someone loses their job, they may have difficulty making a car payment, which can cause them to lose their car, thus hindering their ability to search for a job, the author explained. In addition, losing healthcare benefits due to unemployment will affect the person's ability to care for a family member with a life-long illness, all of which can create a "huge strain on relationships," Price said.
Such negative events seem to have caused the study participants to have higher symptoms of depression and a greater perception that they had lost personal control, including lowered self-esteem, study findings indicate.
Further, this depression and perceived loss of personal control remained evident in follow-ups conducted 6 months and 2 years later, when 60% and 71% of the study participants, respectively, had been re-employed and were working at least 20 hours a week, Price and his team report in the current issue of the Journal of Occupational Health Psychology.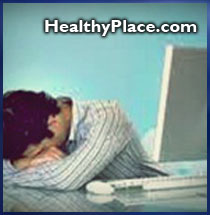 What's more, the study participants' perceived loss of personal control led to reports of poor health and poor emotional functioning in daily tasks, both of which also remained evident in subsequent follow-ups, the researchers note.
"Some effects reflected in disability and depression linger for some people," Price said. Also, the "sense of job security is eroded," which Price says is "another hidden cost of job loss."
Finally, the participants' depression appeared to affect their later chances of reemployment, study findings indicate.
"These people become 'discouraged workers,' not searching for a job, and the personal, family and societal costs are very high," Price said.
"Thus, chains of adversity are clearly complex and may contain spirals of disadvantage that reduce the life chances of vulnerable individuals still further," the researchers write.
Yet, much of these negative effects "can be prevented in many cases by helping people learn the skills of getting back into the labor market," Price said.
And to those who are currently exercising those skills, Price offers the following advice: "Help inoculate yourself against inevitable setbacks and turndown by planning your strategy beforehand for what you will do if this try doesn't work out. Always try to have a 'Plan B."'
The study was funded by the National Institute of Mental Health through a grant to the Michigan Prevention Research Center.
Source: Journal of Occupational Health Psychology 2002;7:302-312.
next: Grief Recovery
~ depression library articles
~ all articles on depression
APA Reference
Staff, H. (2002, October 7). Study: Depression From Job Loss Is Long Lasting, HealthyPlace. Retrieved on 2023, December 8 from https://www.healthyplace.com/depression/articles/study-depression-from-job-loss-is-long-lasting
Last Updated: June 24, 2016