More Research Is Questioning Safety, Effectiveness of Herbs
Too bad there isn't an herb that cures confusion.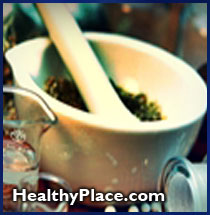 The $4.2 billion herbal-supplement market was rocked in August 2002 by news of a federal investigation into a marketer of the weight-loss product ephedra. But recent evidence suggests that the industry's problems go well beyond that. Indeed, research has found that half of the dozen top-selling herbal supplements are either useless for their marketed purposes or dangerous.
Ginkgo biloba, the second-most popular supplement, did not improve memory in a rigorous study published this month. St. John's wort is no better at treating major depression than a sugar pill, a federal study concluded. An apple a day would do about as well at preventing the common cold as echinacea, according to another recent study. And last week, the antistress supplement kava was banned by Canada amid more signs that it could cause liver damage. The U.S. Food and Drug Administration issued its own warning about kava in March, and Singapore and Germany have banned kava products.
"There's more evidence that calls into question their efficacy than evidence that argues persuasively that these products are effective," says Ron Davis, a member of the American Medical Association's Board of Trustees and its spokesman for dietary-supplement issues.
The dietary industry plays down the recent reports, pointing to previous studies that draw contradictory conclusions and continuing research that it hopes will yield more positive results. "Look, there's always going to be another trial," says John Cardellina, vice president for botanical science at the Council for Responsible Nutrition, a group that represents the industry's interests in Washington. "It's the accumulated weight of evidence that matters."
Much of this information is coming out now because the National Institutes of Health and other federal agencies started to fund the kinds of studies that would put supplements to the test. Once, herbal cures were a small and ignored mom-and-pop business. But after sales took off in the past two decades, the medical establishment took notice.
The NIH has pumped huge amounts of money into nutrition-related research -- a total of $206 million in fiscal 1, the last year for which numbers are available. The Office of Dietary Supplements, which helps coordinate such research, has seen its budget jump to $17 million from less than $1 million in the past five years.
The nation is "just now beginning to reap the reward of an investment that was made a few years ago," says Raymond Woosley, vice president for health sciences at the University of Arizona and a chief critic of the supplement ephedra. "The controlled trials of herbal products are just now beginning to be completed -- and I think we're going to learn what works and what doesn't."
More results are on the way, assessing herbs like ginger, boswellia and green tea. The conclusions could renew calls for Congress and the FDA to further tighten the rules on the industry, which still maintains some powerful friends in Washington. Herbal supplements are part of a broader category of dietary supplements that also includes an array of vitamins and minerals. Unlike prescription drugs, which must be proved effective and safe before they are sold to the public, a dietary supplement generally can only be removed from the market after it's been shown to be harmful.
The herbal market is continuing to grow overall, although certain supplements have fallen out of favor. The industry says its products are safe when used as directed, while the medical establishment says many are worthless, leaving consumers a bit perplexed. While consumers await the results of ongoing research, the AMA and other groups urge people to tell their doctors they are using supplements; the information could help ward off dangerous drug interactions between herbal products and pharmaceuticals.
Conflicting Studies
The ephedra controversy shows how contentious all the conflicting studies can be. Ephedra is under attack because of dozens of heart attacks and strokes in people who have taken ephedra products. The AMA wants it banned. But Metabolife International Inc., the product's leading marketer, cites a study from researchers affiliated with Harvard and Columbia universities that shows "no adverse events and minimal side effects" among patients taking an ephedra-and-caffeine product. Claims to the contrary, including reports of fatalities, are anecdotal "junk science" that is drowning out good science, the company argues.
The university study was far from perfect, says Dr. Woosley. The subjects in that trial were under medical supervision, and those with serious health conditions were screened out, so any unusual effect the supplement had on those already at risk wouldn't have been noticed. Plus the limited size of the study by the time it was over -- 46 people on ephedra and 41 on a placebo -- means it was impossible to find the 1-in-100 or 1-in-1,000 risks that emerge in the large trials drug companies submit to the FDA.
---
European Conclusions Differ
Supplement makers' main research ammunition comes from reputable scientists in Germany and elsewhere in Europe, where supplements have been a mainstay for decades. For many U.S. researchers, those studies are lacking. "It's not the kind of science you would see presented to the FDA," says Ronald Turner, a professor of pediatrics at the University of Virginia medical school and author of a recent study on echinacea. His 2000 study found the herb had "no significant effect on either the occurrence of infection or the severity of illness." The study received funding from Procter Gamble Co., which markets Vicks cold-related products.
The ginkgo study was conducted by Paul Solomon of Williams College and published this month in the AMA's medical journal. Mr. Solomon says he tried to do an "FDA-quality study" to test claims that ginkgo could improve memory in as little as four weeks. The conclusion: "When taken following the manufacturer's instructions, ginkgo provides no measurable benefit in memory or related cognitive function to adults with healthy cognitive function."
The herbal industry's Mr. Cardellina concedes that the ginkgo study was legitimate and doesn't dispute the negative results. But he points to several others with positive results. "The thing that bothers me is that the authors act like it's the only trial that's been done," he says.
Herbal Ailments
Recent research questions the effectiveness or the safety of six of the 12 top-selling herbal supplements in the U.S.
| | | |
| --- | --- | --- |
| Supplement | Common Use | Problem |
| St. John's wort | Depression relief | A 2002 NIH study found that the herb was no more effective for treating major depression than a sugar pill. |
| Ginkgo | Memory improvement | A study this month in the Journal of the American Medical Association found no measurable benefit for memory. |
| Echinacea | Prevention and treatment of colds | A 2000 study determined that the product had "no significant effect" on the incidence or severity of colds. |
| Ephedra | Weight loss | The American Medical Association and consumer groups have called for it to be banned on suspicion of causing heart attacks and strokes. |
| Kava | Stress relief | Canada, Singapore and Germany have removed many kava products from the market after linking the substance to liver damage; FDA has warned users about the problem. |
| Garlic | Cholesterol reduction | The National Institutes of Health concluded in 2001 that garlic could cause harmful side effects in people undergoing HIV therapy. |
Note: Sales ranking based on Nutrition Business Journal
Source: Wall Street Journal - Sept. 11, 2002
next: Prayer May Heal Depression
~ depression library articles
~ all articles on depression
APA Reference
Gluck, S. (2008, December 17). More Research Is Questioning Safety, Effectiveness of Herbs, HealthyPlace. Retrieved on 2023, December 6 from https://www.healthyplace.com/depression/articles/more-research-is-questioning-safety-effectiveness-of-herbs
Last Updated: June 23, 2016