Shocked! ECT Homepage
Welcome to SHOCKED! ECT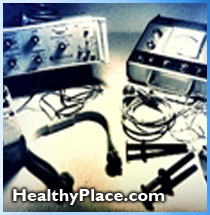 This site is a comprehensive collection of information about ECT, electroconvulsive therapy (aka electroshock, shock therapy).
I started this website in 1995, after having had ECT myself. I had many questions that were not answered by my health care providers, and I have found that too often, patients are not given adequate information. This website is an attempt to bridge that information gap and to help you make a more informed decision.
I am not affiliated with the Church of Scientology, nor am I anti-psychiatry. Individuals with vested interests in the ECT industry continually make these claims, in attempts to divert attention from the real issues. I have repeatedly battled attempts to shut this website down, threats of lawsuits, hacking attempts, and more.
It is my goal to continue to battle all attempts to shut down Shocked! ECT and to work towards reform in the industry, more complete ECT research, as well as battle the use of forced ECT against patients who do not want to have ECT.
I hope that Shocked! ECT will provide you with enough information and support so that you may make a more informed decision about having electroconvulsive therapy. The choice to have electroshock is a personal one that should be yours, and should be based on a variety of sources and points of view about ECT.
Contents:
next: Why I Created The Shocked! ECT Website
~ depression library articles
~ all articles on depression
APA Reference
Staff, H. (2000, December 29). Shocked! ECT Homepage, HealthyPlace. Retrieved on 2023, September 26 from https://www.healthyplace.com/depression/articles/ect-electroconvulsive-therapy-homepage
Last Updated: June 20, 2016