Rape Survivor Wakes Up and Realizes It Isn't Her Fault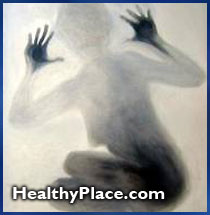 "Although the world is full of suffering, it is also full of the overcoming of it."
-Helen Keller
I'm not sure where to start. I don't know why I'm "breaking the silence." Part of me wants to be recognized as a survivor, and a part of me needs to tell the story just to survive. Ultimately, I want other women to know. I want other women who've lived it to know they are not alone.
My nightmare began when I was five. I had a cousin who made his "rounds" with my cousin, my sister and myself. My most vivid memory is in my grandmother's apartment. Grandma had a room just doors from her bedroom. It was used for guests and odds/ends. Clark (I have no qualms about giving out names) had been fondling me for sometime at this point, but usually he did it on the staircase when you entered the building. I remember he did it while he was talking to other people. He'd stop me as I was going to my apartment on the second floor, put his hand up my skirt and into my panty. His hand would move around, but not really doing much because I tried to keep my legs tightly shut. I remember he did it while he was talking to someone one afternoon.
Anyway, one afternoon he told me to go to my grandmother's guest room. I did. Clark had me lay on the guest bed and parted my legs. I honestly don't remember what he did. I think he spoke to me. Mostly I looked up at the ceiling and at the door. I don't remember what I was thinking until my aunt opened the door and peeked in. I was relieved. I knew it would have to stop now that he was caught. Clark didn't hear my aunt enter the room, and she shut the door behind her - not saying a word. I forgave her immediately thinking that she didn't want to interrupt him, but later she'll maybe tell him he has to stop.
I don't remember anything after that. Just the hope I felt because someone else knew. That afternoon I waited for something to happen, but nothing did. Finally, I went to the kitchen after playing with my cousins, for a drink of water. My grandmother and the aunt who saw the incident were talking about me. As I entered the room, my grandmother asked me if Clark had been "touching" me. I happily answered "yes." I was ready for the roof to cave in because I hated it so. I knew this time that it wasn't my fault. I knew this time HE would be the one in trouble. But instead my aunt asked ME why I LET HIM DO THAT.
I was instructed to tell him the next time he does it to say "no". That was it. No one ever talked to Clark. My parents eventually moved and things were kept quiet until I was 15. Clark went on with his friends to molest and rape other members of the family, including my best friend. I think that that was when I started to feel that men would always overpower me. I believe that incident alone determined the fact that I was going to blame myself whenever I was taken advantage of.
I mean today I understand that a 5 year old could never have defended herself in such a situation, but when I was raped again at the age of 19 I brought the rapist a bouquet of flowers to apologize for fighting him off. It's weird. I'm 28 years old and just now starting to wake up. It's unbelievably painful.
-Ketty
APA Reference
Tracy, N. (2021, December 17). Rape Survivor Wakes Up and Realizes It Isn't Her Fault, HealthyPlace. Retrieved on 2023, December 1 from https://www.healthyplace.com/abuse/rape/rape-survivor-wakes-up-and-realizes-it-isnt-her-fault
Last Updated: January 2, 2022