Painful Legacy of Divorce Breakup's Effect On Children Often Reaches Far into Adulthood
Says book based on 25-year study
You may feel as if you grew up on a desert island, far from the mysterious world of lasting romantic love.
You may believe that even if you do fall in love, you are destined to jinx the relationship, or be abandoned, or be terribly hurt.
You may fear conflict and change and have a tough time separating from your parents, even though you left home years ago.
A new book, based on a lengthy study, argues that emotional complications like these are common among adult children of divorced parents -- and that they may not be fully evident until decades after the breakup.
"The Unexpected Legacy of Divorce,'' by Marin County psychologist Judith Wallerstein, San Francisco State University psychology professor Julia M. Lewis and New York Times science correspondent Sandra Blakeslee, is based on a 25-year examination of the lives of 93 Marin County adults.
Wallerstein, founder of the Center for the Family in Transition in Corte Madera, began examining this group in 1971, when they were children and adolescents. Now they are between the ages of 28 and 43.
Initially, researchers expected that the study findings would be different -- that the most stressful time for the children would come right after the divorce.
Instead, they found that post-divorce difficulties become most severe when the children of divorced parents reach adulthood, as their search for lasting commitment moves to center stage.
"They are terrified because they are convinced they are going to fail,'' said Wallerstein in a telephone interview from Massachusetts, where she was on tour promoting the book. "They don't know how to choose. They make bad choices. They divorce a lot.''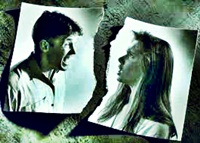 "It breaks their hearts,'' she said. ``They don't take marriage lightly, but they don't know how to do it.'' Many of the study participants said that seriously searching for a life partner felt like going through their parents' divorce all over again.
The findings are not without critics. Some experts question how many of the problems Wallerstein identifies can be truly attributed to divorce and not to other causes such as poor parenting skills.
"There are a lot of other family processes associated with divorce, like the extent to which parents support or undermine each other,'' said Gayla Margolin, a professor of psychology at the University of Southern California, who studies the effects of marital conflict on children.
---
---
Others question the reliability of a study based on such a narrow sample, or say the effect of divorce is not as wrenching as the study concludes.
Mavis Hetherington, a sociology professor emeritus at the University of Virginia who also studies divorce, said her studies have shown that although children of divorced parents do have more problems, the majority of them function well.
"Judy really views divorce as a terminal disease. That's just not true. When kids move into a happier family situation with a competent, caring, firm parent they do better than they do in a nasty family situation,'' Hetherington told the Associated Press.
The book's researchers say they are not opposed to divorce. Indeed, they argue that children raised in highly dysfunctional marriages were no better off -- and sometimes worse off -- than children of divorced parents.
Rather, what the study shows is that parents, society and the courts need to pay closer attention to the consequences of divorce on children, said Lewis, who began working with Wallerstein about 10 years into the study.
For example, none of the child- support arrangements made by the divorcing parents included provisions to pay for the children's college educations, and few of the young people in the study received money for college from their fathers, many of whom were wealthy professionals.
"One of the main findings of the book is that what makes adults happier isn't necessarily what makes kids happier. That, I think, is hard for a lot of adults to swallow,'' Lewis said.
Although some of the divorced parents in the study did go on to lead happier lives, that did not translate into happier lives for the children, Lewis said.
"If you're in a middling marriage where it could go either way, you have to look at the quality of the parenting,'' she said. "If you're both pretty good parents and you're putting the kids first, then you work harder to save that marriage. That's really what we're trying to get across.''
Today, a quarter of Americans ages 18 to 44 are children of divorced parents, and Wallerstein said her latest book is meant primarily for these people, who may be struggling with problems they do not even know are related to divorce.
Wallerstein found that these otherwise well-functioning adults must fight to overcome such feelings as a fear of loss because of childhood anxiety about abandonment or fear of conflict because it leads to emotional explosions.
The study, based on extensive individual interviews, also found that adult children of divorced parents are more likely to become addicted to drugs and alcohol in adolescence, and they seldom match their parents' educational and economic achievements by the time they reach their 20s.
Their adolescence lasted longer, the study found, because the children were so preoccupied with their parents. For example, Wallerstein said, many girls end up fearing success, thinking: "How can I have a happy life when my mother or father has been unhappy?''
---
On the positive side, the researchers found that the adult children of divorced parents are survivors.
The same experiences that hindered relationships helped in the workplace. The study participants were very good at getting along with difficult people, Wallerstein said. And with mothers who often said one thing and fathers who said another, the grown children also became adept at making up their own minds.
The study also compared the adults from divorced families to 44 adults from intact families.
Children of intact marriages took strength from their parents' decision to stay together, the researchers found, even though the marriage may have had conflict and unhappiness similar to those of families that broke up.
"In intact marriages, the young people had a much different childhood -- this is what startled me,'' Wallerstein said. "I couldn't get them to stop talking about their play. . . . I realized that children divorced families never mentioned play. They all said that `the day my parents divorced was the day my childhood ended.' '' FACTS ABOUT DIVORCE
-- More than 25 percent of Americans between 18 and 44 were children of divorce.
-- One-half of people marrying in the 1990s were getting married for the second time.
-- Eighty percent of divorces occur by the ninth year of marriage.
FINDINGS FROM THE WALLERSTEIN STUDY:
A landmark study on the long-term effects of divorce by Marin County psychologist Judith Wallerstein followed 93 children of divorce over 25 years. Among the study's findings:
---
---
-- Children of divorce were far more likely than children of intact families to marry before age 25 -- 50 percent versus 11 percent.
-- The failure rate of these early marriages was 57 percent for children of divorce, 11 percent for children of intact families.
-- Among the adult children of divorce, 38 percent had children. Among adult children from intact families, 61 percent had children.
-- The use of drugs and alcohol before age 14 among the children of divorce was 25 percent, while among children of intact families it was 9 percent.
Source: "The Unexpected Legacy of Divorce: A 25-year Landmark Study" (Hyperio, 2000)
This story appeared in the San Francisco Chronicle - Sept. 2000.
APA Reference
Staff, H. (2008, December 21). Painful Legacy of Divorce Breakup's Effect On Children Often Reaches Far into Adulthood, HealthyPlace. Retrieved on 2023, December 7 from https://www.healthyplace.com/relationships/main/painful-legacy-of-divorce-breakups-effect-on-children-often-reaches-far-into-adulthood
Last Updated: March 25, 2016