Trusting Yourself, Others When You Live with Mental Illness
Here's what's happening on the HealthyPlace site this week:
---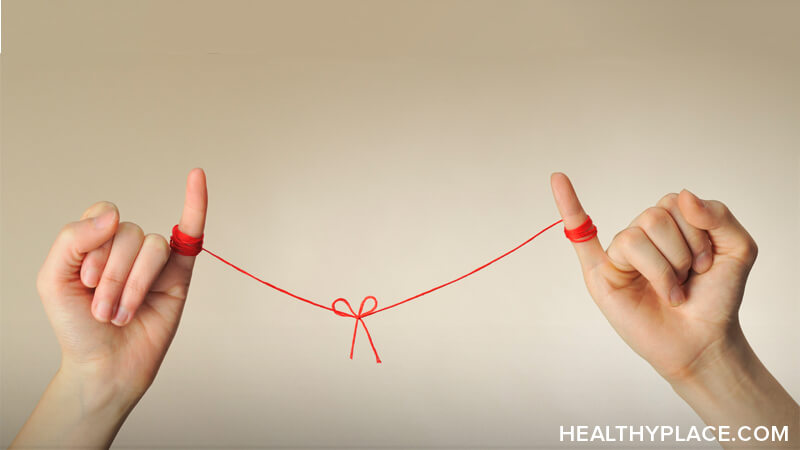 Trusting Yourself, Others When You Live with Mental Illness
A common complaint among people living with mental illness is that trust becomes very difficult. Many different types of mental illness, each for their own unique reasons, can make it difficult for people to trust themselves or others. For example,
How to Develop Trust When Mental Illness Takes It Away
You can develop trust in spite of mental illness.
Being mindful of what's going on right now keeps your thoughts and feelings in the present. Trust happens in the present rather than in the past or future.
When talking to others, listen fully to their words. The mind makes assumptions and jumps to conclusions, which leads to mistrust. Attend to the content of the words instead of your thoughts about the words.
Believe in yourself. Every day, do something small that is just out of your comfort zone. By building small successes, you are building trust in yourself.
Trust is an ongoing process, something that can be strengthened over time. Know that mental illness is playing tricks, and take steps to develop trust anyway.
Related Articles Dealing with Trust
Your Thoughts
Today's Question: In what ways has living with a mental illness hindered your ability to trust yourself or others? We invite you to participate by sharing your thoughts, knowledge, and experiences on the HealthyPlace Facebook page and on the HealthyPlace Google+ page.
---
---
From the HealthyPlace Mental Health Blogs
On all our blogs, your comments and observations are welcomed.
Feel free to share your thoughts and comments at the bottom of any blog post. And visit the mental health blogs homepage for the latest posts.
------------------------------------------------------------------
From HealthyPlace YouTube Channel
Bipolar Dating Insecurities and No Favors Please
I have bipolar depression (bipolar 2) and I'm out there actively dating. One thing I deal with is my insecurity about my medication induced weight gain. The second thing I constantly come across is guys who think they're doing me a favor by dating me since, you know, I have a "disability" aka bipolar disorder. Now that's really crazy!.
------------------------------------------------------------------
Most Popular HealthyPlace Articles Shared by Facebook Fans
Here are the top 3 mental health articles HealthyPlace Facebook fans are recommending you read:
If you're not already, I hope you'll join us/like us on Facebook too. There are a lot of wonderful, supportive people there.
------------------------------------------------------------------
Mental Health Quote
"Nobody ever tells you that emptiness weighs the most."
Read more depression quotes.
------------------------------------------------------------------
That's it for now. If you know of anyone who can benefit from this newsletter or the HealthyPlace.com site, I hope you'll pass this onto them. You can also share the newsletter on any social network (like facebook, stumbleupon, or google+) you belong to by clicking the links below. For updates throughout the week, circle HealthyPlace on Google+, follow HealthyPlace on Twitter or become a fan of HealthyPlace on Facebook. Also, check out HealthyPlace on Pinterest and share your mental health pins on our Share Your Mental Health Experiences board.
APA Reference
Peterson, T. (2017, June 19). Trusting Yourself, Others When You Live with Mental Illness, HealthyPlace. Retrieved on 2023, December 8 from https://www.healthyplace.com/other-info/mental-health-newsletter/trusting-yourself-others-when-you-live-with-mental-illness
Last Updated: June 20, 2017