Two Ways to Begin Discussing Your Mental Health
HealthyPlace Mental Health Newsletter
Here's what's happening on the HealthyPlace site this week:
Two Ways to Begin Discussing Your Mental Health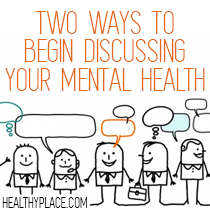 When you are struggling with a mental illness, you can feel unlike everyone else. You may feel embarrassed or overly anxious because not everyone understands all of your behaviors or ways of thinking. (Mental Health Stigma: Airing our "Dirty Laundry") However, it is healthy to become comfortable discussing your mental health battle, even if it initially makes you sick to your stomach to do so. By finding an outlet to share your story, or parts of your story, you will begin to get the help you need and begin the journey of removing the self-stigma that sometimes comes with having a mental illness.
Talk in a Support Group
Many people dislike therapy in any form, but some of those same people will admit that talking to a therapist has been helpful in their mental health recovery process. If you're not ready for therapy, how about trying a mental health support group? The National Alliance on Mental Illness and the Depression Bipolar Support Alliance offer face-to-face support groups in many cities throughout the U.S. By sharing pieces of your story with others who are in a similar situation, you will be able to grab ahold of new coping skills and express emotions you once thought no one else could possibly understand.
Blog About Your Mental Illness
Creating a blog, vlog or podcast discussing your experience with a certain mental illness allows you to share your thoughts, feelings and insight without having to be face-to-face with someone. Some people have difficulty speaking to loved ones or others about their struggles simply because it is so personal. When you write or record those struggles alone on your own time, you get the satisfaction of sharing your story without feeling pinpointed by those around you.
Articles Related to Discussing Mental Health
Your Thoughts
Today's Question: What are some ways you have opened up about your mental health struggles? We invite you to participate by commenting and sharing your feelings, experiences and knowledge on the HealthyPlace Facebook page and on the HealthyPlace Google+ page.
------------------------------------------------------------------
Share our Stories
At the top and bottom of all our stories, you'll find social share buttons for Facebook, Google+, Twitter, Pinterest and other social sites. If you find a particular story, video, psychological test or other HealthyPlace feature helpful, there's a good chance others in need will too. Please share.
We also get many inquiries about our linking policy. If you have a website or blog, you can link to any page on the HealthyPlace website without asking us beforehand.
---
---
Most Popular HealthyPlace Articles Shared by Facebook Fans
Here are the top 3 mental health articles HealthyPlace Facebook fans are recommending you read:
If you're not already, I hope you'll join us/like us on Facebook too. There are a lot of wonderful, supportive people there.
------------------------------------------------------------------
From the HealthyPlace Mental Health Blogs
On all our blogs, your comments and observations are welcomed.
Feel free to share your thoughts and comments at the bottom of any blog post. And visit the mental health blogs homepage for the latest posts.
------------------------------------------------------------------
Stand Up for Mental Health
Thousands Have Joined the Stand Up for Mental Health Campaign
But we still need you. Let others know there's no shame in having depression, anxiety, bipolar disorder, trichotillomania, OCD, ADHD, schizophrenia or any other mental illness.
Join the Stand Up for Mental Health campaign. Put a button on your website or blog (buttons for family members, parents, mental health professionals and organizations too). We also have covers for Facebook, Twitter and Google+.
------------------------------------------------------------------
Latest Mental Health News
These stories and more are featured on our mental health news page:
Kids Who Lack Sympathy 'More Likely To Share If They Respect Peers' Morals'
Economic Crisis 'May Explain Rise In Suicide Rates Among Middle-Aged Adults'
Improving Inmate Health Can Lead To Better Community Health And Safety
Older People And Eating Disorders: Not 'Just A Teenager's Problem'
Elementary Teachers' Depression Symptoms Related To Students' Learning
Caring Youth-Parent Relations Can Be Vital To Preventing Adolescent Suicide Attempts
Study: Identifying Mentally Ill 'Frequent Fliers' First Step To Reducing Police Contact
That's it for now. If you know of anyone who can benefit from this newsletter or the HealthyPlace.com site, I hope you'll pass this onto them. You can also share the newsletter on any social network (like facebook, stumbleupon, or digg) you belong to by clicking the links below. For updates throughout the week:
APA Reference
Aline, J. (2015, March 2). Two Ways to Begin Discussing Your Mental Health, HealthyPlace. Retrieved on 2023, December 6 from https://www.healthyplace.com/other-info/mental-health-newsletter/two-ways-to-begin-discussing-your-mental-health
Last Updated: March 3, 2015