Self-Care and Your Mental Health
HealthyPlace Mental Health Newsletter
Here's what's happening on the HealthyPlace site this week:
Importance of Self-Care to Your Mental Health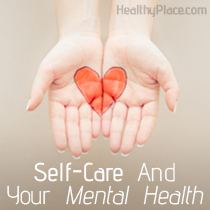 When living with a mental illness like bipolar disorder, depression, or schizophrenia, self-care can easily slip by the wayside. When you're sick, simple things, such as:
comes easy because it's just "too much" to deal with. While in the case of bipolar mania, maybe you just have "more important things to do." Either way, self-care can be challenging. So what can you do?
Steps to Improve Your Self-Care
Start out small. Don't think about ALL the things you have to do. Just pick one thing. "Today, at 9 a.m., I'll take a shower." Each day, do just one thing that you know needs to be done. If you have the energy, write your plan down on a piece of paper.
As you progress, I have two other steps that will make a world of difference to your self-care efforts. Eat healthy foods, go outside for a short walk. The sun, fresh air and moving around will help your mood as well as your physical health.
Related Mental Illness and Self-Care Articles
Your Thoughts
Today's Question: When it comes to self-care, are there extended periods where you find it difficult to do simple things or they seem unimportant? We invite you to participate by commenting and sharing your feelings, experiences and knowledge on the HealthyPlace Facebook page.
------------------------------------------------------------------
(Advertisement)
How Trauma Affects Your Brain - A Free Webinar
Do you have trouble with anxiety, sleep, concentration, memory and behavior?
Trauma affects more than your emotions; it can change your brain.
Discover the truth, plus opportunities for recovery.
Click the link to sign up for this completely free opportunity.
------------------------------------------------------------------
Share our Stories
At the top and bottom of all our stories, you'll find social share buttons for Facebook, Google+, Twitter, Pinterest and other social sites. If you find a particular story, video, psychological test or other HealthyPlace feature helpful, there's a good chance others in need will too. Please share.
We also get many inquiries about our linking policy. If you have a website or blog, you can link to any page on the HealthyPlace website without asking us beforehand.
---
continue story below
---
Most Popular HealthyPlace Articles Shared by Facebook Fans
Here are the top 3 mental health articles HealthyPlace Facebook fans are recommending you read:
If you're not already, I hope you'll join us/like us on Facebook too. There are a lot of wonderful, supportive people there.
------------------------------------------------------------------
Mental Health Experiences
Share your thoughts/experiences with any mental health subject, or respond to other people's audio posts, by calling our toll-free number (1-888-883-8045).
You can listen to what other people are saying by clicking on the gray title bars inside the widgets located on the "Sharing Your Mental Health Experiences" homepage, the HealthyPlace homepage, and the HealthyPlace Support Network homepage.
If you have any questions, write us at: info AT healthyplace.com
------------------------------------------------------------------
From the HealthyPlace Mental Health Blogs
On all our blogs, your comments and observations are welcomed.
Feel free to share your thoughts and comments at the bottom of any blog post. And visit the mental health blogs homepage for the latest posts.
------------------------------------------------------------------
Stand Up for Mental Health
Thousands Have Joined the Stand Up for Mental Health Campaign
But we still need you. Let others know there's no shame in having depression, anxiety, bipolar disorder, trichotillomania, OCD, ADHD, schizophrenia or any other mental illness.
Join the Stand Up for Mental Health campaign. Put a button on your website or blog (buttons for family members, parents, mental health professionals and organizations too). We also have covers for Facebook, Twitter and Google+.
------------------------------------------------------------------
Latest Mental Health News
These stories and more are featured on our mental health news page:
The Downside of Inciting Envy
Some Stress Is Good For You.
Only One Quarter Of Primary Care Patients With Mild Cognitive Impairment Have Progression To Dementia Within Three Years
Researchers Discover Two New Genetic Regions For Bipolar Disorder
Youth Suicide-Related Behaviors Have Stopped Declining After Years Of Improvement
Cyberbullying 'Causes Suicidal Thoughts In Kids More Than Traditional Bullying'
Seizure Risk Increased Before And After Psychiatric Hospitalization
Estrogen Influences Bone Metabolism In Men
Deficit Schizophrenia Patients Show Reduced FA In The Left Uncinate Fasciculus
Improvement In Mental Health Literacy Among General Public
Reasons For Substance Use Vary Among Mental Health Patients
That's it for now. If you know of anyone who can benefit from this newsletter or the HealthyPlace.com site, I hope you'll pass this onto them. You can also share the newsletter on any social network (like facebook, stumbleupon, or digg) you belong to by clicking the links below. For updates throughout the week:
APA Reference
Staff, H. (2014, March 17). Self-Care and Your Mental Health, HealthyPlace. Retrieved on 2023, December 1 from https://www.healthyplace.com/other-info/mental-health-newsletter/self-care-and-your-mental-health
Last Updated: September 3, 2014