A Genetic Link Between Depression, Bipolar, Schizophrenia?
Here's what's happening on the HealthyPlace site this week:
---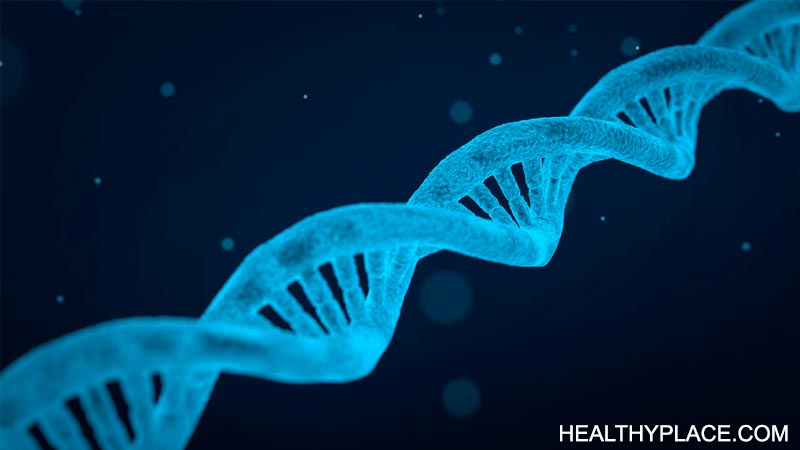 A Genetic Link Between Depression, Bipolar, Schizophrenia?
Receiving a correct mental illness diagnosis is crucial for proper treatment. Unfortunately, because symptoms of many illnesses overlap and mental illness isn't always straightforward, it can be hard to receive the correct diagnosis early. Often, people with mental illness experience a trial-and-error type of process, with doctors and patients working to figure out complex symptoms and match various treatment approaches to those symptoms. It can sometimes take years for a correct diagnosis to be made and the best treatment begun (Bipolar Misdiagnosis: Why It Happens So Frequently).
Researchers are trying to remedy this, and in the case of bipolar disorder and disorders involving psychosis, such as schizophrenia, they may have discovered a breakthrough that might lead to earlier identification and treatment. Scientists with iPSYCH, a psychiatric research project in Denmark, studied nearly 17,000 people with depression who had been treated in a psychiatric hospital between 1994 and 2016 and discovered common genetic risk factors of bipolar disorder and schizophrenia. They studied people who had been diagnosed with depression because major depression often precedes other illnesses like bipolar and psychotic disorders.
While the findings are preliminary and the genetic link was small, the results are encouraging. They point to a possible genetic link between these mental illnesses that, if future studies confirm, can be used to identify someone's risk of developing bipolar disorder or a psychotic disorder. This could lead to better detection and earlier treatment.
Source
Aarhus University. (2020). One step closer to early diagnosis of bipolar disorder and psychoses. Science Direct. Retrieved September, 2020 from https://www.sciencedaily.com/releases/2020/08/200825110737.htm
Related Articles Dealing with Diagnosis of Mental Illness
Your Thoughts
Today's Question: If you've ever been incorrectly diagnosed for any mental illness, how did that affect you? We invite you to participate by sharing your thoughts, knowledge, and experiences on the HealthyPlace Facebook page.
----------------------------------------------------------
Parenting Stress During COVID-19 Times: I'm on the Edge - Facebook Live
Parenting stress is at sky high levels because of COVID-19. With the kids home all day, there's no time for work, rest, social connections. Our guest, Deena, says COVID-19 has wreaked havoc on her life. She has anxiety, depression, a strained marriage and money worries. We'll be talking to her on the HealthyPlace Facebook Live.
That's this Thursday, October 22. We start at 4p ET / 3 CT. Psychologist, Dr. Kristie Norwood, will also join us to share ideas on how to cope and deal with parenting stress. And, so you know, our guests always respond to your personal questions and comments.
----------------------------------------------------------
From HealthyPlace YouTube Channel
I Self-Harm Relapsed After Three Years: Now What?
A self-harm relapse can feel like the end of the world. Learn how to handle a self-injury relapse in this video from Martyna Halas, author of the Speaking Out About Self-injury blog.
Subscribe to the HealthyPlace YouTube channel
----------------------------------------------------------
From the HealthyPlace Mental Health Blogs
On all our blogs, your comments and observations are welcomed. This month is National Suicide Prevention Month. See what our bloggers are talking about.
Feel free to share your thoughts and comments at the bottom of any blog post. And visit the mental health blogs homepage for the latest posts.
----------------------------------------------------------
Most Popular HealthyPlace Articles Shared by Facebook Fans
Here are the top 3 mental health articles HealthyPlace Facebook fans are recommending you read:
If you're not already, I hope you'll join us/like us on Facebook too. There are a lot of wonderful, supportive people there.
----------------------------------------------------------
Bipolar Disorder Quote You'll Probably Relate To
"I hate when I tell someone I have bipolar and see a look of terror in their eyes."
Read more quotes on bipolar disorder.
----------------------------------------------------------
That's it for now. If you know of anyone who can benefit from this newsletter or the HealthyPlace.com site, I hope you'll pass this onto them. You can also share the newsletter on any social network you belong to by clicking the links below. For updates throughout the week, follow HealthyPlace on Twitter or become a fan of HealthyPlace on Facebook. Also, check out HealthyPlace on Instagram and YouTube.
back to: HealthyPlace.com Mental-Health Newsletter Index
APA Reference
Peterson, T. (2020, October 20). A Genetic Link Between Depression, Bipolar, Schizophrenia?, HealthyPlace. Retrieved on 2023, December 8 from https://www.healthyplace.com/other-info/mental-health-newsletter/a-genetic-link-between-depression-bipolar-schizophrenia
Last Updated: October 20, 2020