Holiday Mental Health: Merriment When You Don't Feel Merry
HealthyPlace Mental Health Newsletter
Here's what's happening on the HealthyPlace site this week: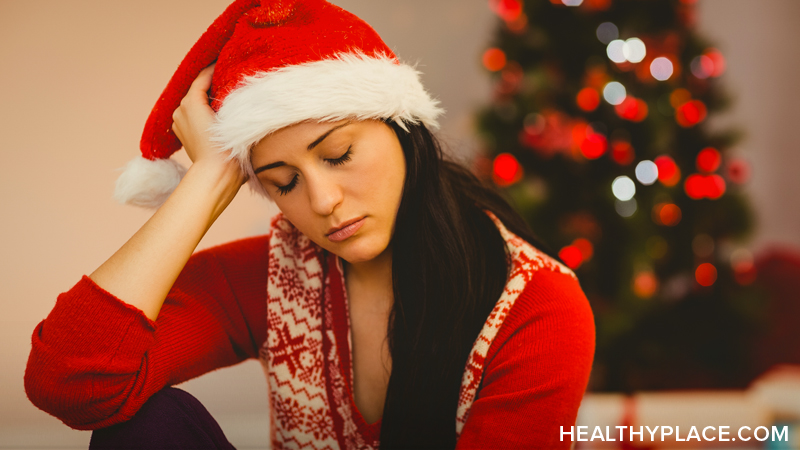 Holiday Mental Health: Merriment When You Don't Feel Merry
Do you hate the holidays? The holiday season affects mental health. All the merriment can increase a sense of depression, anxiety, and isolation. Festivities can exacerbate the stresses and symptoms of eating disorders. In general, the people, sights, smells, and sounds can be overwhelming for almost anyone living with a mental illness.
The holiday season is here, wanted or unwanted, but you do have some control (Manage Your Mental Illness Through the Holidays). You can choose to deal with the merriment in a way that works for you even when you don't feel merry. Try these suggestions to aid your mental health through the holiday season:
Let time be on your side. If you must go to a merry place but don't want to, tell the host that you can only stay for a while. Knowing that you can leave at a set time can help you endure.
Busy yourself. Do crowds or small talk make you anxious? Distance yourself by staying busy doing something other than mingle.
Be selective. Chose one or two events to attend, and then politely decline other invitations.
Make yourself merry. If you don't have holiday festivities in your life, be merry for yourself. Pamper yourself, do what you love, and create a gratitude list.

Holidays do take a toll on mental health. Even if you don't feel merry, there are ways to tolerate the merriment of the season.
Related Articles Dealing with Mental Health and the Holidays
Your Thoughts
Today's Question: In what ways are holidays hard on your mental health, and how do you deal with it? We invite you to participate by commenting and sharing your feelings, experiences and knowledge on the HealthyPlace Facebook page and on the HealthyPlace Google+ page.
---
---
From the HealthyPlace Mental Health Blogs
On all our blogs, your comments and observations are welcomed.
Feel free to share your thoughts and comments at the bottom of any blog post. And visit the mental health blogs homepage for the latest posts.
------------------------------------------------------------------
From HealthyPlace YouTube Channel
Bipolar Medications Changed My Life
I get a lot of questions about bipolar medications and, in this video, I answer them; including how they changed my life for the better.
------------------------------------------------------------------
Most Popular HealthyPlace Articles Shared by Facebook Fans
Here are the top 3 mental health articles HealthyPlace Facebook fans are recommending you read:
If you're not already, I hope you'll join us/like us on Facebook too. There are a lot of wonderful, supportive people there.
------------------------------------------------------------------
Mental Health Quote
"I am severely overwhelmed with everything. It's come to a point that even small tasks make me feel like breaking down and crying. Everything is just too much for me now".
Read more anxiety quotes.
------------------------------------------------------------------
That's it for now. If you know of anyone who can benefit from this newsletter or the HealthyPlace.com site, I hope you'll pass this onto them. You can also share the newsletter on any social network (like facebook, stumbleupon, or google+) you belong to by clicking the links below. For updates throughout the week, circle HealthyPlace on Google+, follow HealthyPlace on Twitter or become a fan of HealthyPlace on Facebook. Also, check out HealthyPlace on Pinterest and share your mental health pins on our Share Your Mental Health Experiences board.
back to: HealthyPlace.com Mental-Health Newsletter Index
APA Reference
Peterson, T. (2016, December 14). Holiday Mental Health: Merriment When You Don't Feel Merry, HealthyPlace. Retrieved on 2023, December 1 from https://www.healthyplace.com/other-info/mental-health-newsletter/holiday-mental-health-merriment-when-you-don-t-feel-merry
Last Updated: December 14, 2016