5-HTP and the Serotonin Connection
5-HTP for treating depression seems to work. 5-HTP is involved in production of serotonin and seems to reduce depressive symptoms.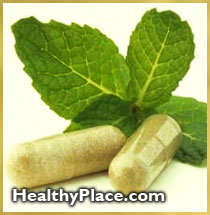 The amino acid tryptophan, present in protein foods, plays a role in a number of biochemical reactions in the body. Some tryptophan becomes protein, some is converted into niacin (vitamin B3) and some enters the brain to become the neurotransmitter serotonin. Serotonin, a key brain chemical, is responsible for producing, among other things, a feeling of calm and well-being. Three decades of research connects various states of depression and anxiety with altered amounts of serotonin.
In the 1970s and 1980s, tryptophan became a popular nutritional supplement because of its role as a precursor to serotonin. Tryptophan proved to be remarkably effective at alleviating symptoms of depression, but in 1989 the Food and Drug Administration (FDA) banned the retail sale of tryptophan after a contaminated batch from a single Japanese manufacturer caused a serious condition known as eosinophilia-myalgia syndrome (EMS). Although tryptophan itself was not clearly implicated in causing EMS, FDA has steadfastly maintained its ban. Fortunately, another substance has come to light as a natural precursor to serotonin: 5-hydroxytryptophan (5-HTP). Derived from the seed pods of Griffonia simplicifolia, a West African plant, 5-HTP is a close relative of tryptophan and part of the metabolic pathway that leads to serotonin production:
tryptophan —> 5-HTP —> serotonin
The diagram illustrates, simply, that 5-HTP is a more immediate precursor to serotonin than tryptophan is. This means 5-HTP is more directly linked to the production of serotonin than is tryptophan.
So how effective is 5-HTP? Numerous clinical trials have studied the efficacy of 5-HTP for treating depression. One compared 5-HTP to the antidepressant drug fluvoxamine and found 5-HTP to be equally effective.1 Researchers used the Hamilton Depression Rating Scale and a self-assessment scale to gauge the effectiveness of the two medications. Both scales revealed a gradual reduction in depressive symptoms through time with both medications. Perhaps the most convincing evidence, however, comes from scientists who examined research from around the world on the use of 5-HTP in treating depression. One such researcher, writing in Neuropsychobiology, sums up the findings this way: "Of the 17 reviewed studies, 13 confirm that 5-HTP has true antidepressant properties."2
The effective dose of 5-HTP appears to be between 50 and 500 mg daily.3 Used in combination with other antidepressant substances, however, the effective dose may be even lower. Research shows that some people respond better to lower doses, so I recommend beginning at the low end of the dose range and increasing as necessary. Side effects associated with therapeutic doses of 5-HTP are rare. When they do occur, they are usually limited to mild gastrointestinal complaints.4 Compare this to the litany of possible side effects from antidepressant drugs: sedation, fatigue, blurry vision, urine retention, constipation, palpitations, EKG changes, insomnia, nausea, vomiting, diarrhea and mild to severe agitation.5
Researchers looking for other applications for 5-HTP found positive results in fibromyalgia treatment,6 weight loss in obese individuals7 and a reduction in occurrence of migraine headaches.8 Because so many conditions may be affected by serotonin function, it is not surprising to see such a wide range of therapeutic possibilities for 5-HTP.
It appears that 5-HTP may be one of the most helpful natural substances to be discovered in recent years. As with most treatments, the following words of caution apply: 5-HTP may not be appropriate for all types of depression and may not be compatible with all types of medication. Consultation with a health care practitioner is strongly advised.
1. Poldinger W, et al. A functional-dimensional approach to depression: serotonin deficiency as a target syndrome in a comparison of 5-hydroxytryptophan and fluvoxamine. Psychopathology 1991;24:53-81.

2. Zmilacher K, et al. L-5-hydroxytryptophan alone and in combination with a peripheral decarboxylase inhibitor in the treatment of depression. Neuropsychobiology 1988;20:28-35.

3. van Praag H. Management of depression with serotonin precursors. Biol Psychiatry 1981;16:291-310.

4. Byerley W, et al. 5-hydroxytryptophan: a review of its antidepressant efficacy and adverse effects. J Clin Psychopharmacol 1987;7:127.

5. Physician's Desk Reference. 49th ed. Montvale, NJ: Medical Economics Data Production Company; 1995.

6. Caruso I, et al. Double-blind study of 5-hydroxytryptophan versus placebo in the treatment of primary fibromyalgia syndrome. J Int Med Res 1990;18:201-9.

7. Cangiano C, et al. Eating behavior and adherence to dietary prescriptions in obese adult subjects treated with 5-hydroxytryptophan. Am J Clin Nutr 1992;56:863-7.

8. Maissen CP, et al. Comparison of the effect of 5-hydroxytryptophan and propranolol in the interval treatment of migraine. Schweiz Med Wochenschr 1991;121:1585-90.
next: Altering the Brain's Chemistry
~ depression library articles
~ all articles on depression
APA Reference
Staff, H. (2008, December 17). 5-HTP and the Serotonin Connection, HealthyPlace. Retrieved on 2023, December 5 from https://www.healthyplace.com/depression/articles/5-htp-serotonin-connection
Last Updated: June 23, 2016