Why Be Open About Mental Illness?
HealthyPlace Mental Health Newsletter
Here's what's happening on the HealthyPlace site this week:
Why Be Open About Mental Illness?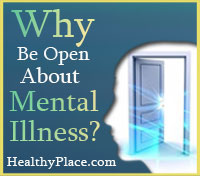 Thank goodness there are people who are open about mental illness. People like Randye Kaye, author of our Mental Illness in the Family blog and the book, Ben Behind His Voices. Maybe people like you. I was very moved by Randye's video for the Stand Up for Mental Health Campaign. I hope you'll watch it. She discusses what being open about schizophrenia in the family has meant to her and the thousands of people she has touched through personal appearances, emails, her book and her blog.
Having a mental illness can be scary enough. Imagine, though, what it's like thinking you're the only one out there experiencing whatever you're going through. Or the only information you could find about depression, bipolar disorder, schizophrenia, anxiety disorders, eating disorders, etc., is what your doctor, your child's doctor, your family member's doctor provided you in a 5-10 minute office visit. This is one of the dangers of mental health stigma. It keeps people in hiding. It keeps them from sharing not only what they're going through, but what they've learned from their experiences along the way. It's one of the reasons why the Stand Up for Mental Health Campaign is so important. HealthyPlace.com Founder and President, Gary Koplin, was on the Your Life After Trauma Radio Show recently discussing this very point.
It is time to bring an end to mental health stigma. In 2013, people should not be ashamed they have a mental illness. They shouldn't be afraid to seek a proper diagnosis and treatment. It will take a lot more people, like Randye Kaye, to stand up and say "Enough!" Will you be one of them?
Related Articles
Your Thoughts
We receive many messages from people saying: "I have depression. My family is not only NOT supportive, they seem like they couldn't care less." Today's Question: Do you find yourself in a similar situation? What's that like? And how could that be turned around? We invite you to participate by commenting and sharing your feelings, experiences and knowledge on the HealthyPlace Facebook page.
Help Spread Awareness of Mental Illness
Get Our Mental Health Blog Widget
Over 200 sites and blogs are helping spread awareness of mental illness. How about putting our mental health blogs widget on your website, blog or social page? The latest HealthyPlace blog headlines appear as soon as the articles are posted on our site. Just click "Get Widget" at the bottom of the widget, grab the embed code and paste it into your page. You'll also see embed links for Wordpress, Blogger, Linkedin and other social sites there.
As a bonus, put the blogs widget on your site or blog, email us (info AT healthyplace.com) with a page link where it appears, and we'll give a shoutout to your site, blog, or social site on our Facebook and Twitter pages.
------------------------------------------------------------------
Share our Stories
At the top and bottom of all our stories, you'll find social share buttons for Facebook, Google+, Twitter, Pinterest and other social sites. If you find a particular story, video, psychological test or other HealthyPlace feature helpful, there's a good chance others in need will too. Please share.
We also get many inquiries about our linking policy. If you have a website or blog, you can link to any page on the HealthyPlace website without asking us beforehand.
---
continue story below
---
Most Popular HealthyPlace Articles Shared by Facebook Fans
Here are the top 3 mental health articles HealthyPlace Facebook fans are recommending you read:
If you're not already, I hope you'll join us/like us on Facebook too. There are a lot of wonderful, supportive people there.
------------------------------------------------------------------
Mental Health Experiences
Share your thoughts/experiences with any mental health subject, or respond to other people's audio posts, by calling our toll-free number (1-888-883-8045).
You can listen to what other people are saying by clicking on the gray title bars inside the widgets located on the "Sharing Your Mental Health Experiences" homepage, the HealthyPlace homepage, and the HealthyPlace Support Network homepage.
If you have any questions, write us at: info AT healthyplace.com
------------------------------------------------------------------
From the HealthyPlace Mental Health Blogs
On all our blogs, your comments and observations are welcomed.
Feel free to share your thoughts and comments at the bottom of any blog post. And visit the mental health blogs homepage for the latest posts.
------------------------------------------------------------------
Standing Up for Mental Health
Like A Breath of Fresh Air
Don't tolerate mental health stigma in your life. Stand Up for Yourself. Stand Up for Mental Health. Join the Stand Up for Mental Health campaign. Put a button on your website or blog (buttons for family members, parents, mental health professionals and organizations too). We also have covers for Facebook, Twitter and Google+.
------------------------------------------------------------------
Latest Mental Health News
These stories and more are featured on our mental health news page:
This Story Stinks: The Impact of Online Reader Comments
The Happy Warrior Meets the Obsessive Competitor
How Offices Become Complaint Departments
Dangerous Dreamers: Can a Sleep Disorder Explain a Murder or Suicide?
The Dangers of Self-Diagnosis
Do You Plan for the Future?
Mapping Stress: Who Suffers Most?
People With Mental Illness At Highly Increased Risk Of Being Murder Victims
PTSD Commonly Follows Breast Cancer Diagnosis
Factors That Impact Adolescent Mental Health
Treating Substance Abuse Alone Helps Patients with Co-occurring Psychosis
Foreign-born Adoptees Most at Risk for Psychiatric Disorders
Bipolar Disorder Patients Avoid Rewarding Activities
That's it for now. If you know of anyone who can benefit from this newsletter or the HealthyPlace.com site, I hope you'll pass this onto them. You can also share the newsletter on any social network (like facebook, stumbleupon, or digg) you belong to by clicking the links below. For updates throughout the week:
APA Reference
Staff, H. (2013, March 7). Why Be Open About Mental Illness?, HealthyPlace. Retrieved on 2023, December 5 from https://www.healthyplace.com/other-info/mental-health-newsletter/why-be-open-about-mental-illness
Last Updated: September 4, 2014