Stress Management: What are Your Lists Like?
Here's what's happening on the HealthyPlace site this week:
---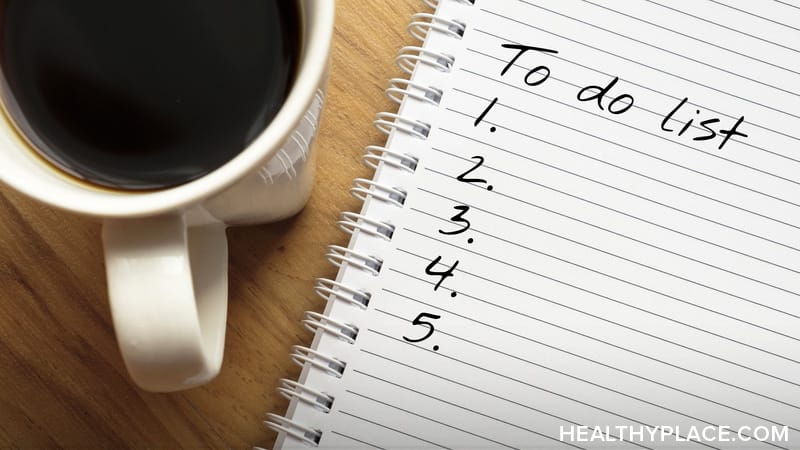 Stress Management: What are Your Lists Like?
Stress impacts our mental health. We have busy schedules and face difficulties. Living with mental illness, or caring for someone with mental illness, presents its own stressors plus exacerbates the stress of ordinary life (Take our online stress test).
How you manage this stress and chaos is important. A common stress management tool is list making, but how you do it can either help or harm your mental health. Mental health tips for list-making:
Make them. Lists allow us to remember what, exactly, lies ahead. Getting information out of your head and onto paper (or computer or phone) helps you plan and remember.
Prioritize. Lists help you stay on target and focus on what's most important.
Make two important types of lists: To-do lists and to-be lists.
To-do lists keep you on top of deadlines and other tasks. This organization removes a great deal of unnecessary stress from your life.
To-be lists are perhaps the most important type of list for stress management. These allow you to decide how you want to be in your life, what values you want to work for.
Knowing who you are, how you want to be, and what you need to do to get there can empower you to withstand stress and enhance your mental health.
Related Articles Dealing with Stress and Mental Health
Your Thoughts
Today's Question: Do you use lists to manage stress? If so, what types of lists do you use? We invite you to participate by sharing your thoughts, knowledge, and experience on the HealthyPlace Facebook page and on the HealthyPlace Google+ page.
---
---
From the HealthyPlace Mental Health Blogs
On all our blogs, your comments and observations are welcomed.
Feel free to share your thoughts and comments at the bottom of any blog post. And visit the mental health blogs homepage for the latest posts.
------------------------------------------------------------------
From HealthyPlace YouTube Channel
I'm Hannah. I Have Bipolar 2
How to Help Someone with Bipolar Disorder
Learning how to help someone with bipolar disorder is just as hard as learning how to ask for help as someone diagnosed with bipolar disorder. (Watch Hannah)
-----
I'm Veronica. This is My Life with Depression
Depressed and Locked in a Psychiatric Hospital
Major depression is a horrible thing and can lead you to do things that are unimaginable. At the time, I was 20 years old. One day, before meeting up with friends, I took an overdose of medication and alcohol. I didn't really want to kill myself, but I didn't care if I lived or died.
------------------------------------------------------------------
Most Popular HealthyPlace Articles Shared by Facebook Fans
Here are the top 3 mental health articles HealthyPlace Facebook fans are recommending you read:
If you're not already, I hope you'll join us/like us on Facebook too. There are a lot of wonderful, supportive people there.
------------------------------------------------------------------
Mental Health Quote
"Never give up on someone with a mental illness. When "I" is replaced by "We", Illness become wellness."
Read more mental health quotes.
------------------------------------------------------------------
That's it for now. If you know of anyone who can benefit from this newsletter or the HealthyPlace.com site, I hope you'll pass this onto them. You can also share the newsletter on any social network (like facebook, stumbleupon, or google+) you belong to by clicking the links below. For updates throughout the week, circle HealthyPlace on Google+, follow HealthyPlace on Twitter or become a fan of HealthyPlace on Facebook. Also, check out HealthyPlace on Pinterest and share your mental health pins on our Share Your Mental Health Experiences board.
APA Reference
Peterson, T. (2017, September 20). Stress Management: What are Your Lists Like?, HealthyPlace. Retrieved on 2023, December 8 from https://www.healthyplace.com/other-info/mental-health-newsletter/stress-management-what-are-your-lists-like
Last Updated: September 20, 2017