Why Are There So Many Types of Mental Health Therapy?
HealthyPlace Mental Health Newsletter
Here's what's happening on the HealthyPlace site this week: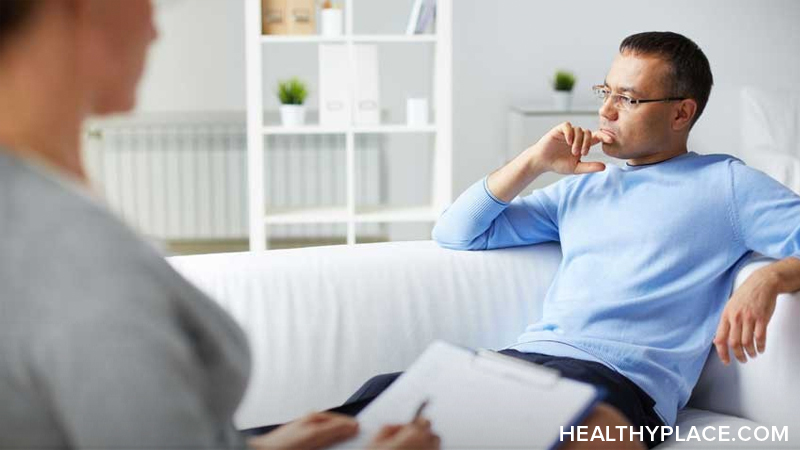 Why Are There So Many Types of Mental Health Therapy?
Mental health therapy isn't a one-size-fits-all type of treatment; instead, there are many different approaches to therapy. This can be frustrating at first. Deciding to seek help from a therapist is a big decision. After that decision is made comes the overwhelming task of finding the right type of therapy.
There are numerous types of mental health therapy available. In general, therapeutic approaches emphasize one (or more) of four primary areas:
Thoughts
Emotions
Behavior
Background

Everyone is unique. Two people with depression, for example, will experience it in slightly different ways (Depression Therapy: How Psychotherapy for Depression Works). Also, illnesses are unique. Focusing on thoughts and behavior is a proven therapy approach for anxiety disorders, whereas emphasizing emotions is a good therapeutic approach for someone with borderline personality disorder. Therapists differ, too. Many use an eclectic approach, picking healing techniques from each of these areas, while others specialize in one or two.
Which Type of Therapy is Right for You?
How do you know which type of therapy is right for you? The starting point is the relationship you have with your counselor. Having a respectful, trustworthy working relationship is the most important part of therapy. With this foundation, you'll explore what's causing you the most difficulty and create an appropriate treatment plan. It's a good thing that therapy isn't one-size-fits-all.
Related Articles Dealing with Mental Health Therapy
Your Thoughts
Today's Question: If you've used mental health therapy, in what ways has it been helpful to you? We invite you to participate by commenting and sharing your feelings, experiences and knowledge on the HealthyPlace Facebook page and on the HealthyPlace Google+ page.
---
---
Share our Stories
At the top and bottom of all our stories, you'll find social share buttons for Facebook, Google+, Twitter, Pinterest and other social sites. If you find a particular story, video, psychological test or other HealthyPlace feature helpful, there's a good chance others in need will too. Please share.
We also get many inquiries about our linking policy. If you have a website or blog, you can link to any page on the HealthyPlace website without asking us beforehand.
Most Popular HealthyPlace Articles Shared by Facebook Fans
Here are the top 3 mental health articles HealthyPlace Facebook fans are recommending you read:
If you're not already, I hope you'll join us/like us on Facebook too. There are a lot of wonderful, supportive people there.
------------------------------------------------------------------
From the HealthyPlace Mental Health Blogs
On all our blogs, your comments and observations are welcomed.
On all our blogs, your comments and observations are welcomed.
Feel free to share your thoughts and comments at the bottom of any blog post. And visit the mental health blogs homepage for the latest posts.
------------------------------------------------------------------
Stand Up for Mental Health
Thousands Have Joined the Stand Up for Mental Health Campaign
But we still need you. Let others know there's no shame in having depression, anxiety, bipolar disorder, trichotillomania, OCD, ADHD, schizophrenia or any other mental illness.
Join the Stand Up for Mental Health campaign. Put a button on your website or blog (buttons for family members, parents, mental health professionals and organizations too). We also have covers for Facebook, Twitter and Google+.
------------------------------------------------------------------
Latest Mental Health News
Atomoxetine Improves Critical Reading Skills In Children With Dyslexia
Maternal Smoking Could Lead To An Increased Risk For Tourette Syndrome And Tic Disorders
People In Unhappy Relationships More Likely To Have Suicidal Thoughts
Midlife Physical Activity Is Associated With Better Cognition In Old Age
Esketamine Produces Rapid Effects In Treatment-Resistant Depression
Medication Against Schizophrenia Inhibits Pancreatic Cancer
A Heathy Diet Is Linked To Better Reading Skills In The First Three School Years
Study Finds Heart Infections Increasing Among Younger Injection Drug Users
These stories and more are featured on our mental health news page:
That's it for now. If you know of anyone who can benefit from this newsletter or the HealthyPlace.com site, I hope you'll pass this onto them. You can also share the newsletter on any social network (like facebook, stumbleupon, or digg) you belong to by clicking the links below. For updates throughout the week:
APA Reference
Peterson, T. (2016, September 15). Why Are There So Many Types of Mental Health Therapy?, HealthyPlace. Retrieved on 2023, December 5 from https://www.healthyplace.com/other-info/mental-health-newsletter/why-are-there-so-many-types-of-mental-health-therapy
Last Updated: May 8, 2017