What's Destroying Your Mental Health Recovery
HealthyPlace Mental Health Newsletter
Here's what's happening on the HealthyPlace site this week:
What's Destroying Your Mental Health Recovery?
What is it that keeps destroying your mental health recovery efforts? HealthyPlace Medical Director and Board-Certified Psychiatrist, Harry Croft, MD, says it usually boils down to one thing. And Eric, a HealthyPlace Google+ community member, hit the nail right on the head. It's negative thinking.
Negative thinking can add to depression. It also gets in the way of your mental health recovery, which takes effort, persistence and a hopeful outlook.
Types of Negative Thinking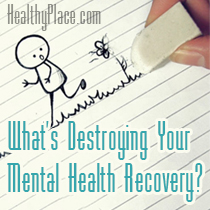 There are 8 types of negative thinking:
All-or-nothing thinking - Also called "black-or-white thinking". There's no middle ground. ("If I'm not perfect, then I must be a failure.")
Overgeneralization - Taking a single negative experience and generalizing, expecting it to hold true forever. ("I can't do anything right.")
The mental filter - Focusing on the negative and ignoring the positive. Focusing on one thing that went wrong, rather than at least balancing it with things that are going right.
Diminishing the positive - Coming up with reasons why positive events don't count ("My friends say I'm smart, but I think they're just being nice.")
Jumping to conclusions - Making negative interpretations without actual evidence. You act like a mind reader ("He must think I'm pathetic.") or a fortune teller ("I'll be stuck in this deadend job forever.")
Emotional reasoning - Accepting your "feelings" as if they are reality. ("I feel like such a loser. I really am no good!")
'Shoulds' and 'should-nots'- Making a strict set of rules of what you should and shouldn't do, and berating yourself if you don't live up to your rules.
Labeling - Labeling yourself based on mistakes and perceived shortcomings ("I'm a failure; an idiot; a loser.")
When you engage in negative thinking, stop for a moment and identity which type of negative thinking your engaging in. Then, literally, correct that thought. You'll be pleasantly surprised by the improvement in your mental health recovery once you control your negative thoughts.
Related Mental Health Recovery Articles
Your Thoughts
Today's Question: What is the one thing you've done that has been most destructive to your mental health recovery? We invite you to participate by commenting and sharing your feelings, experiences and knowledge on the HealthyPlace Facebook page.
Help Spread Awareness of Mental Illness
Get Our Mental Health Blog Widget
Over 370 sites and blogs are helping spread awareness of mental illness. How about putting our mental health blogs widget on your website, blog or social page? The latest HealthyPlace blog headlines appear as soon as the articles are posted on our site. Just click "Get Widget" at the bottom of the widget, grab the embed code and paste it into your page. You'll also see embed links for Wordpress, Blogger, Linkedin and other social sites there.
As a bonus, put the blogs widget on your site or blog, email us (info AT healthyplace.com) with a page link where it appears, and we'll give a shoutout to your site, blog, or social site on our Facebook and Twitter pages.
------------------------------------------------------------------
Share our Stories
At the top and bottom of all our stories, you'll find social share buttons for Facebook, Google+, Twitter, Pinterest and other social sites. If you find a particular story, video, psychological test or other HealthyPlace feature helpful, there's a good chance others in need will too. Please share.
We also get many inquiries about our linking policy. If you have a website or blog, you can link to any page on the HealthyPlace website without asking us beforehand.
---
continue story below
---
Most Popular HealthyPlace Articles Shared by Facebook Fans
Here are the top 3 mental health articles HealthyPlace Facebook fans are recommending you read:
------------------------------------------------------------------
Mental Health Experiences
Share your thoughts/experiences with any mental health subject, or respond to other people's audio posts, by calling our toll-free number (1-888-883-8045).
You can listen to what other people are saying by clicking on the gray title bars inside the widgets located on the "Sharing Your Mental Health Experiences" homepage, the HealthyPlace homepage, and the HealthyPlace Support Network homepage.
If you have any questions, write us at: info AT healthyplace.com
------------------------------------------------------------------
From the HealthyPlace Mental Health Blogs
On all our blogs, your comments and observations are welcomed.
Feel free to share your thoughts and comments at the bottom of any blog post. And visit the mental health blogs homepage for the latest posts.
------------------------------------------------------------------
Stand Up for Mental Health
Thousands Have Joined the Stand Up for Mental Health Campaign
But we still need you. Let others know there's no shame in having depression, anxiety, bipolar disorder, trichotillomania, OCD, ADHD, schizophrenia or any other mental illness.
Join the Stand Up for Mental Health campaign. Put a button on your website or blog (buttons for family members, parents, mental health professionals and organizations too). We also have covers for Facebook, Twitter and Google+.
------------------------------------------------------------------
When Frightening News Leads To Young Children's Sleepless Nights
Terrorist attacks, thunder and lightning or events around the house - these are just some of the things that can lead to your child having trouble falling asleep. So what can parents do to help their child overcome sleep problems? The Parent Coach, Dr. Steven Richfield, has some helpful ideas.
Latest Mental Health News
These stories and more are featured on our mental health news page:
How to Keep Your Resolutions
Remembrance Of News Past. Why Do We Remember Some Details About Long-Ago Events, But Not Others?
Love And Power. An Equal Balance Is The Passport To Intimacy
Trust Matters. Can You Rely On Others?
Green Spaces Have Long-Lasting Benefit For Mental Health
Alcohol, Tobacco And Drug Use Higher In Mentally Ill, Study Shows
Emotion Regulation Deficits Characterize Bipolar And MDD Patients
More Evidence For Glutamate Dysregulation In Schizophrenia
Distinct Developmental Trajectories For Bipolar Disorder And Schizophrenia
CWRU Researcher Finds Released Inmates Need Reentry Programs To Meet Basic And Mental Health Needs
Cortical Thickness Changes May Contribute To Early Schizophrenia
'The Living Room' Offers Alternative Treatment For Emotional Distress
DSM-5 Mania Duration Criterion Questioned
That's it for now. If you know of anyone who can benefit from this newsletter or the HealthyPlace.com site, I hope you'll pass this onto them. You can also share the newsletter on any social network (like facebook, stumbleupon, or digg) you belong to by clicking the links below. For updates throughout the week:
APA Reference
Staff, H. (2014, January 17). What's Destroying Your Mental Health Recovery, HealthyPlace. Retrieved on 2023, December 8 from https://www.healthyplace.com/other-info/mental-health-newsletter/whats-destroying-your-mental-health-recovery
Last Updated: September 3, 2014