Mental Health Challenges in School: Help Your Child Succeed
HealthyPlace Mental Health Newsletter
Here's what's happening on the HealthyPlace site this week: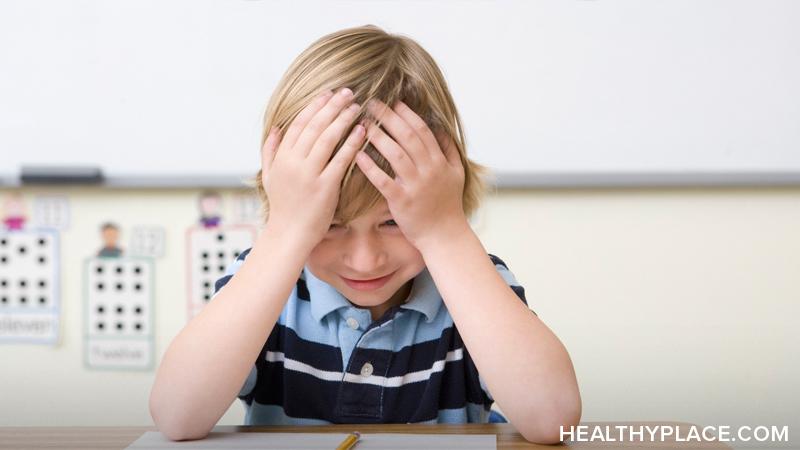 Mental Health Challenges in School: Help Your Child Succeed
School can be difficult for both you and your child when he or she is struggling with mental health problems (Mental Health in the Classroom) such as attention-deficit hyperactivity disorder (ADHD), anxiety disorders, depression, and eating disorders. These can interfere in both the academic and the social aspects of school.
Being a voice for your child and advocating for his needs can make his school experience positive. Equally powerful is helping your child develop her own voice so she can speak up and communicate with teachers and peers. These tips can help you do both.
Know what helps your child and what makes things worse. Set up a meeting with the teacher to communicate these things. Keep the meeting positive.
Do some digging. Ask teachers and other school personnel as well as other parents what is available to help students and then make sure your child has access.
Provide plenty of opportunities for your child to hang out with kids his age. This builds social skills and confidence.
Listen to your child. Ask her what is working well and what isn't, and help her brainstorm ways to improve her school experience.

By understanding exactly what your child needs, communicating that clearly, and helping your child problem-solve and build skills, you can help him or her thrive in school even with mental health struggles.
Related Articles Dealing with Mental Health and School
Your Thoughts
Today's Question: What one thing have you done that helped your child with mental illness succeed in school? We invite you to participate by sharing your thoughts, knowledge, and experiences on the HealthyPlace Facebook page and on the HealthyPlace Google+ page.
---
---
From the HealthyPlace Mental Health Blogs
On all our blogs, your comments and observations are welcomed.
Feel free to share your thoughts and comments at the bottom of any blog post. And visit the mental health blogs homepage for the latest posts.
------------------------------------------------------------------
From HealthyPlace YouTube Channel
Publicly disclosing bipolar disorder, or any mental health condition, is not an easy task. I was told that disclosing my mental illness would ruin my chances of finding a stable career and having a normal social life.
------------------------------------------------------------------
Most Popular HealthyPlace Articles Shared by Facebook Fans
Here are the top 3 mental health articles HealthyPlace Facebook fans are recommending you read:
If you're not already, I hope you'll join us/like us on Facebook too. There are a lot of wonderful, supportive people there.
------------------------------------------------------------------
Mental Health Quote
"From the outside looking in, it's hard to understand. From the inside looking out, it's hard to explain".
Read more mental health quotes.
------------------------------------------------------------------
That's it for now. If you know of anyone who can benefit from this newsletter or the HealthyPlace.com site, I hope you'll pass this onto them. You can also share the newsletter on any social network (like facebook, stumbleupon, or google+) you belong to by clicking the links below. For updates throughout the week, circle HealthyPlace on Google+, follow HealthyPlace on Twitter or become a fan of HealthyPlace on Facebook. Also, check out HealthyPlace on Pinterest and share your mental health pins on our Share Your Mental Health Experiences board.
APA Reference
Peterson, T. (2017, February 22). Mental Health Challenges in School: Help Your Child Succeed, HealthyPlace. Retrieved on 2023, December 1 from https://www.healthyplace.com/other-info/mental-health-newsletter/mental-health-challenges-in-school-help-your-child-succeed
Last Updated: May 8, 2017