HealthyPlace on Facebook
HealthyPlace Mental Health Newsletter
Here's what's happening on the HealthyPlace site this week:
Getting All Our HealthyPlace Facebook Posts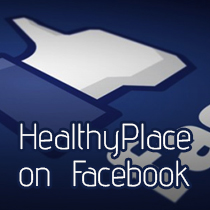 We have a large and very active mental health Facebook page. A lot of people write us saying they're upset because they missed a certain Facebook post of ours. So you know, Facebook is making changes to all "pages" and limiting the number of people who receive a post in their newsfeed even if they "Like" the particular page. But here's an easy solution for that.
Like our page.
Put the mouse over the "Liked" button, on top, below the cover image.
Click on "Get Notifications"
Done. Now you'll be notified whenever we post.
We have a warm, supportive community on Facebook. If you're not a member yet, we hope you'll join us. We also invite you to join us on our other social communities below.
Other HealthyPlace Mental Health Social Networks
Your Thoughts
Today's Question:Are you bullied by anyone (home, work, friends, acquaintances) because you have a mental health condition? We invite you to participate by commenting and sharing your feelings, experiences and knowledge on the HealthyPlace Facebook page and on the HealthyPlace Google+ page.
------------------------------------------------------------------
Share our Stories
At the top and bottom of all our stories, you'll find social share buttons for Facebook, Google+, Twitter, Pinterest and other social sites. If you find a particular story, video, psychological test or other HealthyPlace feature helpful, there's a good chance others in need will too. Please share.
We also get many inquiries about our linking policy. If you have a website or blog, you can link to any page on the HealthyPlace website without asking us beforehand.
---
---
Most Popular HealthyPlace Articles Shared by Facebook Fans
Here are the top 3 mental health articles HealthyPlace Facebook fans are recommending you read:
If you're not already, I hope you'll join us/like us on Facebook too. There are a lot of wonderful, supportive people there.
------------------------------------------------------------------
Mental Health Experiences
Share your thoughts/experiences with any mental health subject, or respond to other people's audio posts, by calling our toll-free number (1-888-883-8045).
You can listen to what other people are saying by clicking on the gray title bars inside the widgets located on the "Sharing Your Mental Health Experiences" homepage, the HealthyPlace homepage, and the HealthyPlace Support Network homepage.
If you have any questions, write us at: info AT healthyplace.com
------------------------------------------------------------------
From the HealthyPlace Mental Health Blogs
On all our blogs, your comments and observations are welcomed.
Feel free to share your thoughts and comments at the bottom of any blog post. And visit the mental health blogs homepage for the latest posts.
------------------------------------------------------------------
Stand Up for Mental Health
Thousands Have Joined the Stand Up for Mental Health Campaign
But we still need you. Let others know there's no shame in having depression, anxiety, bipolar disorder, trichotillomania, OCD, ADHD, schizophrenia or any other mental illness.
Join the Stand Up for Mental Health campaign. Put a button on your website or blog (buttons for family members, parents, mental health professionals and organizations too). We also have covers for Facebook, Twitter and Google+.
------------------------------------------------------------------
Latest Mental Health News
These stories and more are featured on our mental health news page:
Suicide Prevention Sheds a Longstanding Taboo: Talking About Attempts
A New Intervention To Improve Well-Being In People With Psychiatric Disorders
Optimism Linked To Reduced Risk Of Heart Failure
Obsessive-Compulsive Disorder May Reflect A Propensity For Bad Habits
Psychological Distress Frequently Experienced By Civilians Working With Military In War Zones
Relationship Reboot. The Work It Takes to Strengthen Your Bond
Incarcerated Older Adults In Mental Health Treatment Programs Experience The Same Challenges As Younger Participants
Talent, Born Or Made? Untangling The Effects Of Nature And Nurture
In A Culture Obsessed With Happiness, We Should Remember That Coming To Terms With Suffering Is Instructive To The Soul
Raising A Moral Child. The Tactics Are Different From Those Used For Encouraging Achievement
That's it for now. If you know of anyone who can benefit from this newsletter or the HealthyPlace.com site, I hope you'll pass this onto them. You can also share the newsletter on any social network (like facebook, stumbleupon, or digg) you belong to by clicking the links below. For updates throughout the week:
APA Reference
Staff, H. (2014, April 15). HealthyPlace on Facebook, HealthyPlace. Retrieved on 2023, December 8 from https://www.healthyplace.com/other-info/mental-health-newsletter/healthyplace-on-facebook
Last Updated: September 18, 2014