Beauty Influencers Sharing Mental Health Problems for Profit
Here's what's happening on the HealthyPlace site this week:
---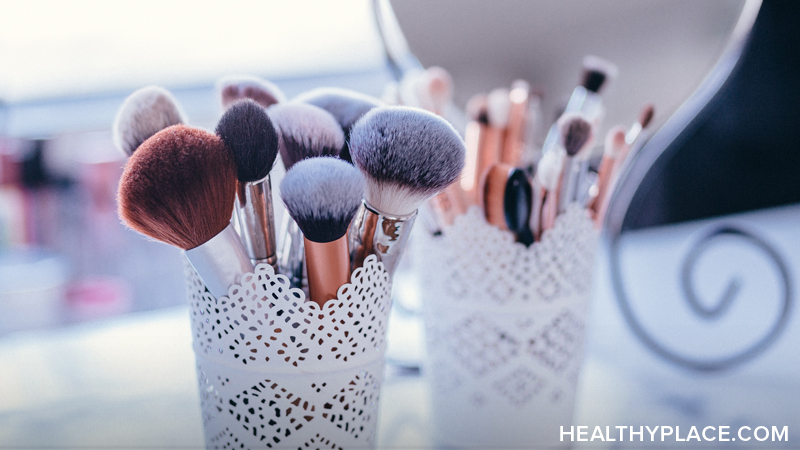 Beauty Influencers Sharing Mental Health Problems for Profit
Have you noticed that people are increasingly sharing mental health tips online? In large part, this is a good thing. In some instances, though, it might not be good.
YouTube in particular has become a platform for celebrities and influencers to impart their wisdom on their followers. A wildly popular trend is beauty vlogging, in which YouTube celebs share information about how the rest of us can look and live like them. Some beauty vloggers have ventured into the realm of mental health, sharing advice for de-stressing, dealing with depression and anxiety, and more.
On the surface, there's nothing wrong with this. Sometimes, though, questionable motives lie beneath the surface. Often, beauty vloggers are selling products, either their own lines or products of their sponsors.
Their message is this: beauty involves self-care for mental health; using the beauty vlogger's products will let you create a perfect, mentally healthy life; when this doesn't work, return to the vlog for more product recommendations.
Are Your Online Mental Health Sources Trustworthy?
Not every vlogger has a financial motive, of course, and not every online mental health resource is corrupt. This is simply a growing trend to be aware of.
At HealthyPlace, one of our primary goals is providing trustworthy mental health information to our readers and followers. Our mental health bloggers and vloggers have lived experience with the mental health condition they write/vlog about. We pay them directly for their insight; our bloggers and vloggers have no contact with advertisers nor do they push products or services. HealthyPlace offers pure mental health content you can trust.
Related Articles Dealing with Mental Health Information
Your Thoughts
Today's Question: What do you think about beauty vloggers revealing personal mental health stories as a way to sell products and make a profit? We invite you to participate by sharing your thoughts, knowledge, and experiences on the HealthyPlace Facebook page and on the HealthyPlace Google+ page.
---
---
From the HealthyPlace Mental Health Blogs
On all our blogs, your comments and observations are welcomed.
Feel free to share your thoughts and comments at the bottom of any blog post. And visit the mental health blogs homepage for the latest posts.
------------------------------------------------------------------
From HealthyPlace YouTube Channel
Success with Bipolar 2 Disorder is What You Make It
"Success, when you're living with bipolar disorder, is what you make it. You have to define your own success."
Living with bipolar disorder and ADHD. Imagine that challenge. (Watch Hannah)
 I'm Veronica. This is My Life with Depression
In an emotionally powerful video, Veronica shares what led to the start of her depression 15+ years ago. "I was sexually assaulted when I was in high school...by a friend. That's hard for me to say."
Watch. Share your thoughts and experiences with this subject on the HealthyPlace YouTube channel.
Veronica is sharing this part of her story because "I know there are many people who cannot and maybe I can help them feel a little less alone."
Sexual Assault Led to My Depression
=============
Facebook Live This Wednesday
It is National Suicide Prevention Week. Therapist, Emily Roberts, will be taking your personal questions on depression, suicide issues, and mental health in general. We start at 7p CT / 8 ET. I hope you'll join us and feel free to invite others. You can check out last week's mental health Facebook Live here.
------------------------------------------------------------------
Most Popular HealthyPlace Articles Shared by Facebook Fans
Here are the top 3 mental health articles HealthyPlace Facebook fans are recommending you read:
If you're not already, I hope you'll join us/like us on Facebook too. There are a lot of wonderful, supportive people there.
------------------------------------------------------------------
Mental Health Quote
"Felling like you´re about to cry when someone points out you´re doing something wrong."
Read more anxiety quotes.
------------------------------------------------------------------
That's it for now. If you know of anyone who can benefit from this newsletter or the HealthyPlace.com site, I hope you'll pass this onto them. You can also share the newsletter on any social network (like facebook, stumbleupon, or google+) you belong to by clicking the links below. For updates throughout the week, circle HealthyPlace on Google+, follow HealthyPlace on Twitter or become a fan of HealthyPlace on Facebook. Also, check out HealthyPlace on Pinterest and share your mental health pins on our Share Your Mental Health Experiences board.
APA Reference
Peterson, T. (2017, September 11). Beauty Influencers Sharing Mental Health Problems for Profit, HealthyPlace. Retrieved on 2023, December 7 from https://www.healthyplace.com/other-info/mental-health-newsletter/beauty-influencers-sharing-mental-health-problems-for-profit
Last Updated: September 20, 2017