Celebrities with Mental Illness Who Made a Difference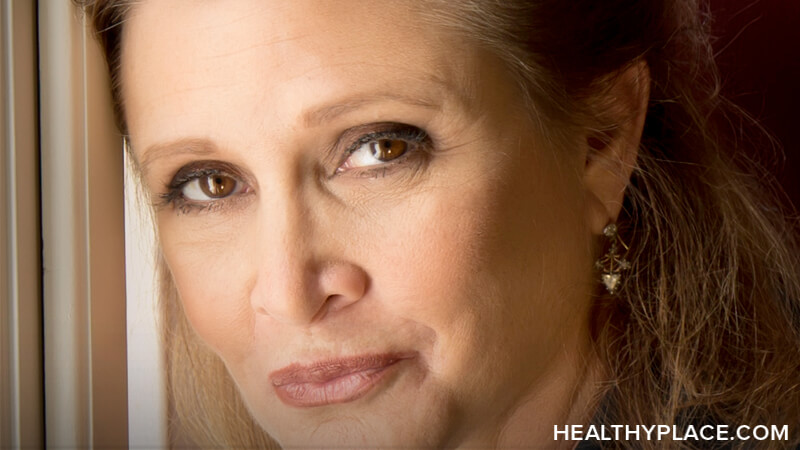 Celebrities with mental illness have challenges to face, but they also have the opportunity to make a positive difference for those with mental illness (see also Famous People With Mental Illness). And now, more than ever, mentally ill celebrities are speaking out and being open about what it's like to live with a mental illness in order to eradicate stigma and dispel the myths that surround mental illness. Check out more about these three celebrities with mental illness and their advocacy work.
Celebrities with Mental Illness
Carrie Fisher – Carrie Fisher, most widely known as Princess Leia in Star Wars, was diagnosed with bipolar disorder in 1982 but it took a psychotic break in 1997 for her to finally accept treatment for it. She had been living with the tremendous "ups" and "downs" of bipolar disorder for most of her life and eventual drug addiction but thought they were normal in Hollywood.
Fisher "came out" about her disorder in a 20/20 interview with Diane Sawyer in 2000. This made her one of the first high-profile celebrities to talk about having a mental illness. And she almost instantly became an advocate for people with mental illness and a role model.
Fisher fights her bipolar disorder in part for her daughter. She does so with bipolar medication, therapy and finds that working out is also therapeutic.
Fisher has since won many awards for her mental illness advocacy and has written a book on her struggles with bipolar disorder, The Best Awful, and previously had written another on her challenges with alcoholism and drug addiction, Wishful Drinking. She is known for her outspokenness, great wit, humor and lack of concern for political correctness.
Catherine Zeta-Jones – Catherine Zeta-Jones is another celebrity with a mental illness. Known for her Oscar-winning performance in Chicago, she claims she had no intention of being so open about her illness – bipolar type II. However, in 2011, the press found out that she was being admitted to a hospital for the disorder and at that point, she started speaking out. Jones states, ". . . I know I'm not the only person who suffers with it or has to deal with it on a day-to-day basis. So if I've helped anybody by discussing bipolar or depression, that's great."
Since then, Jones has become an advocate for people with depression and bipolar disorder and has been very candid about her treatment, including her need for another hospital stay in 2013. Jones says that the hospital is part of her treatment plan and she plans to check in regularly as part of her quest to stay healthy.
Patty Duke – Patty Duke and bipolar disorder are almost synonymous in some circles now because of the intense advocacy work Duke does for her illness. Best known for her Oscar-winning portrayal of Hellen Keller in The Miracle Worker and The Patty Duke Show, Duke continues both her acting and advocacy work with zeal.
Duke has been open about the fact that she takes lithium twice a day, every day and has done so since her bipolar disorder diagnosis in 1982. This type of openness has led to two books on bipolar disorder: one, Call Me Anna (1988), about her personal struggles with bipolar, and a second, A Brilliant Madness: Living with Manic-Depressive Illness released in 1992 which incorporates her story with others along with bipolar research information. This celebrity with mental illness has shared an unflinching view of what it's really like to have bipolar disorder and has dispelled myths and fought stigma because of it (What Is Stigma?).
APA Reference
Tracy, N. (2019, October 23). Celebrities with Mental Illness Who Made a Difference, HealthyPlace. Retrieved on 2023, December 1 from https://www.healthyplace.com/other-info/mental-illness-overview/celebrities-with-mental-illness-who-made-a-difference
Last Updated: October 23, 2019