Are You Afraid to Ask for Mental Health Help?
HealthyPlace Mental Health Newsletter
Here's what's happening on the HealthyPlace site this week: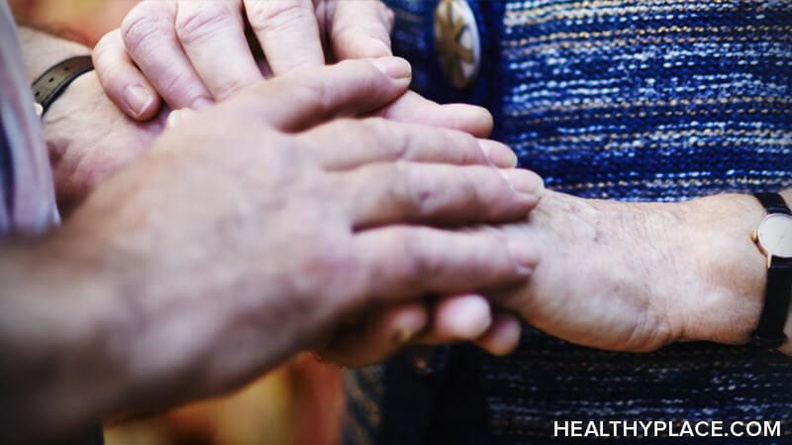 Are You Afraid to Ask for Mental Health Help?
Some people are afraid to ask for mental health help. They may be suffering from depression, bipolar disorder, severe anxiety, but they can't bring themselves to ask for help. Our blogger, Chris Curry, addresses this serious issue in an article titled, "The Stigma of Seeking Help". He talks about why it's difficult. I want to address how to ask for mental health help.
Asking for Mental Health Help
Acceptance that you need help. For many, this is the most difficult step. Some may feel like they have to swallow their pride. Think to yourself, "What will happen if I don't get outside help?" And remember, everybody needs help at some time in their lives. You're no exception. And the person you are asking may need help from you in the future.
What do you need help with? Figure it out. Be specific. It makes it easier to ask for help and for the person to know exactly what mental health help you need.
Find the right person to help. Obviously, if it's an emergency, anyone will have to do. Otherwise, of all the people you know, consider who is most suited to the task and likely to say "yes."
If appropriate and possible, pay for the help. For instance, if someone is driving you around, offer to pay for gas if you can.
Don't take advantage of friends. Don't call at 5 a.m. when it's not an emergency. If possible, don't turn to the same person all the time.
People like to help. Keep in mind that, generally speaking, people want to help someone who really needs help and is grateful for the help. Don't forget to say "thank you" and offer to reciprocate if the need arises.
If you want to know where to get mental health help, this article touches a lot of the bases.
Related Mental Health Help Information
Your Thoughts
Today's Question: What is the best way to ask for mental health help? We invite you to participate by commenting and sharing your feelings, experiences and knowledge on the HealthyPlace Facebook page.
Help Spread Awareness of Mental Illness
Get Our Mental Health Blog Widget
Over 300 sites and blogs are helping spread awareness of mental illness. How about putting our mental health blogs widget on your website, blog or social page? The latest HealthyPlace blog headlines appear as soon as the articles are posted on our site. Just click "Get Widget" at the bottom of the widget, grab the embed code and paste it into your page. You'll also see embed links for Wordpress, Blogger, Linkedin and other social sites there.
As a bonus, put the blogs widget on your site or blog, email us (info AT healthyplace.com) with a page link where it appears, and we'll give a shoutout to your site, blog, or social site on our Facebook and Twitter pages.
------------------------------------------------------------------
Share our Stories
At the top and bottom of all our stories, you'll find social share buttons for Facebook, Google+, Twitter, Pinterest and other social sites. If you find a particular story, video, psychological test or other HealthyPlace feature helpful, there's a good chance others in need will too. Please share.
We also get many inquiries about our linking policy. If you have a website or blog, you can link to any page on the HealthyPlace website without asking us beforehand.
---
---
Most Popular HealthyPlace Articles Shared by Facebook Fans
Here are the top 3 mental health articles HealthyPlace Facebook fans are recommending you read:
If you're not already, I hope you'll join us/like us on Facebook too. There are a lot of wonderful, supportive people there.
------------------------------------------------------------------
From the HealthyPlace Mental Health Blogs
Are you interested in trauma disorders, including PTSD? A lot of HealthyPlace members are. So we're happy to announce that trauma therapist, Tom Cloyd, is joining Michele Rosenthal on the "Trauma! A PTSD Blog."
On all our blogs, your comments and observations are welcomed.
Feel free to share your thoughts and comments at the bottom of any blog post. And visit the mental health blogs homepage for the latest posts.
------------------------------------------------------------------
Stand Up for Mental Health
Hiding Mental Illness
Mental health stigma will stick around so long as people with mental illness continue to feel they have to remain in hiding. Stand Up for Yourself. Stand Up for Mental Health.
Join the Stand Up for Mental Health campaign. Put a button on your website or blog (buttons for family members, parents, mental health professionals and organizations too). We also have covers for Facebook, Twitter and Google+.
Let others know there's no shame in having depression, anxiety, bipolar disorder, ADHD, schizophrenia or any other mental illness.
------------------------------------------------------------------
Raising Challenging Children
Raising challenging children can turn the parenting journey into a minefield of mistakes and mishaps. Not to worry though. Dr. Steven Richfield, "The Parenting Coach," has some parenting advice on raising challenging children.
Latest Mental Health News
These stories and more are featured on our mental health news page:
The Suicide Detective
Clues in the Cycle of Suicide
Happier Spending
Privacy and the Threat to the Self
Success Redefined: Are You Better Off Than You Think?
The Better Sex: Are Men and Women Really That Different?
Growing Pains: Surviving Your Child's Adolescence
Are You A Brooder?
Patient Suicide And Homicide Risk Often Missed Say Researchers
Fights Between Siblings Linked To Poor Mental Health
Psychosis-based Bipolar Differentiation Challenges DSM
Sleep Apnea Rife in Bipolar Disorder
Imaging Data 'Clinically Useful' in Bipolar Diagnosis
Treatment Adherence Predicts Quality of Life in Schizophrenia
That's it for now. If you know of anyone who can benefit from this newsletter or the HealthyPlace.com site, I hope you'll pass this onto them. You can also share the newsletter on any social network (like facebook, stumbleupon, or digg) you belong to by clicking the links below. For updates throughout the week:
APA Reference
Staff, H. (2013, June 27). Are You Afraid to Ask for Mental Health Help?, HealthyPlace. Retrieved on 2023, December 1 from https://www.healthyplace.com/other-info/mental-health-newsletter/are-you-afraid-to-ask-for-mental-health-help
Last Updated: September 11, 2017