Maintain Open Communication About Mental Illness
HealthyPlace Mental Health Newsletter
Here's what's happening on the HealthyPlace site this week: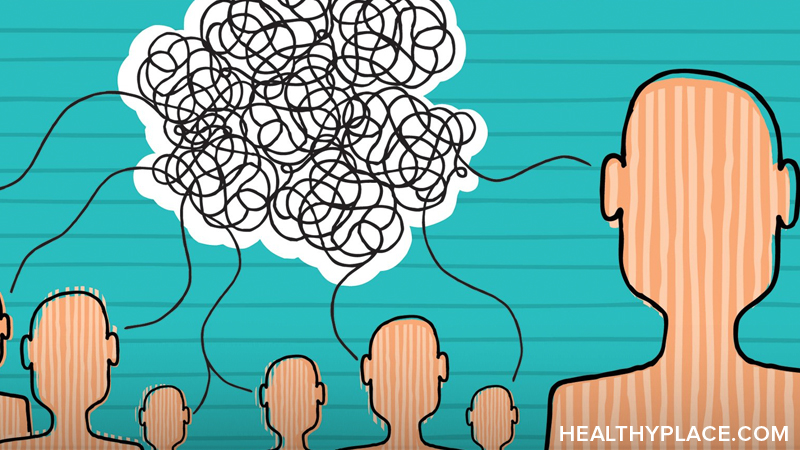 Maintain Open Communication About Mental Illness
Open communication about mental illness is important, but it's often difficult (Talking to Others About Your Mental Illness). When someone in your life, whether it's you or someone you care about, is newly diagnosed with a mental illness, life can be stressful. Behaviors can seem irrational, and it can feel like everyone is on an endless, wild roller coaster. Physical and emotional exhaustion are common. An effective way to reduce stress and create calm is to communicate openly.
The chance to talk and to feel heard are basic needs we all have. Use these tips to encourage open communication:
Use words intentionally. What you say has a big impact on others, so consider your words carefully before you utter them.
Watch how you say things. If you're frustrated, take a few moments to breathe deeply, gather your thoughts, and think about your tone before you speak.
Avoid asking "why" ("Why did you do that?" or "Why don't you get off the couch and take a walk?"). Wanting understand each other is good; however, asking "why" questions can sound hostile and accusatory. Instead, try phrases such as, "Help me understand..." or "I hear you saying...."

Open communication increases understanding, empathy, and cooperation. While tricky, it's possible and worth the effort.
Related Articles Dealing with Open Communication About Mental Illness
Your Thoughts
Today's Question: How do you successfully communicate with people about mental illness, whether your own or a loved one's? We invite you to participate by commenting and sharing your feelings, experiences and knowledge on the HealthyPlace Facebook page and on the HealthyPlace Google+ page.
---
---
Share our Stories
At the top and bottom of all our stories, you'll find social share buttons for Facebook, Google+, Twitter, Pinterest and other social sites. If you find a particular story, video, psychological test or other HealthyPlace feature helpful, there's a good chance others in need will too. Please share.
We also get many inquiries about our linking policy. If you have a website or blog, you can link to any page on the HealthyPlace website without asking us beforehand.
Most Popular HealthyPlace Articles Shared by Facebook Fans
Here are the top 3 mental health articles HealthyPlace Facebook fans are recommending you read:
If you're not already, I hope you'll join us/like us on Facebook too. There are a lot of wonderful, supportive people there.
------------------------------------------------------------------
From the HealthyPlace Mental Health Blogs
On all our blogs, your comments and observations are welcomed.
On all our blogs, your comments and observations are welcomed.
Feel free to share your thoughts and comments at the bottom of any blog post. And visit the mental health blogs homepage for the latest posts.
------------------------------------------------------------------
Stand Up for Mental Health
Thousands Have Joined the Stand Up for Mental Health Campaign
But we still need you. Let others know there's no shame in having depression, anxiety, bipolar disorder, trichotillomania, OCD, ADHD, schizophrenia or any other mental illness.
Join the Stand Up for Mental Health campaign. Put a button on your website or blog (buttons for family members, parents, mental health professionals and organizations too). We also have covers for Facebook, Twitter and Google+.
------------------------------------------------------------------
Latest Mental Health News
Childbirth Pain Linked To Risk Of Postpartum Depression
Parents' Psychiatric Disease Linked To Kids' Risk Of Suicide Attempt, Violent Offending
New Study Links Mental Health And Slow Heart Failure Recovery
Antibody Reduces Harmful Brain Amyloid Plaques In Alzheimer's Patients
Language Learning Boosts Brain Plasticity And Ability To Code New Information
Activating Dopamine Neurons Could Turn Off Binge-Like Eating Behavior
ADHD Associated With Unhealthy Diet In Pregnancy
Study Finds Heart Infections Increasing Among Younger Injection Drug Users
These stories and more are featured on our mental health news page:
That's it for now. If you know of anyone who can benefit from this newsletter or the HealthyPlace.com site, I hope you'll pass this onto them. You can also share the newsletter on any social network (like facebook, stumbleupon, or digg) you belong to by clicking the links below. For updates throughout the week:
back to: HealthyPlace.com Mental-Health Newsletter Index
APA Reference
Peterson, T. (2016, September 15). Maintain Open Communication About Mental Illness, HealthyPlace. Retrieved on 2023, December 8 from https://www.healthyplace.com/other-info/mental-health-newsletter/maintain-open-communication-about-mental-illness
Last Updated: May 8, 2017