Anxiety Can Root From the Obsession With Technology
HealthyPlace Mental Health Newsletter
Here's what's happening on the HealthyPlace site this week:
Anxiety Can Root From the Obsession With Technology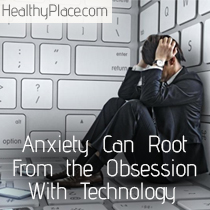 Are you so connected to your technology that it's either causing anxiety or causing your anxiety to increase? For some, even the thought of not having a cellphone, tablet or computer nearby can trigger anxiety or feelings of paranoia.
A few signs that you might be obsessed with your connected technology are:
Constantly checking phone for instant messages and status updates.
Repeatedly checking email at very short intervals.
Feeling anxious when you don't have your cellphone or computer access nearby, even if you're away for only a short time (minutes to an hour).
Having difficulty sleeping because you're concerned you'll miss something.
In addition to worrying about "checking in", an ever-increasing related source of anxiety comes from reading negative things about others, or yourself, which can trigger unwanted stress, anxiety, depression, and possibly lead to unsafe behaviors.
How to Manage Your Obsession with Technology
It's crucial to allow yourself space from your cellphone, tablet or computer if you feel they're taking time away from your personal positivity. It is also important to recognize how often you allow social media to impact you in negative ways. A quick swipe of the phone can lead you to a photograph that can bring back unexpected memories or a tweet with a negative message. By limiting time spent on those outlets, you will begin to recognize the amount of time you need to spend on them and the amount of time you don't.
Related Articles Dealing with Anxiety and Technology
Your Thoughts
Today's Question: Are you so obsessed with "connected" technology that you find it difficult to break away from it, resulting in increased anxiety? We invite you to participate by commenting and sharing your feelings, experiences and knowledge on the HealthyPlace Facebook page and on the HealthyPlace Google+ page.
------------------------------------------------------------------
Share our Stories
At the top and bottom of all our stories, you'll find social share buttons for Facebook, Google+, Twitter, Pinterest and other social sites. If you find a particular story, video, psychological test or other HealthyPlace feature helpful, there's a good chance others in need will too. Please share.
We also get many inquiries about our linking policy. If you have a website or blog, you can link to any page on the HealthyPlace website without asking us beforehand.
---
---
Most Popular HealthyPlace Articles Shared by Facebook Fans
Here are the top 3 mental health articles HealthyPlace Facebook fans are recommending you read:
If you're not already, I hope you'll join us/like us on Facebook too. There are a lot of wonderful, supportive people there.
------------------------------------------------------------------
Mental Health Experiences
Share your thoughts/experiences with any mental health subject, or respond to other people's audio posts, by calling our toll-free number (1-888-883-8045).
You can listen to what other people are saying by clicking on the gray title bars inside the widgets located on the "Sharing Your Mental Health Experiences" homepage, the HealthyPlace homepage, and the HealthyPlace Support Network homepage.
If you have any questions, write us at: info AT healthyplace.com
------------------------------------------------------------------
From the HealthyPlace Mental Health Blogs
On all our blogs, your comments and observations are welcomed.
Feel free to share your thoughts and comments at the bottom of any blog post. And visit the mental health blogs homepage for the latest posts.
------------------------------------------------------------------
Stand Up for Mental Health
Thousands Have Joined the Stand Up for Mental Health Campaign
But we still need you. Let others know there's no shame in having depression, anxiety, bipolar disorder, trichotillomania, OCD, ADHD, schizophrenia or any other mental illness.
Join the Stand Up for Mental Health campaign. Put a button on your website or blog (buttons for family members, parents, mental health professionals and organizations too). We also have covers for Facebook, Twitter and Google+.
------------------------------------------------------------------
Latest Mental Health News
These stories and more are featured on our mental health news page:
Adult Health Of A Child Adversely Affected By Having A Family Member Jailed
Scientists Find What Happiness Adds Up To With New Equation
Comedy Succeeds 'When Humor And Emotion Are Linked'
Depression In Early Childhood Can Persist Into Adolescence
Home Stresses Linked To Alcoholism In National Guard
A New Cause Of Mental Disease? Astrocytes Might Be Behind Mental Disorders
Seizure Risk Increased Before And After Psychiatric Hospitalization
Our Desire For Payback Exemplifies Our Capacity For Abstract Thought
A Computer Is Much Better Than People Are At Telling The Difference Between Real And Faked Pain
That's it for now. If you know of anyone who can benefit from this newsletter or the HealthyPlace.com site, I hope you'll pass this onto them. You can also share the newsletter on any social network (like facebook, stumbleupon, or digg) you belong to by clicking the links below. For updates throughout the week:
APA Reference
Staff, H. (2014, September 9). Anxiety Can Root From the Obsession With Technology, HealthyPlace. Retrieved on 2023, December 1 from https://www.healthyplace.com/other-info/mental-health-newsletter/anxiety-can-root-from-the-obsession-with-technology
Last Updated: September 9, 2014