Psychiatric Medication Opinions
HealthyPlace Mental Health Newsletter
Here's what's happening on the HealthyPlace site this week:
Psychiatric Medication Opinions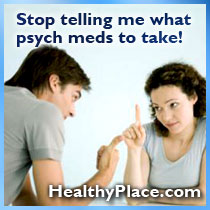 When it comes to taking psychiatric medications, it seems everybody has an opinion; an opinion on which ones are the best and worst, even an opinion on whether or not you or I should take them. And seemingly, some of the strongest opinions regarding antidepressants, antipsychotics and other psychiatric medications come from people who have a mental illness. Our blogger, Natalie Jeanne Champagne, recently wrote about this - Please, Stop Telling Us What Psych Medications We Should or Should Not Take! There are even health and mental health websites where people can rate individual medications.
In considering all those opinions, here's the most important thing you should know. Psychiatric medications affect each person differently. So what may work for you, may not help another person with the same condition. Antidepressant side-effects may be horrible for someone, but you may experience mild or very few side-effects.
The point I'm trying to make is, you won't know how an antidepressant, antipsychotic, anti-anxiety or ADHD medication will work for you until you take it. And any questions or concerns you have should be addressed directly with your prescribing doctor. The last word should not rest with people on a forum board or chatroom who have no idea about you and your medical/mental health history.
Your Thoughts
Today's Question: How do you feel about others with depression, bipolar disorder, or any other mental illness, telling you what medications you should or shouldn't take? We invite you to participate by commenting and sharing your feelings, experiences and knowledge on the HealthyPlace Facebook page.
Help Spread Awareness of Mental Illness
Get Our Mental Health Blog Widget
Over 280 sites and blogs are helping spread awareness of mental illness. How about putting our mental health blogs widget on your website, blog or social page? The latest HealthyPlace blog headlines appear as soon as the articles are posted on our site. Just click "Get Widget" at the bottom of the widget, grab the embed code and paste it into your page. You'll also see embed links for Wordpress, Blogger, Linkedin and other social sites there.
As a bonus, put the blogs widget on your site or blog, email us (info AT healthyplace.com) with a page link where it appears, and we'll give a shoutout to your site, blog, or social site on our Facebook and Twitter pages.
------------------------------------------------------------------
Share our Stories
At the top and bottom of all our stories, you'll find social share buttons for Facebook, Google+, Twitter, Pinterest and other social sites. If you find a particular story, video, psychological test or other HealthyPlace feature helpful, there's a good chance others in need will too. Please share.
We also get many inquiries about our linking policy. If you have a website or blog, you can link to any page on the HealthyPlace website without asking us beforehand.
---
continue story below
---
Most Popular HealthyPlace Articles Shared by Facebook Fans
Here are the top 3 mental health articles HealthyPlace Facebook fans are recommending you read:
If you're not already, I hope you'll join us/like us on Facebook too. There are a lot of wonderful, supportive people there.
------------------------------------------------------------------
Mental Health Experiences
Share your thoughts/experiences with any mental health subject, or respond to other people's audio posts, by calling our toll-free number (1-888-883-8045).
You can listen to what other people are saying by clicking on the gray title bars inside the widgets located on the "Sharing Your Mental Health Experiences" homepage, the HealthyPlace homepage, and the HealthyPlace Support Network homepage.
If you have any questions, write us at: info AT healthyplace.com
------------------------------------------------------------------
From the HealthyPlace Mental Health Blogs
On all our blogs, your comments and observations are welcomed.
Feel free to share your thoughts and comments at the bottom of any blog post. And visit the mental health blogs homepage for the latest posts.
------------------------------------------------------------------
Stand Up for Mental Health
Hiding Mental Illness
Mental health stigma will stick around so long as people with mental illness continue to feel they have to remain in hiding. Stand Up for Yourself. Stand Up for Mental Health.
Join the Stand Up for Mental Health campaign. Put a button on your website or blog (buttons for family members, parents, mental health professionals and organizations too). We also have covers for Facebook, Twitter and Google+.
Let others know there's no shame in having depression, anxiety, bipolar disorder, ADHD, schizophrenia or any other mental illness.
------------------------------------------------------------------
Latest Mental Health News
These stories and more are featured on our mental health news page:
Beyond the Brain. Advances in Neuroscience
When the Bully is a Sibling
Where We Are, Shapes Who We Are
What Happens to Women Who Are Denied Abortions?
I Am Unique: Who Are You, Really?
The Money Decision
Dream Teams: The Science Behind Successful Collaboration
The Power of Fathers and Why They're Just As Important As Moms
Fights Between Siblings Linked To Poor Mental Health
Why Rename Schizophrenia With "Psychosis Susceptibility Syndrome"?
Mental Health Services Inadequate For Survivors Of Intimate Partner Violence
Risk Factors For Suicide Mapped
Imaging Data 'Clinically Useful' in Bipolar Diagnosis
Functional, Structural Brain Changes Dissociated in Schizophrenia
Early Asthma Link to ADHD
That's it for now. If you know of anyone who can benefit from this newsletter or the HealthyPlace.com site, I hope you'll pass this onto them. You can also share the newsletter on any social network (like facebook, stumbleupon, or digg) you belong to by clicking the links below. For updates throughout the week:
APA Reference
Staff, H. (2013, June 20). Psychiatric Medication Opinions, HealthyPlace. Retrieved on 2023, December 8 from https://www.healthyplace.com/other-info/mental-health-newsletter/psychiatric-medication-opinions
Last Updated: September 4, 2014