Welcome ! Treating Anxiety Disorders: New Help Has Arrived!
Help yourself gain the knowledge and skills you need to overcome anxiety disorders. Three nationally recognized experts- Reid Wilson, Ph.D., Edna Foa, Ph.D. and Captain T. W. Cummings- have created the following easy-to-follow, self-help guides for sufferers of panic attacks and their phobias, obsessive-compulsive disorder and the fear of flying.

Don't Panic: Taking Control of Anxiety Attacks (revised edition)
383 in-depth pages of effective advice and self-help skills for those suffering from incapacitating panic symptoms. Patients gain control of their anxiety by learning the most up-to-date cognitive-behavioral techniques for panic disorder, agoraphobia, social phobia, simple phobia and the fear of flying (Reid Wilson, Ph.D.).
ISBN # 0-06-095160-5, HarperPerennial...$15.00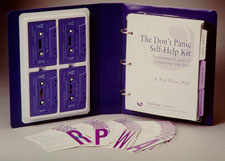 Don't Panic: The Self-Help Kit The Homework Guide to Conquering Your Fears
How to overcome panic attacks. The Kit is completely self-explanatory and walks the patient through every phase of the recovery process, using detailed instructions, step-by-step guides, over thirty separate self-help techniques and eight audio-tape programs. (Reid Wilson, Ph.D.) ISBN # 0-9630683-2-6, Pathway Systems.. $79.95 (with the book $89.95)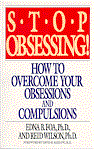 Stop Obsessing! How to Overcome Your Obsessions and Compulsions
"Unusually clear, exceptionally precise, and immensely practical." -Albert Ellis, Ph.D.
A comprehensive self-help book for sufferers of obsessive-compulsive disorder, based on research-proven clinical strategies, It details the nature of the disorder then lays out the specific steps needed, on a day-to-day basis, to control anxiety-producing obsessions and repetitive, burdensome compulsions. Edna Foa, Ph.D. & Reid Wilson, Ph.D.).
ISBN # 0-553-35350-0, Bantam...$13.95 (revised edition)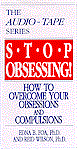 Stop Obsessing! Audio-Tape Series
A three-tape self-help supplement to Stop Obsessing! Practical steps toward mastering obsessions and compulsions. Tapes 1 & 2: Common Features, The Four Challenges, What to Do During Obsessing, How to Handle Compulsions; Tape 3: Side A-Practicing the Breathing Skills, Side B-Generalized Relaxation and Imagery.(Edna Foa, Ph.D. & Reid Wilson, Ph.D.). ISBN # 0-9630683-1-8, Patway Systems...$24.95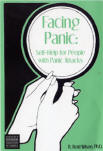 Facing Panic: Self Help for People with Panic Attacks
A straightforward eighty-page booklet offering seven self-help steps for recovery from panic attacks. (Reid Wilson, Ph.D.).
ISBN # 0-935943-00-5, Anxiety Disorders Association of America...$15.00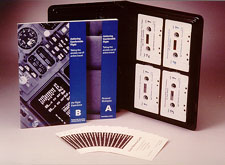 Achieving Comfortable Flight: Taking the Anxiety Out of Airline Travel
A breakthrough program for people who suffer from fear of flying. Time-tested methods used in the nationally acclaimed American Airlines' Achieving Flight seminars, features on the Oprah Winfrey Show. The ACF series offers two 60-page booklets, four accompanying audio-tapes, and handy reference cards designed to increase the patient's confidence while reducing stress and conquering fears (Reid Wilson, Ph.D. & Captain T.W. Cummings). ISBN # 0-9630683-0-X, Pathway Systems. $59.95
Sections of the books and tapes above were used in building this site.
Call this toll-free number for a free brochure on these Self-help resources available from Pathway Systems and Anxieties.com 800-394-2299 (toll: 919-942-0700)
next: Anticonvulsants for Treatment of Panic Attacks
~ back to Anxieties Site homepage
~ anxiety-panic library articles
~ all anxiety disorders articles
APA Reference
Staff, H. (2009, January 5). Welcome ! Treating Anxiety Disorders: New Help Has Arrived!, HealthyPlace. Retrieved on 2023, December 2 from https://www.healthyplace.com/anxiety-panic/articles/welcome-treating-anxiety-disorders-new-help-has-arrived
Last Updated: June 30, 2016