Books on Anxiety, Panic and Phobias
MUST HAVES for people with anxiety, panic, phobias and other  types of anxiety disorders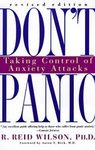 Don't Panic Revised Edition: Taking Control of Anxiety Attacks
By: R. Reid Wilson
Learn more about Dr. Reid Wilson's techniques for panic, phobias, fear of flying, etc., when you visit his Anxieties Site Website, right here at HealthyPlace.

Extreme Fear: The Science of Your Mind in Danger
by Jeff Wise
Author Jeff Wise was the guest on the HealthyPlace Radow show to discuss the science of fear and how the simple model of "fight or flight" is now being replaced with a more scientific understanding.

I Always Sit with My Back to the Wall: Managing Traumatic Stress and Combat PTSD
By Dr. Harry A. Croft, M.D., Rev. Dr. Chrys Parker, J.D.
Dr. Harry Croft, MD is the Medical Director of HealthyPlace.com. He is a private practice psychiatrist, certified in Adult Psychiatry, Addiction Medicine, and Sex Therapy.
Learn more about Dr. Croft here

The Anxiety and Phobia Workbook, 4th Edition
By: Edmund J. Bourne Ph.D.
Reader Comment:
"This book has made me a better person by helping me see who I really was. The sections on exercise, nutrition, and relaxation (especially meditation) put me into a new routine in which I am more prepared to deal with reality."

The Panic Attack Recovery Book: Step-by-Step Techniques to Reduce Anxiety and Change Your Life-Natural, Drug-Free, Fast Results
By: Shirley Swede, Seymour Sheppard Jaffe
Reader Comment: "Full of information and presented in an easy to read and understand format."

Post-Traumatic Stress Disorder Sourcebook
By: Glenn R. Schiraldi
Reader Comment:
"This book may well become the best friend of every person recovering from PTSD. I frequently find myself turning to this book for direction and comfort when the symptoms become overwhelming."

The Shyness & Social Anxiety Workbook: Proven, Step-by-Step Techniques for Overcoming Your Fear By: Martin M. Antony, Richard P. Swinson
Description: This new edition of The Shyness and Social Anxiety Workbook offers a comprehensive program to help shy people confront their fears and become actively

Beyond Shyness: How to Conquer Social Anxieties
By Jonathan Berent, Amy Lemley:
Reader Comment: "I have kept my shyness hidden for many years, partially because I was embarrassed and partially because I couldn't acknowledge it to myself. The author helped me to acknowledge that a problem exists and then through further reading, I was able to learn various methods to help conquer it."

Trauma and Recovery: The Aftermath of Violence--from Domestic Abuse to Political Terror
By: Judith Herman MD
Reader Comment: "You'll wonder if Judith Herman has the ability to see inside your thoughts after reading Chapter 5. Trauma and Recovery proves to me that recovery is actually possible."
---
---
APA Reference
Tracy, N. (2009, January 8). Books on Anxiety, Panic and Phobias, HealthyPlace. Retrieved on 2023, December 6 from https://www.healthyplace.com/anxiety-panic/books/books-on-anxiety-panic-phobias
Last Updated: May 14, 2019