Stigma, Insurance and Access to Treatment and Services Emerge as Top Barriers to Schizophrenics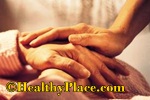 A new national survey indicates that there are three major barriers to improved quality of life for people with schizophrenia and for their caregivers -- stigma of mental illness, inadequate insurance and access to treatment and services.
The results of this National Mental Health Association survey were presented in a press conference on May 20th at the Annual Meeting of the American Psychiatric Association. In the U.S., about 2.2 million people have schizophrenia.
"While it is the case that treatment and services are widespread in our country, persons with this illness often have trouble navigating the system, dealing with access and stigma issues and getting on the right drug therapy," said presenter and investigator Peter Weiden, MD, Director of Schizophrenia Research Service, professor of psychiatry, SUNY Downstate Medical Center, in New York. "Good drugs exist but only if a patient can get to them or get help developing a plan of treatment that will work for that individual."
Harris Interactive Inc. conducted the "Barriers to Recovery" survey from October 29 through December 19, 2002. They interviewed 1,087 adults ages 18 and older, including 403 persons categorized as "aware of mental illness in general," representing 90% of the total adult U.S. population.
The survey results identified 202 participants as knowing "someone with a mental illness other than schizophrenia"; 201 knew "someone with schizophrenia"; and 200 were identified as being unpaid caregivers for people with schizophrenia.
Eighty-one participants recruited through the National Mental Health Association had been diagnosed with schizophrenia.
Regarding stigma, 58% of people with schizophrenia and 47% of caregivers say that they believe schizophrenia can be treated successfully, while among other respondents, 27% hold this view.
Among respondents who did not have schizophrenia and did not know anyone with the condition, 50% said they believe people with depression can hold jobs and 49% believe people with depression can raise families, but only 14% of these same respondents believe that people with schizophrenia can do either successfully.
Seventy percent of respondents with schizophrenia said it is difficult to keep a positive attitude while dealing with illness-related stigma.
The survey results also shows that 48% of people with schizophrenia think adequate services exist for people with mental illness, and 35% of caregivers feel adequate services exist for families and friends dealing with mental illness. Likewise, 52% of people with schizophrenia and 21% of caregivers believe that insurance coverage for mental illness is on a par with coverage for physical illness.
Lack of access means people with schizophrenia do not always receive the latest standard of care medications for their specific illness, said Dr. Weiden. The researcher reported that 70% of both caregivers and people with schizophrenia express satisfaction with the results of their current pharmacotherapy. But only 50% of caregivers and 62% of people with schizophrenia are satisfied with their access to effective medications that do not have significant side effects.
As for the economic effects of schizophrenia, 63% of caregivers indicated difficulty in working full-time due to their role as a caregiver. The survey results also showed that the average caregivers' household income is 13% lower than that of the general public, despite parity in age and education.
In a press release distributed at the briefing, Chuck Ingoglia, vice-president of research and services at the National Mental Health Association, in Washington, D.C., said, "This survey proves what people with schizophrenia and caregivers already knew regarding the barriers to an improved quality of life. Now we need to reduce the barriers that people with schizophrenia and caregivers face every day. A good start includes public education, improved insurance legislation, and better access to appropriate services and treatments."
The survey was supported by an unrestricted grant from Bristol-Myers Squibb Co. and Otsuka America Pharmaceutical, Inc.
APA Reference
Gluck, S. (2003, May 20). Stigma, Insurance and Access to Treatment and Services Emerge as Top Barriers to Schizophrenics, HealthyPlace. Retrieved on 2023, December 1 from https://www.healthyplace.com/thought-disorders/schizophrenia-articles/stigma-insurance-and-access-to-treatment-and-services-emerge-as-top-barriers-to-schizophrenics
Last Updated: June 11, 2019