Schizoaffective Disorder and Paranoia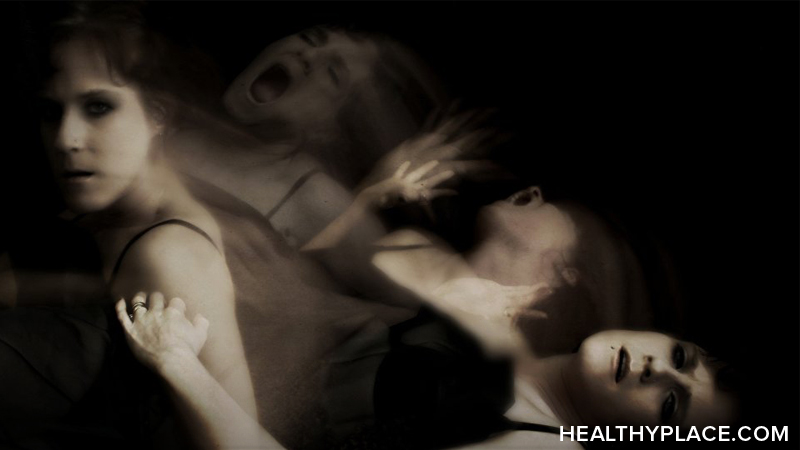 Just because you're paranoid it doesn't mean they're not out to get you.
Paranoia is the one of my schizophrenic symptoms that bothers me the most. While I've only heard voices a few times, if I weren't taking an antipsychotic drug called Risperdal, the paranoia would happen frequently. As I'm sure you could imagine, being paranoid is distressing and so I'm very careful to always take my Risperdal. Visual hallucinations happen quite a bit too (when I'm not taking my medicine anyway) but except for startling me they happen suddenly, I don't find them as upsetting.
Paranoia is commonly thought to be the delusion that others are plotting against oneself, but it is a little more complicated than that. And you may be surprised to hear that even if one is self-aware enough to know that one is experiencing paranoia, to understand clearly that what one thinks is a delusion, it doesn't make the delusions go away.
The paranoid are commonly thought to be deadly dangerous. While there have been cases of the paranoid attacking those they thought had it in for them, most paranoids are perfectly safe to be around and in fact, are commonly found living among you in a society where they lead more or less normal lives. You don't have to be schizophrenic to be paranoid - it can arise as a neurosis, for example in response to early child abuse, and exist in a pure form without other schizophrenic symptoms like hallucinations.
I was interviewed in the March 30, 2000 edition of the Metro San Jose, in an article called Friends in High Places. I answered an ad seeking bipolar Silicon Valley engineers for anonymous interviews, but I told them they could feel free to use my name and even my photo. If you click the link, down towards the bottom of the page you will see me sitting on the driveway of the house I used to live in in Santa Cruz.
The article quotes me as saying "I can work effectively even when I'm wigging, even when I'm hallucinating, even when I'm severely depressed." And by wigging, I meant that I could develop software while severely paranoid. I've spent a lot of productive hours at the office, laboring at my computer, while trying to avoid thinking of the fact that a Nazi armored division was holding maneuvers in the parking lot.
The article goes on to say:
"Programming is more tolerant of eccentric activity," Crawford says. "Even though I might have been weird, I was a good worker."
The essence of paranoia is that one's interpretation of events is deluded, not the perception of the events themselves. In the absence of hallucinations, everything a paranoid experience is really happening. What the paranoid is mistaken about is why they're happening. Even inconsequential events take on a significance that is personally threatening. This makes it hard to know what is real. Although one can test one's sensory perceptions by, for example, asking other people, it is much harder to objectively test one's beliefs about why something is happening, especially when you don't feel you can trust what other people say.
For example, a stylishly dressed, attractive young woman approached me on the street one day in downtown Santa Cruz and bluntly said "it's all been a plot". It seems that there had been a conspiracy to rob her of her money. She explained it at some length while I listened in awestruck fascination:
She had a book checked out of the library, and meant to return it on time, but a diversion created by the conspirators delayed her. When she finally returned the book, she was assessed a fine. As evidence of the plot, she cited the helicopter that flew overhead, spying on her as she left the library.
Anyone can have an unexpected delay and be charged a fine when they return a library book late. Helicopters fly over Santa Cruz all the time - I have no doubt that she really saw a helicopter. But what was special in her circumstances was why she was delayed: she did tell me what happened (I'm sorry I don't remember) but was convinced that the delay had been caused by those who plotted against her. Many people see helicopters fly overhead; what was special for her is the reason she felt the helicopter to be there.
I don't actually have such a hard time distinguishing most of my paranoid delusions from reality. It's because they're all so ridiculous - I really have spent a lot of time worrying about the military coming to attack me. It's not that I hallucinate my attackers. If I look I can see they're not there. But when I turn away I feel their presence again. I know very well I experience paranoia and I try to tell myself it's not real, but I'm afraid that simply knowing it's a delusion is no comfort at all.
As I said I often feel the fear from my experiences before I have the experiences themselves. People try to tell me to ignore the paranoia but that doesn't help - first I feel panic, and only then do I think the men with guns are out there waiting for me.
The only comfort I can find is to face my fear. If a Nazi Panzer division is tearing up my front yard, the only recourse I have is to steel my courage and go outside to look for them until I'm satisfied they're not there (I have to search carefully - perhaps they're hiding in the bushes). Only then does the paranoia subside.
Walking around Pasadena late in the evening, I was discharged from Alhambra CPC. I came across a large white stone, about three feet across and fairly round. There were some wrinkles in its surface. It looked just like an ordinary stone, but I knew it wasn't - it was someone waiting for me, crouching on the ground, and I feared them. It didn't look like a real person at all - it looked like someone wearing a very clever stone-like disguise.
I stood there paralyzed for some minutes, unsure of what to do, until I summoned all the courage I could muster - and kicked the stone as hard as I could. After that, it was just a stone.
Now about the little joke with which I introduced this section. Everyone, even perfectly sane people, have challenges they struggle against. You don't have to be paranoid to have enemies. Perfectly sane people get robbed, beaten and even murdered all the time. Probably the worst part of all about being paranoid is when the paranoid has a real enemy, and that enemy uses the paranoid's illness against them. You might beg others for help, but the person who is trying to hurt you is easily able to convince them that your complaints are just delusions, and so your pleas fall on deaf ears.
There is a very real stigma against mental illness in our society. Stigma can kill - I once received word from the wife of a European diplomat that his doctors refused to treat his heart condition because he was manic. He died in the hospital of a very real, unimagined heart attack.
There are people who harbor a deep-seated hatred for the mentally ill for the simple fact that we are different. And these people do grievous harm to those who suffer, in large part by using the symptoms we exhibit to convince others not to support our cause, to convince them that the hatred we sense from them is all in our heads.
I have been at the receiving end of some of the worst of this stigma. That is why I write web pages such as this, to promote understanding in our society so that in a hopeful future day the stigma will be gone and we can live among you as ordinary members of society.
next: Music
APA Reference
Staff, H. (2007, March 6). Schizoaffective Disorder and Paranoia, HealthyPlace. Retrieved on 2023, December 6 from https://www.healthyplace.com/thought-disorders/living-with-schizoaffective-disorder/schizoaffective-disorder-and-paranoia
Last Updated: June 10, 2019