Antidepressants and Mania: A Risky Treatment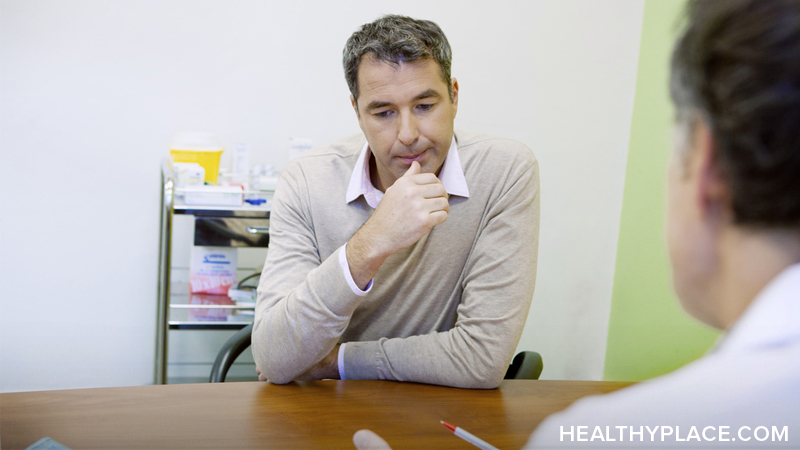 Whether you have bipolar or schizoaffective disorder, antidepressants can stimulate manic episodes. Find out what works for bipolar depression.
An unfortunate problem that antidepressants have for both manic depressives and schizoaffectives is that they can stimulate manic episodes. This makes psychiatrists reluctant to prescribe them at all even if the patient is suffering terribly. My own feeling is that I would rather risk even psychotic mania than to have to live through psychotic depression without medication - after all, I'm not likely to kill myself while manic, but while depressed the danger of suicide is very real and thoughts of doing harm to myself are never far from my mind.
I had not been diagnosed when I took antidepressants for the first time (a tricyclic called amitryptiline or Elavil) and as a result, I spent six weeks in a psychiatric hospital. That was the summer of 1985, after a year I had spent mostly crazy. That's when I was finally diagnosed.
(I feel that it was irresponsible of the psychiatrist who prescribed my first antidepressant to not have investigated my history more thoroughly than she did, to see if I had ever experienced a manic episode. I had my first one a little less than a year before but didn't know what it was. Had she just described what mania was, and asked me if I had ever experienced it, a lot of trouble could have been avoided. While I think the antidepressant would still have been indicated, she could have prescribed a mood stabilizer which might have prevented the worst manic episode of my entire life, not to mention the ten thousand dollars I was fortunate to have my insurance company pay for my hospitalization.)
I find now that I can take antidepressants with little risk of getting manic. It requires careful monitoring in a way that wouldn't be necessary for "unipolar" depressives. I have to take mood stabilizers (antimanic medication); presently I take Depakote (valproic acid), which was first used to treat epilepsy - many of the medicines used to treat manic depression were originally used for epilepsy. I have to do the best I can to observe my mood objectively and see my doctor regularly. If my mood becomes unusually elevated I have to either cut back the antidepressant I take or increase my mood stabilizer or both.
I've been taking imipramine for about five years. I think it is one of the reasons I do so well now, and it upsets me that many psychiatrists are unwilling to prescribe antidepressants to manic depressives.
Not all antidepressants work so well - as I said amitryptiline made me manic. Paxil did very little to help me, and Wellbutrin did nothing at all. There was one I took (I think it might have been Norpramine) that caused a severe anxiety attack - I only ever took one tablet and wouldn't take any more after that. I did have good results from maprotiline in my early 20's but then decided to stop medication entirely for several years, until I got hospitalized again in the spring of 1994. I had low-grade depression for several years after that (when I tried Wellbutrin and then Paxil). I wasn't suicidal but I just lived a miserable existence. A couple of months after I started taking imipramine in 1998, life got good again.
You should not use my experience as a guide in choosing any antidepressants you might take. The effectiveness of each is a very individual matter - they are all effective for some people and ineffective for others. Really the best you can do is try one out to see if it works for you, and keep trying new ones until you find the right one. Most likely any that you try will help to some extent. There are many antidepressants on the market now, so if your medicine is not helping, it's very likely that there is another that will.
next: What if Medicine Doesn't Relieve the Symptoms of Schizoaffective Disorder?
APA Reference
Staff, H. (2007, March 6). Antidepressants and Mania: A Risky Treatment, HealthyPlace. Retrieved on 2023, December 6 from https://www.healthyplace.com/thought-disorders/living-with-schizoaffective-disorder/antidepressants-and-mania-a-risky-treatment
Last Updated: June 10, 2019