Please Join the Stand Up for Mental Health Campaign
Hello,
I'm Gary Koplin, President of HealthyPlace.com, the largest consumer mental health website.
On January 23, we launched the "Stand Up for Mental Health" campaign. In 2013, we still have millions of people with all types of mental health disorders who are in hiding because they are afraid and ashamed. This affects their mental health, their ability to recover and their self-esteem. Not only that, if something doesn't change, mental health stigma and self-stigma will affect people with mental health disorders for generations to come. We are asking people who have already disclosed their mental health condition, or who are ready to, to "stand up" in hope that others will follow.
You can read more about the HealthyPlace "Stand Up for Mental Health" campaign here.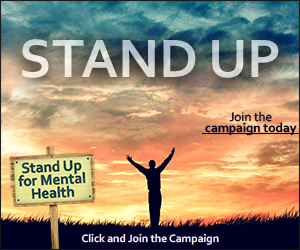 I'm writing to personally ask you to join the campaign by displaying a banner or button on your website, blog or social site. We have buttons for various mental health disorders, as well as for parents of children with a mental illness, mental health professionals, organizations and the general public (people who believe in acceptance and that talking about mental health openly is a good thing.) Each button not only links to the campaign, but there is a text link underneath leading to educational information about the specific mental health condition. The buttons for websites and blogs are here. Covers and images for social profiles, like Facebook and Google+, are here.
As a bonus for displaying a button/banner, we will list your website, blog, or social profile (facebook, google+, etc) as a Stand Up for Mental Health campaign partner and provide a link back to your site.
In our country's past, many groups have faced the wrath of stigma, prejudice and discrimination. They tried mightily to educate the public in hopes of acceptance. Eventually, every one of them found people who were willing to stand up for the cause and say, "No More!". It's my hope that's what the Stand Up for Mental Health campaign will lead to.
If you have any questions or need additional information about the campaign or help with the buttons/banners, please feel free to write us at: standup AT healthyplace.com
Thank you for your time and consideration.
Gary Koplin, President
HealthyPlace.com
APA Reference
gkoplin (2015, January 23). Please Join the Stand Up for Mental Health Campaign, HealthyPlace. Retrieved on 2023, October 3 from https://www.healthyplace.com/stigma/stand-up-for-mental-health/please-join-the-stand-up-for-mental-health-campaign
Last Updated: June 1, 2015