Does Medical Marijuana (Cannabis) Help Your Anxiety?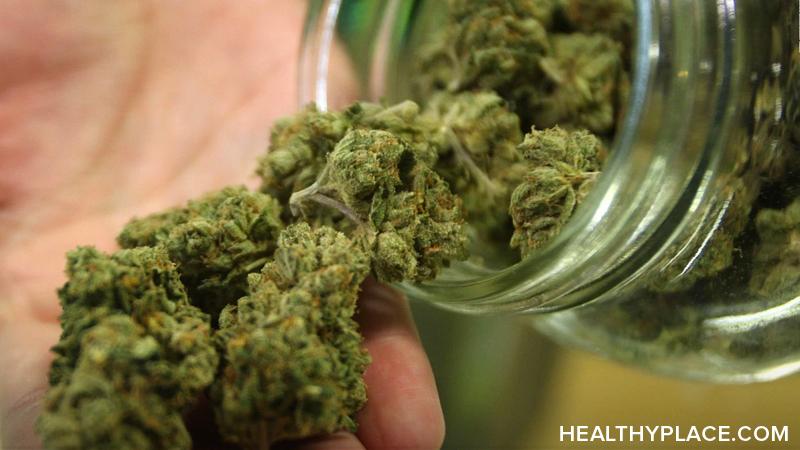 Whether or not marijuana helps anxiety is largely unknown (Chopra et al, 2010). The evidence is mixed regarding the effectiveness of cannabis (Are Herbs and Supplements for Anxiety Safe?). This is largely because there isn't a great amount of research into the use of medical marijuana for anxiety; marijuana's federally illegal status inhibits research.
One thing is known: "Marijuana affects the brain" (Casarett, 2015, p. 12). According to Casarett, the brain has numerous cannabinoid receptors throughout multiple areas. These bind to components of cannabis and affect conditions like anxiety. It seems that cannabis for anxiety can act on the brain's circuitry in quite a focused manner rather than providing general relaxation.
The Term Marijuana Refers to Different Substances
A reason there is mixed opinion regarding the effectiveness of medical marijuana for anxiety is that the terms for the substance can be misleading. Marijuana and cannabis aren't what act on the brain. "Cannabis" is the scientific name for the entire plant, but it can also represent the drug and other products made from the flowers of the plant. "Marijuana" is a synonym for cannabis when it applies to the drug. What people typically refer to when they use the terms "marijuana" and "cannabis" are the psychoactive substances of the plant known as THC and CBD.
It is THC and CBD that affect the brain and anxiety (Casarett, 2015). They're different, they have different effects, and their differences contribute to the mixed evidence of the ability of medical cannabis to help anxiety. In Stoned: A Doctor's Case for Medical Marijuana, Casarett (2015) explains the difference between THC and CBD.
THC is the abbreviation for tetrahydrocannabinol. Researchers have learned that THC
may not be safe to use,
causes the euphoria associated with cannabis use,
can be calming in low doses, and
can cause or aggravate anxiety in higher doses.
CBD, short for cannabidiol, has received more favorable attention than THC.
It isn't as psychoactive as THC (it doesn't make people high).
CBD is a sedative that lowers anxiety.
CBD doesn't increase or cause anxiety the way THC does.
Positive Aspects of Cannabis and Anxiety
Using cannabis, specifically CBD, for anxiety does have some potential benefits.
CBD is calming, as is THC in low doses; therefore, marijuana can help panic attacks and anxiety in general.
Some people who experience anxiety report that medical marijuana makes them more relaxed so they can function better.
Some experts believe that marijuana is safe to use because it's neither toxic nor deadly, nor does it cause other medical problems (Weil & Rosen, 2004).
Marijuana isn't associated with problematic withdrawal symptoms.
These findings in support of medical marijuana for anxiety are encouraging. They don't, however, paint the whole picture.
Risks to Cannabis Use for Anxiety
Again, there haven't been enough studies to provide definitive evidence for or against anxiety and cannabis use. Some facts and information are being discovered. As mentioned above, marijuana does have positive attributes. It also has known risks. Separately, Weil & Rosen (2004) and Chopra et al (2010) report risks of cannabis use for anxiety.
It is fat-soluble (particularly THC), so it remains in the body for a long time.
The abuse factor is higher than that of psychedelic drugs.
Marijuana makes concentration difficult.
It decreases coordination.
Smoking cannabis can damage the lungs.
When eaten, cannabis is absorbed unevenly, making its effects on the body and brain irregular.
Cannabis makes the mind feel fuzzy.
It interferes with memory.
The feeling of sedation it creates can become too strong, impairing functioning.
People can develop a tolerance (as with alcohol for anxiety), creating dependency and need for more.
Reactions to marijuana include panic attacks, which increase anxiety in general.
Cannabis use can increase the heart rate, which can spark an anxiety attack.
Medical Marijuana for Anxiety: For Better or Worse
When considering using medical marijuana for anxiety, keep in mind that while it can induce feelings of calm and relaxation, it doesn't address anxiety itself. Cannabis and anxiety can have a dysfunctional relationship. Cannabis may just mask the symptoms of anxiety rather than fixing underlying problems. Consequently, people remain in a state of anxiety when not using the substance, which increases the desire to use more.
Because the evidence about its risks and benefits is mixed, whether or not to use medical marijuana to help your anxiety isn't a simple decision. If you decide to use it, consult with a doctor to know if it is right for you and your unique anxiety. Remember, too, that with marijuana, less is more. The less frequently you use it, the more likely it is to work (Weil & Rosen, 2004).
Medical marijuana can help anxiety. Medical marijuana can make it worse. Know exactly what you're putting into your body. CBD seems to be safer and more effective than THC. Informing yourself is the best thing you can do for your anxiety.
APA Reference
Peterson, T. (2021, December 21). Does Medical Marijuana (Cannabis) Help Your Anxiety?, HealthyPlace. Retrieved on 2023, December 6 from https://www.healthyplace.com/self-help/anxiety/does-medical-marijuana-cannabis-help-your-anxiety
Last Updated: January 6, 2022