Tips for Staying Mentally Healthy During the Winter
Here's what's happening on the HealthyPlace site this week:
---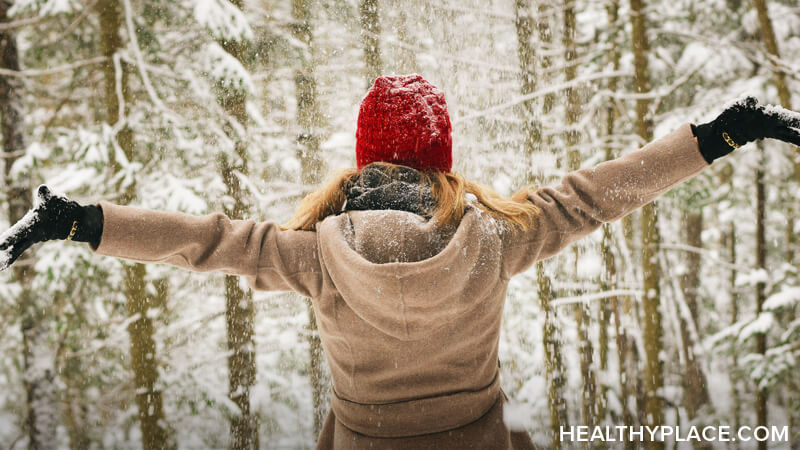 Tips for Staying Mentally Healthy During the Winter
Is your mental health affected by winter? You're not alone.
Perhaps you've noticed (if you're in the northern hemisphere) that it's getting dark out earlier and earlier. In many places, it's cold. We have an old survival instinct to stuff ourselves with comfort foods, curl up in a blanket, and hibernate. How do we stay mentally healthy? These tips are designed for winter mental health.
Listen to your body. Winter's low light causes the brain to prepare for sleep more than it does in the summer months. Try going to bed 20-30 minutes earlier than usual. You might consider working in a power nap of about 30 minutes during the day.
Feed your winter hunger wisely. Stock up on nutritious foods. Eat nuts, yogurt, sweet potatoes, crackers and hummus dip, and other healthy foods instead of junk food. You'll boost both mental and physical health.
Move! It's fun to curl up in a blanket and read or watch movies, but our bodies still need movement for wellbeing. Set a timer to buzz every hour, and when it does, get up and walk around, stretch, climb stairs, or dance wildly. It's a powerful mental health enhancer.
Try these, and see if they help create positive thoughts, healthy emotions, and the energy to resist hibernation. They could boost your mental health over the winter.
Related Articles Dealing with Staying Mentally Healthy in the Winter
Your Thoughts
Today's Question: What do you do for your mental health when winter has you feeling trapped? We invite you to participate by sharing your thoughts, knowledge, and experiences on the HealthyPlace Facebook page and on the HealthyPlace Google+ page.
---
---
From the HealthyPlace Mental Health Blogs
On all our blogs, your comments and observations are welcomed.
Feel free to share your thoughts and comments at the bottom of any blog post. And visit the mental health blogs homepage for the latest posts.
------------------------------------------------------------------
From HealthyPlace YouTube Channel
I'm Hannah. I Have Bipolar 2
Life with Bipolar: What They Don't Tell You
Life with bipolar 2 disorder is a challenge, and when you receive a diagnosis your life is cut short. At least this is what you are told, and what you inevitably believe. However, you can succeed in life with bipolar disorder. Surprise!. (Watch Hannah)
------------------------------------------------------------------
Most Popular HealthyPlace Articles Shared by Facebook Fans
Here are the top 3 mental health articles HealthyPlace Facebook fans are recommending you read:
If you're not already, I hope you'll join us/like us on Facebook too. There are a lot of wonderful, supportive people there.
------------------------------------------------------------------
Mental Health Quote
"Family is supposed to be our safe haven. Very often, it's the place where we find the deepest heartache."
Read more abuse quotes.
------------------------------------------------------------------
That's it for now. If you know of anyone who can benefit from this newsletter or the HealthyPlace.com site, I hope you'll pass this onto them. You can also share the newsletter on any social network (like facebook, stumbleupon, or google+) you belong to by clicking the links below. For updates throughout the week, circle HealthyPlace on Google+, follow HealthyPlace on Twitter or become a fan of HealthyPlace on Facebook. Also, check out HealthyPlace on Pinterest and share your mental health pins on our Share Your Mental Health Experiences board.
back to: HealthyPlace.com Mental-Health Newsletter Index
APA Reference
Peterson, T. (2017, December 18). Tips for Staying Mentally Healthy During the Winter, HealthyPlace. Retrieved on 2023, December 8 from https://www.healthyplace.com/other-info/mental-health-newsletter/tips-for-staying-mentally-healthy-during-the-winter
Last Updated: December 19, 2017