Stressed Out! Stress, Mental Health, and Our Sense of Control
HealthyPlace Mental Health Newsletter
Here's what's happening on the HealthyPlace site this week: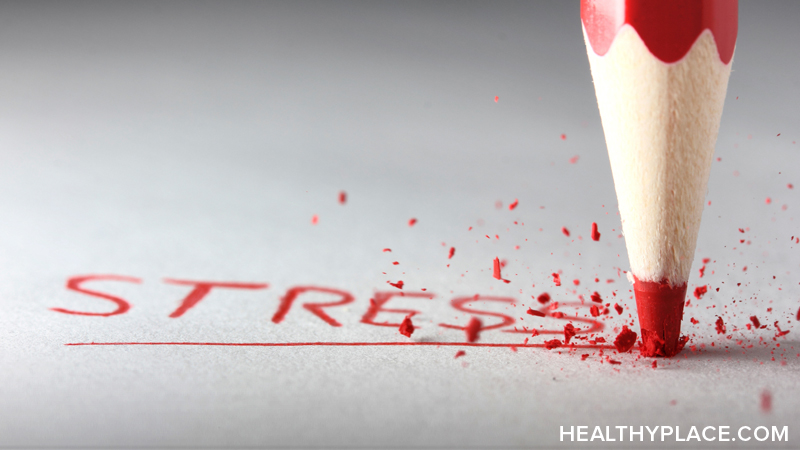 Stressed Out! Stress, Mental Health, and Our Sense of Control
"The greatest weapon against stress is our ability to choose one thought over another." — William James
Ah, stress. The dirty "s" word can disrupt our mental health and well-being (The Connection Between Stress and Mental Illness). How stressed we feel is related to how much control we feel in our lives. Knowing what stress does to us and identifying where we're feeling out of control gives us the power of choice necessary for decreasing stress and improving mental health.
Stress can get to people physically, emotionally, cognitively, and behaviorally. Knowing that you don't feel well because you're stressed isn't quite helpful in beating stress. Get specific. Pinpoint how you're feeling stress in your life. Getting specific will allow you to choose purposeful actions to counter the negative effects of stress (Overwhelmed By Stress and Anxiety? How To Deal With It).
To reduce stress's impact and optimize mental health, focus, too, on your own sense of power and control in your life. What's bothering you the most right now? Determining this will allow you to choose your thoughts about what's happening as well as actions you can take to deal with it. When we humans gain a sense of control over ourselves and our lives by identifying choices we have, we can feel so empowered that our sense of stress decreases and mental health increases.
Related Articles Dealing with Stress, Mental Health, and Control
Your Thoughts
Today's Question: What have you found to be helpful in reducing stress and regaining a sense of control in your life? We invite you to participate by commenting and sharing your feelings, experiences and knowledge on the HealthyPlace Facebook page and on the HealthyPlace Google+ page.
---
---
Share our Stories
At the top and bottom of all our stories, you'll find social share buttons for Facebook, Google+, Twitter, Pinterest and other social sites. If you find a particular story, video, psychological test or other HealthyPlace feature helpful, there's a good chance others in need will too. Please share.
We also get many inquiries about our linking policy. If you have a website or blog, you can link to any page on the HealthyPlace website without asking us beforehand.
Most Popular HealthyPlace Articles Shared by Facebook Fans
Here are the top 3 mental health articles HealthyPlace Facebook fans are recommending you read:
If you're not already, I hope you'll join us/like us on Facebook too. There are a lot of wonderful, supportive people there.
------------------------------------------------------------------
From the HealthyPlace Mental Health Blogs
On all our blogs, your comments and observations are welcomed.
Feel free to share your thoughts and comments at the bottom of any blog post. And visit the mental health blogs homepage for the latest posts.
------------------------------------------------------------------
Stand Up for Mental Health
Thousands Have Joined the Stand Up for Mental Health Campaign
But we still need you. Let others know there's no shame in having depression, anxiety, bipolar disorder, trichotillomania, OCD, ADHD, schizophrenia or any other mental illness.
Join the Stand Up for Mental Health campaign. Put a button on your website or blog (buttons for family members, parents, mental health professionals and organizations too). We also have covers for Facebook, Twitter and Google+.
------------------------------------------------------------------
Latest Mental Health News
These stories and more are featured on our mental health news page:
Vigorous Exercise Boosts Critical Neurotransmitters, May Help Restore Mental Health
Overweight, Obesity Linked To Poorer Memory For Young Adults
Combination Therapy May Be Better Than Radiotherapy Alone To Treat Aggressive Brain Cancer
Research Study Has Found That First Person Shooter Computer Games Can Help Rehabilitate Patients With Traumatic Brain Injuries
Genetic Counselling Helps Patients With Schizophrenia, Bipolar Disorder And Similar Conditions
Everyday Mindfulness Linked To Healthy Glucose Levels
Sounds Can Help Develop Speech And Gestures In Children With Autism
That's it for now. If you know of anyone who can benefit from this newsletter or the HealthyPlace.com site, I hope you'll pass this onto them. You can also share the newsletter on any social network (like facebook, stumbleupon, or digg) you belong to by clicking the links below. For updates throughout the week:
APA Reference
Peterson, T. (2016, June 3). Stressed Out! Stress, Mental Health, and Our Sense of Control, HealthyPlace. Retrieved on 2023, December 8 from https://www.healthyplace.com/other-info/mental-health-newsletter/stressed-out-stress-mental-health-and-our-sense-of-control
Last Updated: June 3, 2016