Mental Health Awareness Month 2012
HealthyPlace Mental Health Newsletter
Here's what's happening on the HealthyPlace site this week:
Why is Mental Health Awareness Month Important?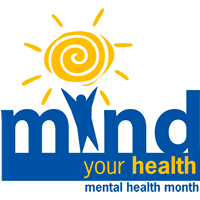 May is "Mental Health Awareness Month." It was started by the great support organization, Mental Health America, over 60 years ago.
We've been highlighting it every day on our site and social networks. Most people are very positive about it, but some pooh-pooh it as just another promotion; something dreamed up by the pharma companies to generate more profits.
Here's why we believe Mental Health Awareness Month is so important:
1 in 4 (or 1 in 5 depending on whose statistics you use) have a diagnosable mental illness. They should not have to hide in any fashion because of stigma associated with mental illness.
Many with a mental health condition don't know they have something that can be helped with treatment. These people are experiencing the symptoms of a mental illness, but they haven't connected it with the mental health condition. (Watch "I Didn't Recognize Depression Symptoms in Myself")
Like anything, media attention and campaigns like this are especially effective in bringing attention to these two issues. We hope you'll help spread the word.
Related Stories
------------------------------------------------------------------
Share our Stories
At the top and bottom of all our stories, you'll find social share buttons for Facebook, Google+, Twitter and other social sites. If you find a particular story, video, psychological test or other HealthyPlace feature helpful, there's a good chance others in need will too. Please share.
We also get many inquiries about our linking policy. If you have a website or blog, you can link to any page on the HealthyPlace website without asking us beforehand.
---
continue story below
---
Most Popular HealthyPlace Articles Shared by Facebook Fans
Here are the top 3 mental health articles HealthyPlace Facebook fans are recommending you read:
If you're not already, I hope you'll join us/like us on Facebook too. There are a lot of wonderful, supportive people there.
------------------------------------------------------------------
Mental Health Experiences
Share your thoughts/experiences with any mental health subject, or respond to other people's audio posts, by calling our toll-free number (1-888-883-8045).
You can listen to what other people are saying by clicking on the gray title bars inside the widgets located on the "Sharing Your Mental Health Experiences" homepage, the HealthyPlace homepage, and the HealthyPlace Support Network homepage.
If you have any questions, write us at: info AT healthyplace.com
------------------------------------------------------------------
From the HealthyPlace Mental Health Blogs
I want to introduce our new blogger to you.
Your comments and observations are welcomed.
Feel free to share your thoughts and comments at the bottom of any blog post. And visit the mental health blogs homepage for the latest posts.
EMDR Self-Help Techniques on HealthyPlace TV
EMDR therapy is known for it's quick relief of PTSD symptoms resulting from traumas like rape and combat. Dr. Francine Shapiro discovered and developed EMDR. We did a great interview with Dr. Shapiro discussing how EMDR works, its benefits, plus new self-help techniques you can use to counter negative thoughts and emotions. Watch EMDR Self-Help Techniques.
That's it for now. If you know of anyone who can benefit from this newsletter or the HealthyPlace.com site, I hope you'll pass this onto them. You can also share the newsletter on any social network (like facebook, stumbleupon, or digg) you belong to by clicking the links below. For updates throughout the week:
APA Reference
Staff, H. (2012, May 4). Mental Health Awareness Month 2012, HealthyPlace. Retrieved on 2023, December 8 from https://www.healthyplace.com/other-info/mental-health-newsletter/mental-health-awareness-month-2012
Last Updated: January 14, 2014