Long-lasting Effects of Abuse
HealthyPlace Mental Health Newsletter
Here's what's happening on the HealthyPlace site this week:
Long-lasting Effects of Abuse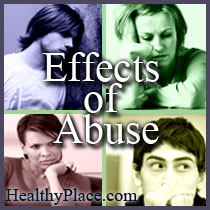 It doesn't matter what type of abuse it is, the effects of abuse on its victims can be devastating and last a lifetime. A February 2013 Time Magazine article addresses the effects of child abuse and how it primes the brain for future mental illness. In the largest study yet to use brain scans to show the effects of child abuse, researchers discovered changes in key regions in and around the hippocampus in the brains of young adults who were maltreated or neglected in childhood. Researchers suggest these changes may leave abuse victims more vulnerable to depression, addiction and post-traumatic stress disorder (PTSD). Nearly 200 people aged 18 to 25, who were mainly middle class and well-educated, were part of the study.
As you can imagine, it's extremely difficult to overcome the effects of abuse. We asked members of the HealthyPlace Twitter community to share their personal experiences with the effects of abuse. Here are some of their responses.
@StargardtEyes: Mental abuse leaves me hypercritical of myself. Every tiny thing. To the point that I'm paralyzed, afraid to 'mess up'.
@JessicaanneRose: Don't think we can ever truly recover from abuse. It has a domino effect on everything. Unable to trust is hard.
@DebraLindh: Those that say "get over it" lack the comprehensive knowledge and understanding of this type of trauma.
@CelesteMorriso1: Long after memories are worked through, still a challenge to trust as well as the loss of 'what never was'.
@JacquelineLNDN: So very true! Many don't understand that just because the abuse is over, you can't "just get over it".
@BiffMeeckie_2: Abuse left me feeling worthless, no self-worth or esteem. I feel dirty. Think every1 thinks badly of me. Always there.
@McLearyMc: Abuse left me with a lifetime of depression, anxiety and constant self doubt. Luckily I kept my sense of humour though.
What are the Effects of Abuse?
Your Thoughts
Today's Question: If you're an abuse survivor, what effect has the abuse had on you? We invite you to participate by commenting and sharing your feelings, experiences and knowledge on the HealthyPlace Facebook page.
Help Spread Awareness of Mental Illness
Get Our Mental Health Blog Widget
Over 270 sites and blogs are helping spread awareness of mental illness. How about putting our mental health blogs widget on your website, blog or social page? The latest HealthyPlace blog headlines appear as soon as the articles are posted on our site. Just click "Get Widget" at the bottom of the widget, grab the embed code and paste it into your page. You'll also see embed links for Wordpress, Blogger, Linkedin and other social sites there.
As a bonus, put the blogs widget on your site or blog, email us (info AT healthyplace.com) with a page link where it appears, and we'll give a shoutout to your site, blog, or social site on our Facebook and Twitter pages.
------------------------------------------------------------------
Share our Stories
At the top and bottom of all our stories, you'll find social share buttons for Facebook, Google+, Twitter, Pinterest and other social sites. If you find a particular story, video, psychological test or other HealthyPlace feature helpful, there's a good chance others in need will too. Please share.
We also get many inquiries about our linking policy. If you have a website or blog, you can link to any page on the HealthyPlace website without asking us beforehand.
---
continue story below
---
HealthyPlace.com Wins Major Web Health Awards
Yes, we're excited! On Wednesday, the Web Health Awards were announced. HealthyPlace.com won a Silver Award for the Best Chronic Disease Portal Website. This is a huge award and represents the efforts of a lot of people, including our fantastic mental health bloggers. There were over 600 entries from some of the biggest and well-known health names across the Internet in this year's Web Health Awards competition.
In addition to our website award, three of our bloggers were received awards for outstanding work.
Jodi Aman, author of the Anxiety-Schmanxiety blog
Emily Roberts, author of the Building Self-Esteem blog
Kellie Holly, author of the Verbal Abuse in Relationships blog
I encourage you to take a look at their well-written, informative blogs. I'm sure you'll get something positive from them.
Finally, we received a Bronze Award for the HealthyPlace Pinterest Boards. Kudos to our website manager, Romina Avila, and our graphics designer, Rebeca Estrada, for doing a great job with that. We invite you to check the boards out and follow us there too.
Most Popular HealthyPlace Articles Shared by Facebook Fans
Here are the top 3 mental health articles HealthyPlace Facebook fans are recommending you read:
If you're not already, I hope you'll join us/like us on Facebook too. There are a lot of wonderful, supportive people there.
------------------------------------------------------------------
Mental Health Experiences
Share your thoughts/experiences with any mental health subject, or respond to other people's audio posts, by calling our toll-free number (1-888-883-8045).
You can listen to what other people are saying by clicking on the gray title bars inside the widgets located on the "Sharing Your Mental Health Experiences" homepage, the HealthyPlace homepage, and the HealthyPlace Support Network homepage.
If you have any questions, write us at: info AT healthyplace.com
------------------------------------------------------------------
From the HealthyPlace Mental Health Blogs
On all our blogs, your comments and observations are welcomed.
Feel free to share your thoughts and comments at the bottom of any blog post. And visit the mental health blogs homepage for the latest posts.
------------------------------------------------------------------
Stand Up for Mental Health
Hiding Mental Illness
Mental health stigma will stick around so long as people with mental illness continue to feel they have to remain in hiding. Stand Up for Yourself. Stand Up for Mental Health.
Join the Stand Up for Mental Health campaign. Put a button on your website or blog (buttons for family members, parents, mental health professionals and organizations too). We also have covers for Facebook, Twitter and Google+.
Let others know there's no shame in having depression, anxiety, bipolar disorder, ADHD, schizophrenia or any other mental illness.
------------------------------------------------------------------
Finding Your Parenting Path With Your Autistic Child
Parenting a child on the autistic spectrum can feel like walking an emotional tightrope, says The Parent Coach, Dr. Steven Richfield. A lot of it has to due with parental self-judgement and guilt. Here's Dr. Richfield's parenting advice for children on the autistic spectrum.
Latest Mental Health News
These stories and more are featured on our mental health news page:
What Happens to Women Who Are Denied Abortions?
The Myth of "Just Do It"
Dare To Be Yourself: Rules for Living Authentically
Hot and Bothered: Why Does Warm Weather Make Us Lose Our Cool?
The Fame Game: Your Illusory Fifteen Minutes of Fame
Oh, So Rude! Incivility and Rudeness Abound
Mental Health Services Inadequate For Survivors Of Intimate Partner Violence
Risk Factors For Suicide Mapped
Migraines Do Not Exacerbate Mental Deterioration
Possible Prevention Of PTSD Discovered
link Between Childhood Maltreatment and Bipolar Risk
That's it for now. If you know of anyone who can benefit from this newsletter or the HealthyPlace.com site, I hope you'll pass this onto them. You can also share the newsletter on any social network (like facebook, stumbleupon, or digg) you belong to by clicking the links below. For updates throughout the week:
APA Reference
Staff, H. (2013, June 12). Long-lasting Effects of Abuse, HealthyPlace. Retrieved on 2023, December 1 from https://www.healthyplace.com/other-info/mental-health-newsletter/long-lasting-effects-of-abuse
Last Updated: September 4, 2014