Is Marijuana Helpful or Harmful To Your Mental Health
HealthyPlace Mental Health Newsletter
Here's what's happening on the HealthyPlace site this week:
Using Marijuana to Manage Mental Health Symptoms
A significant number of HealthyPlace community members use marijuana to manage their mental health symptoms. We know this because whenever we post a story on the subject, a large and vocal crowd comments on how marijuana has helped them. However, they are not alone. There is growing evidence that people with serious mental illness, including depression and psychosis, are more likely to use marijuana or have used it for long periods of time in the past. But what does the research say about the connection between marijuana and mental health?
Marijuana and Mental Health: The Research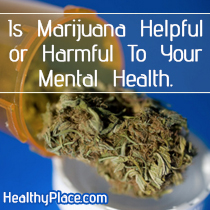 In the National Comorbidity Study, 51 percent of those who met criteria for a substance disorder at some time in their life also met criteria for a mental disorder at some point. In the large majority of cases, individuals reported that the mental disorder preceded the substance disorder (Kessler et al. 1996). Other studies suggest a clear link between early (adolescent) marijuana use and later mental health problems, especially in those with a genetic history of mental illness. Regular use of marijuana appears to double the risk of developing a psychotic episode or long-term schizophrenia (Arseneault et al., 2002; Parakh & Basu, 2013). For that reason, those people who have a family history of bipolar disorder or schizophrenia should not be using marijuana.
As for whether or not marijuana causes depression and anxiety, the causal effect is unclear. What is known is that while marijuana may ease depression, when the effects of the drug wear off, the depression may be worse. (Marijuana and Depression: A Depressant or Treatment?) Those who use marijuana experience higher levels of depression and depressive symptoms than those who do not use it (Lev-Ran et al., 2013; Pacek et al., 2013).
When it comes to marijuana and anxiety, again, the research results are mixed. Some research suggests that frequent or heavy marijuana use in adolescence can lead to an anxiety disorder in young adulthood (Degenhardt et al., 2013) and this may be especially true for young women.
So Is Marijuana Good or Bad For Your Mental Health?
The research shows the risk of negative mental health consequences are linked to the age you start smoking marijuana, whether or not you smoke heavily, and your family history of mental illness. In addition to developing mental health problems, regular marijuana use can lead to more general life problems, like conflict at home or school or work, financial problems and memory problems.
If, after smoking marijuana, you seem to be more depressed or anxious or if you are having suicidal thoughts, marijuana is probably not safe for you. Mental health professionals advise that you pay attention to your body and emotional responses and if you have an existing mental health issue, marijuana should be avoided.
Related Mental Health and Marijuana Articles
Your Thoughts
Today's Question: Do you use, or would you consider using, marijuana to manage your mental health symptoms? We invite you to participate by commenting and sharing your feelings, experiences and knowledge on the HealthyPlace Facebook page.
------------------------------------------------------------------
Share our Stories
At the top and bottom of all our stories, you'll find social share buttons for Facebook, Google+, Twitter, Pinterest and other social sites. If you find a particular story, video, psychological test or other HealthyPlace feature helpful, there's a good chance others in need will too. Please share.
We also get many inquiries about our linking policy. If you have a website or blog, you can link to any page on the HealthyPlace website without asking us beforehand.
---
continue story below
---
Most Popular HealthyPlace Articles Shared by Facebook Fans
Here are the top 3 mental health articles HealthyPlace Facebook fans are recommending you read:
If you're not already, I hope you'll join us/like us on Facebook too. There are a lot of wonderful, supportive people there.
------------------------------------------------------------------
Mental Health Experiences
Share your thoughts/experiences with any mental health subject, or respond to other people's audio posts, by calling our toll-free number (1-888-883-8045).
You can listen to what other people are saying by clicking on the gray title bars inside the widgets located on the "Sharing Your Mental Health Experiences" homepage, the HealthyPlace homepage, and the HealthyPlace Support Network homepage.
If you have any questions, write us at: info AT healthyplace.com
------------------------------------------------------------------
From the HealthyPlace Mental Health Blogs
We want to welcome two new bloggers to HealthyPlace. Erin Schulthies will be joining Liana Scott on the "Coping with Depression" blog and Mike Ehrmantrout is co-authoring the "Recovering From Mental Illness" blog with Paulissa Kipp. Drop by, check them out and say hello. On all our blogs, your comments and observations are welcomed.
On all our blogs, your comments and observations are welcomed.
Feel free to share your thoughts and comments at the bottom of any blog post. And visit the mental health blogs homepage for the latest posts.
------------------------------------------------------------------
Stand Up for Mental Health
Thousands Have Joined the Stand Up for Mental Health Campaign
But we still need you. Let others know there's no shame in having depression, anxiety, bipolar disorder, trichotillomania, OCD, ADHD, schizophrenia or any other mental illness.
Join the Stand Up for Mental Health campaign. Put a button on your website or blog (buttons for family members, parents, mental health professionals and organizations too). We also have covers for Facebook, Twitter and Google+.
------------------------------------------------------------------
Latest Mental Health News
These stories and more are featured on our mental health news page:
Key Role Played By Psychiatric Nursing Specialists Following Boston Marathon Bombing
Should Obesity Be a 'Disease'?
Mental Health Problems Mistaken For Physical Illness In Children
Further Support For Hippocampal Volume As Psychosis Biomarker
Cancer Contributes To Schizophrenia Mortality
Substance Abuse Worsens Course Of First-Episode Psychosis
Music As Therapeutic Intervention Can Relieve Anxiety And Depression In Older People
More Support For Interhemispheric Disconnectivity In Bipolar Disorder
BDNF Abnormalities May Predict Bipolar Disorder
Elevated Homocysteine Not Gender-Specific In Schizophrenia
Cortical Thickness Changes May Contribute To Early Schizophrenia
That's it for now. If you know of anyone who can benefit from this newsletter or the HealthyPlace.com site, I hope you'll pass this onto them. You can also share the newsletter on any social network (like facebook, stumbleupon, or digg) you belong to by clicking the links below. For updates throughout the week:
APA Reference
Staff, H. (2014, March 6). Is Marijuana Helpful or Harmful To Your Mental Health, HealthyPlace. Retrieved on 2023, December 6 from https://www.healthyplace.com/other-info/mental-health-newsletter/is-marijuana-helpful-or-harmful-to-your-mental-health
Last Updated: September 3, 2014