How to Talk to People About Your Mental Illness
Here's what's happening on the HealthyPlace site this week:
---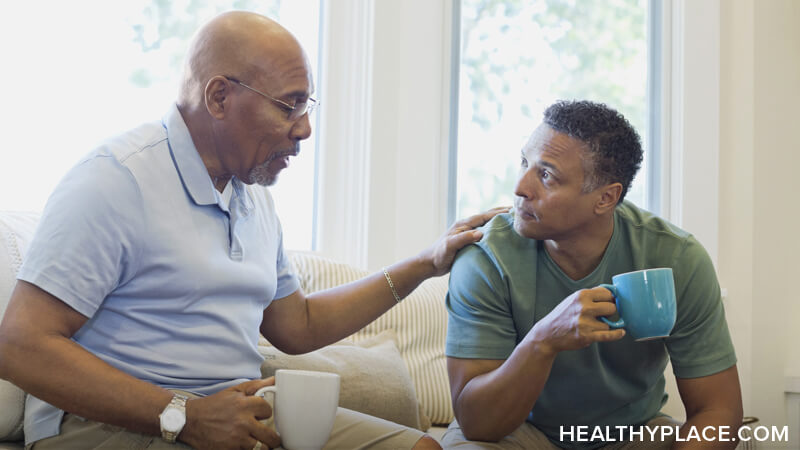 How to Talk to People About Your Mental Illness
Whether you're newly diagnosed or have lived with a mental illness for years, talking about your mental illness can be difficult. If you've decided that you'd like to open up about your mental health, here are some tips to make it easier.
Tips for Talking to People About Your Mental Illness
Plan what you want to say. What is the main reason you're talking about this, and what do you hope will happen? Choose your words and information accordingly.
Stick to facts. What are the symptoms and effects of your mental health disorder (many people don't know)? How is it affecting you? What are you doing for treatment? How can the person support you?
Ask for questions. Even the most supportive friends and family may have questions. Think of the questions not as an attack on you but as an opportunity to communicate.
Of course, practice self-care afterwards. Whether the conversation flows smoothly and stress-free or it is difficult and awkward, you might feel drained when it's over. Talking about your mental illness isn't easy. Celebrate and de-stress by doing something to boost your mental health. Watch a movie with the people you've just talked to, take a bath, do some yoga, meditate, read a book, color or draw—anything healthy that you enjoy. And pat yourself on the back for having the courage to open up.
Related Articles Dealing with Talking to People About Mental Illness
Your Thoughts
Today's Question: If you've talked to people about your mental illness, in what ways has it been helpful? We invite you to participate by sharing your thoughts, experiences, and knowledge on the HealthyPlace Facebook page and on the HealthyPlace Google+ page.
---
---
From the HealthyPlace Mental Health Blogs
On all our blogs, your comments and observations are welcomed.
Feel free to share your thoughts and comments at the bottom of any blog post. And visit the mental health blogs homepage for the latest posts.
------------------------------------------------------------------
From HealthyPlace YouTube Channel
I'm Hannah. I Have Bipolar 2
Bipolar Disorder, Confidence and How to Love Yourself
In this world, it's difficult for most people (with or without a mental health condition) to have high self-esteem. However, when you live with bipolar disorder, it's even more difficult to love yourself and be confident in your abilities. (Watch Hannah)
------------------------------------------------------------------
Most Popular HealthyPlace Articles Shared by Facebook Fans
Here are the top 3 mental health articles HealthyPlace Facebook fans are recommending you read:
If you're not already, I hope you'll join us/like us on Facebook too. There are a lot of wonderful, supportive people there.
------------------------------------------------------------------
Mental Health Quote
"Your feelings are valid. You have the right to feel whatever you feel. You aren't exaggerating. You aren't being sensitive. You aren't being dramatic. You're hurting, and that's okay."
Read more mental health quote.
------------------------------------------------------------------
That's it for now. If you know of anyone who can benefit from this newsletter or the HealthyPlace.com site, I hope you'll pass this onto them. You can also share the newsletter on any social network (like facebook, stumbleupon, or google+) you belong to by clicking the links below. For updates throughout the week, circle HealthyPlace on Google+, follow HealthyPlace on Twitter or become a fan of HealthyPlace on Facebook. Also, check out HealthyPlace on Pinterest and share your mental health pins on our Share Your Mental Health Experiences board.
back to: HealthyPlace.com Mental-Health Newsletter Index
APA Reference
Peterson, T. (2018, March 5). How to Talk to People About Your Mental Illness, HealthyPlace. Retrieved on 2023, December 1 from https://www.healthyplace.com/other-info/mental-health-newsletter/how-to-talk-to-people-about-your-mental-illness
Last Updated: March 7, 2018