Going From Suicidal Thoughts To A Suicide Attempt
Here's what's happening on the HealthyPlace site this week: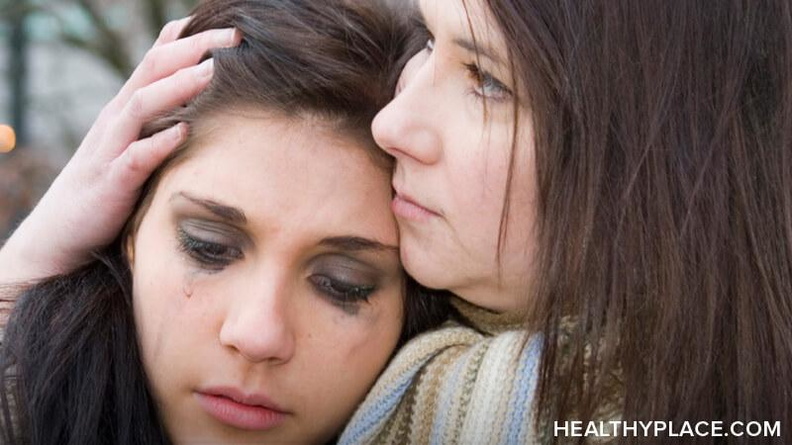 Going From Suicidal Thoughts To A Suicide Attempt
What stops someone from suicide? Going from suicidal thoughts to actually attempting or completing suicide?
Many with depression, bipolar disorder, schizophrenia, addictions and other mental health conditions have thought about suicide. But I wanted to know what stops someone from crossing the line; from thinking about suicide to attempting or completing suicide?
Shawn T. Smith, Psy.D., says "there is a certain kind of thinking that fuels suicide, and for most of us it is a terribly difficult idea to sit with: suicide is problem-solving behavior. In the mind of someone considering suicide, the act may seem like an expeditious and effective way to eliminate pain."
For those who are balancing on the line between life and death then, what keeps them from going through with the suicide?
Fear of death (What does the afterlife hold?)
Fear of an unsuccessful suicide attempt and being left physically and/or mentally worse off
Inability to actually take their own life
Regrets about leaving people behind or hurting loved ones
An ounce of hope that things will get better
Related Information on Suicide
National Suicide Prevention Hotline 1-800-273-8255
Your Thoughts
Today's Question: If you've thought about suicide, what is it that keeps you from taking the next step? We invite you to participate by commenting and sharing your feelings, experiences and knowledge on the HealthyPlace Facebook page.
Most Popular HealthyPlace Articles Shared by Facebook Fans
Here are the top 3 mental health articles HealthyPlace Facebook fans are recommending you read:
If you're not already, I hope you'll join us/like us on Facebook too. There are a lot of wonderful, supportive people there.
------------------------------------------------------------------
From the HealthyPlace Mental Health Blogs
On all our blogs, your comments and observations are welcomed.
Feel free to share your thoughts and comments at the bottom of any blog post. And visit the mental health blogs homepage for the latest posts.
-----------------------------------------------------------------
That's it for now. If you know of anyone who can benefit from this newsletter or the HealthyPlace.com site, I hope you'll pass this onto them. You can also share the newsletter on any social network (like facebook, stumbleupon, or digg) you belong to by clicking the links below. For updates throughout the week:
APA Reference
Staff, H. (2013, August 15). Going From Suicidal Thoughts To A Suicide Attempt, HealthyPlace. Retrieved on 2023, December 8 from https://www.healthyplace.com/other-info/mental-health-newsletter/going-from-suicidal-thoughts-to-a-suicide-attempt
Last Updated: September 13, 2022