Bulimia Support Groups Important to Recovery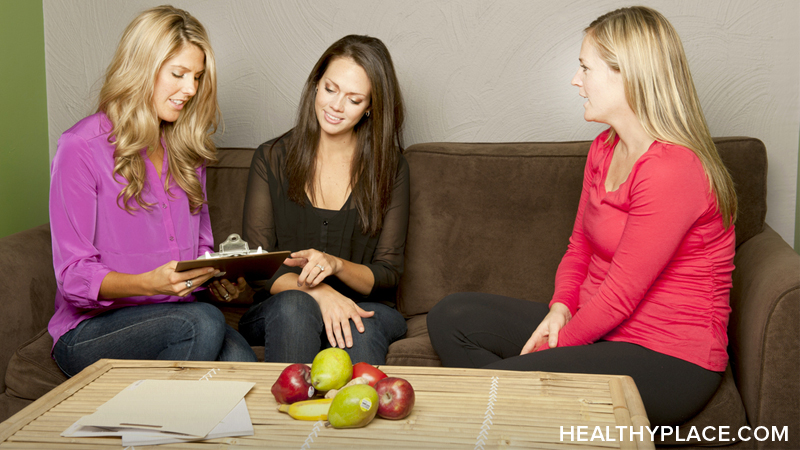 A bulimia support group can be essential in initial and long-term recovery from bulimia. Bulimia is a devastating eating disorder that can cause severe side effects, up to and including death, if not properly treated. Research shows that 1% - 3% of women (and a growing number of men) will suffer from bulimia nervosa at some point in their lives and bulimia support groups are one of the places these people, and their families, can get help.
These groups are often a part of other eating disorder support groups. They are most appropriate when:
The patient is getting other forms of treatment
The eating disorder is not severe and there are no additional health concerns
The person is in recovery
What Are Bulimia Support Groups?
A bulimia support group is a group of people who come together to support those with bulimia and other eating disorders. The specific members and philosophies of each support group may differ, but the goals of a bulimia support group remain the same:
To create an open, welcoming environment where participants can express their stories, their struggles and successes without fear of judgment or negativity
To give participants positive encouragement through the sharing of positive recovery stories, interpersonal support and the sense that the bulimic is not alone
To offer hope and help
While these support groups generally meet in person or online, many also send printed or electronic newsletters to keep in touch with their members.
---
Types of Bulimia Support Groups
While bulimia support groups share common goals, they do so in a variety of ways. These groups can basically be divided into two categories: those facilitated by a mental health professional and those that are run by peers.
Professionally-Run Groups
Bulimia support groups run by therapists or other professionals are sometimes found in hospitals or bulimia treatment centers. The professional may be part of the group to create a positive and inclusive environment, offer therapeutic help or to ensure the accuracy of shared information. A professional in a bulimia support group is typically someone who doesn't suffer from bulimia. These groups often run for a limited amount of time and a fee may be charged to attend.
Other aspects of a professionally-run group include:
Often focused on a particular type of therapy, such as cognitive behavioral therapy
The professional often facilitates group interaction to insure all participants have a chance to speak and give feedback
The professionals are often social-workers, psychologists, counselors or clergy members
Peer Groups
Bulimia support groups run by peers, often called self-help groups, are fully run and attended by volunteers. Typically those who arrange these groups are bulimics or they have experience with the illness.
One of the best known types of peer-run bulimia support groups are those based on the same type of 12-step program found in addiction programs like alcoholics anonymous. These types of bulimia support groups are based around the idea that bulimia and other eating disorders are addictions. The aim of these groups is to focus on the physical, emotional and spiritual parts of a person in order to enable recovery. This philosophy encompasses the belief that bulimia is treatable but not curable.
It's worth noting that no type of peer-run bulimia support group has been found to be very successful in the initial treatment of an eating disorder in an outpatient setting.1
---
How Can Bulimia Support Groups Help?
Humans are, by their very nature, social beings. We live in families, we form groups of friends and we rely on others, particularly in times of great stress. Getting diagnosed with bulimia nervosa is certainly a time of great stress and bulimics need people around them who can help them deal with the implications of their diagnosis. Some of these people can come from bulimia support groups.
Unfortunately, many bulimics have low self-esteem and push others away during their illness. Bulimics often feel bad about whom they are and they have a very hard time talking about their bulimia symptoms and behaviors. Bulimics are afraid of being judged for their eating disorder and often feel that others can't understand what they are going through. (learn how to help someone with bulimia)
Bulimia support groups help to fight this effect by creating a social network of people who have been where the bulimic is and will not judge them for their behavior. Bulimic support groups often provide the first place the bulimic feels safe to express herself and speak openly about her eating disorder.
The bulimic can also have her self-esteem buoyed as she makes new, accepting friends through the bulimia support group. She also has the opportunity to help others through the recovery process.
Bulimia recovery can be an ongoing challenge for many people and backsliding into bulimic behaviors is common. Bulimia support groups provide a form of positive, long-term support, at any time when the bulimic needs help. This support can be part of initial treatment, into recovery and at any time when bulimic symptoms reappear. Bulimia support groups can help keep bulimic behaviors from returning by reminding the bulimic repeatedly how important healthy eating behaviors are.
Other ways that bulimia support groups can help:
They allow for many different kinds of support
Bulimia support groups allow places for the loved ones of the bulimic to go, get informed and express their own feelings about bulimia
It allows for regular focus on attaining and maintaining healthy eating patterns
When a person develops bulimia it doesn't just affect them and their life, it also affects all the people around them. These effects of bulimia are numerous, varied and can be devastating. There is no better place to handle such a broad range of effects than in a bulimia support group made up of so many people who have experienced the same thing.
---
Locating a Bulimia Support Group
The first place to look for a bulimia support group is at the treatment center being attended by the bulimic. Whether the person is receiving help from a designated facility, hospital or in a doctor's office, the professionals there should be able to refer the patient or their family to an appropriate group.
The second place to look for help is the internet, which means doing a bit of additional investigation. There are web sites that list bulimia support groups along with a summary of that group's purpose and activities. Many groups also have their own web sites and these can be used to learn about mission statements, principles and contact information.
There are also many bulimia support groups that are wholly online. These have the advantage of being accessible 24 hours a day, seven days a week, around the world. Their disadvantage, though, is the lack of personal connections and intimacy. There is also a danger of people in online groups not being whom they claim to be. Some may even be pro bulimia (pro-mia) and try and entice the patient back into damaging behaviors. A professional moderator can help reduce this likelihood.
To find an in-person or online bulimia support group, start with one of these resources:
APA Reference
Tracy, N. (2022, January 4). Bulimia Support Groups Important to Recovery, HealthyPlace. Retrieved on 2023, December 7 from https://www.healthyplace.com/eating-disorders/bulimia-nervosa/bulimia-support-groups
Last Updated: January 12, 2022