Weight Gain Caused By Medication for Schizophrenia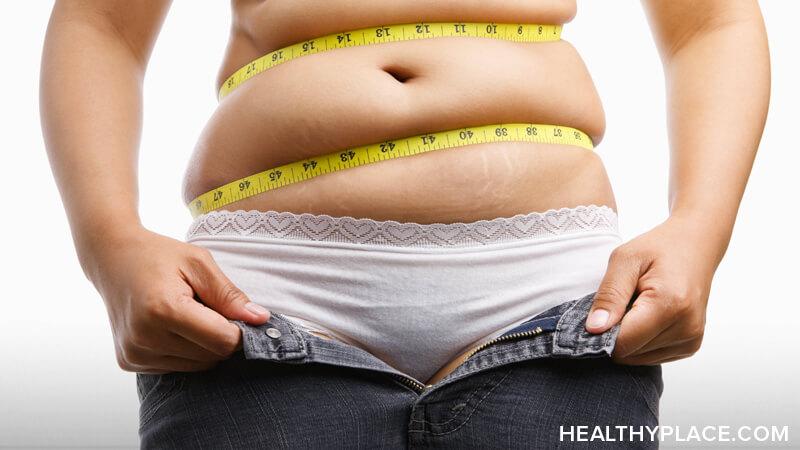 Weight gain caused by medication is a reality. I have schizoaffective disorder, which is a combination of bipolar disorder and schizophrenia. I take an atypical antipsychotic medication for schizoaffective disorder that causes extreme weight gain. Although many people with schizophrenia or schizoaffective disorder who take medications similar to mine make heroic efforts to fight the weight gain, I've come to accept it—although it's been harder to accept that I need the medication in the first place.
Weight Gain from Medication Is a Cruel Side Effect
Make no mistake, extreme weight gain due to medication to treat schizophrenia or schizoaffective disorder is a cruel side effect. I'd always effortlessly been a size two before I went on this medication. Now, I'm a size 14. My body weight almost doubled from 100 pounds to 175.
The hardest thing about dealing with this side effect is that doctors side with the medication. It's not that I don't want to take it–I am in control of my life with the help of these remarkable drugs. And it's not that I haven't tried different medications, with the help of doctors. It's just that no doctor has ever leveled with me and said, "I know it stinks that you have to deal with the weight, I know it stinks that you have to deal with this illness."
So, without much help from doctors, I've come to terms with the weight gain caused by my condition and treating it. It's been a long and continuing process. In my 20s—when I was in college and graduate school—my doctors tried medication after medication to find one that worked for me and didn't cause weight gain. We didn't find a single option that took care of both.
I have a great psychopharmacologist whose testimony was instrumental in winning me Social Security disability benefits. It's just that, well, she's a doctor. She prescribes the medication, but she's not the one whose body and brain has to deal with the effects of it for my mental disorders. I have had other doctors without her level of expertise, doctors who almost flippantly told me I had more to worry about than weight gain.
I'm Angry About Weight Gain from Medications
One thing I really like about my psychopharmacologist is that she's a feminist. And feminism has been crucial for me to develop a positive body image while remaining overweight. Well-meaning people ask me why I can't "just" exercise and balance my diet. I try to get out and exercise and to decrease my sugar intake, but I don't want to become a slave to the diet industry. And even those efforts reduce my weight by a mere few pounds. Feminism is what allows me to make the positive distinction in my life choices.
But, feminist or not, I'm angry. I'm angry I have schizoaffective disorder. I'm angry people don't understand my disorder and ask me offensive questions about how I manage it. And, to be perfectly blunt, I'm angry that my life is beholden to doctors who can walk away from my problems at nights and on weekends when I can't walk away from having schizoaffective disorder.
Yes, I am grateful to my psychopharmacologist. But that doesn't change the fact that I'd rather not need one.
APA Reference
Caudy, E. (2017, June 29). Weight Gain Caused By Medication for Schizophrenia, HealthyPlace. Retrieved on 2023, December 6 from https://www.healthyplace.com/blogs/creativeschizophrenia/2017/06/weight-gain-caused-by-medications-for-schizophrenia
Author: Elizabeth Caudy
I gained 9 pounds in 4 days on my anti-psychotic drug!!
I have bipolar,bdd,bpd.i was a size 8 then,aended to a 14 form all my meds.i do work out but only shed a few kilo.it is still a struggle dealing with the body change,even 7 yrs later.
I also have schizoaffective disorder and have gained 40 pounds on my med that got rid of my voices
Leave a reply