How to Fight Depression Stigma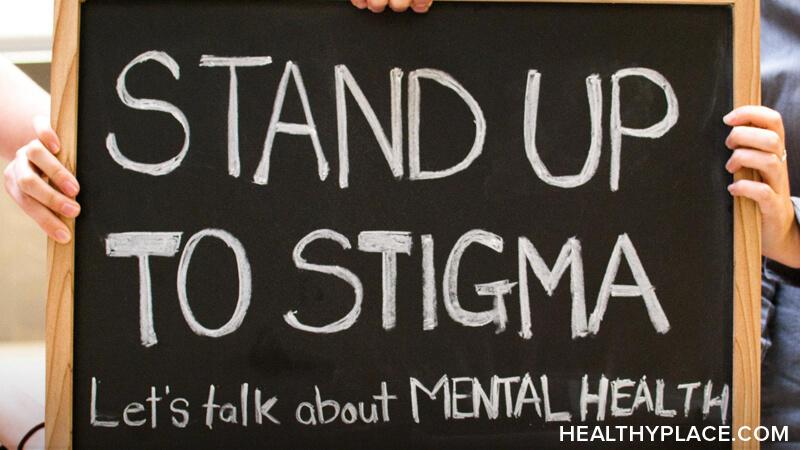 We should fight depression stigma now because May is Mental Health Awareness Month and the spotlight is on mental health and depression stigma. That means there is a greater opportunity to reach a wider audience about how we can work together to fight the stigma surrounding depression and other mental illnesses. With this in mind, how can we best use the time that we have during the month of May to fight depression stigma?
How We Can Reduce Depression Stigma
Share Our Diagnoses to Lessen Depression Stigma 
Often a diagnosis of depression or other mental health condition carries a stigma. By sharing our diagnosis stories, we show others that there is no shame in being diagnosed with a mental illness. It's like being diagnosed with diabetes or a heart murmur; neither of these health issues carries a stigma, so why should a stigma be attached to depression or any other mental health condition? The more we make others aware of the fact that mental illness is indeed an actual health condition, the less likely it is the stigma will continue to be attached to mental illness.
Also, when we share our diagnosis stories, we fight depression stigma by showing others they are not alone. Many people suffer in silence because of the fear of being stigmatized by a diagnosis of mental illness. When we share our stories about the symptoms we had leading up to our depression diagnosis, we can be an encouragement for those who haven't sought help yet to finally take that step. As more of us come forward with our diagnosis stories, there is a greater chance that people will be educated about and made aware of the truth about mental illness; there will then be less misinformation, which in turn will lead to a reduction in -- and, hopefully, one day, the end of -- depression stigma. 
Discuss Our Healing and Recovery Journeys to Fight Depression Stigma
Once a depression or other mental illness diagnosis has been given, then the work begins. The road to healing and recovery is not an easy one; also, it should be understood that many of us with mental illness will battle our conditions for the rest of our lives. For those who would label people diagnosed with mental health conditions with the stigma of being "weak," we are, in fact, quite the opposite. It takes a great deal of strength to fight a battle with your mind every day.
We are often given tools, such as medications and therapy, to help us win this battle, but we have to do the work ourselves. And, even then, many of us are further stigmatized because of our use of some of these tools, such as antidepressants, therapy, or inpatient care. For example, I had a suicide attempt last year. After that incident, I spent a week in an inpatient mental health care facility. Because of this, I have had to deal with stigma and so has my family.
In spite of being stigmatized, I will continue to share my story. Many people, including myself, take antidepressants to treat their depression. There is often a stigma attached to these medications or misinformation given about them. Prior to my starting antidepressants, I was unable to concentrate during the day or sleep at night. I could not eat, and I could barely get out of bed. I felt like life was pointless and I wanted to die.
Now I'm writing and leading a special needs support group. I am now able to go out with my husband and with friends. Antidepressants have helped my brain function properly so that I could truly live again. Just like a person who has diabetes needs certain medications, so do I and many others who have depression; there should be no stigma attached to either of these situations.
Finally, my therapist has taught me how to conquer negative thoughts and use the logical side of my brain to silence the emotional side when it is being irrational. Those of us who are on a mental illness healing journey need to share our recovery stories and help counteract any misconceptions people may have about mental illness treatment. Let's work together so that depression stigma becomes a thing of the past.
Share Your Story or Mental Health Resources on Social Media to Quiet Depression Stigma
If you find having an actual conversation about stigma and depression difficult, then share on social media instead. If you're not comfortable sharing your story, then share information from a reputable source, such as this blog or website. If you read comments online that stigmatize depression or another mental illness, gently respond to that person. Direct him/her to HealthyPlace for trusted information. We can all play a part in fighting the stigma that surrounds depression and raising mental health awareness.
In this video, I discuss other ways to educate people about mental illness and how to best counteract depression stigma where we often see it today.
APA Reference
Smith, J. (2018, May 10). How to Fight Depression Stigma, HealthyPlace. Retrieved on 2023, November 29 from https://www.healthyplace.com/blogs/copingwithdepression/2018/5/depression-stigma
Author: Jennifer Smith
This is such an important message. Sharing our stories is so important, not only to break stigmas but also to find the support we need. I was silent about my depression for a long time and didn't want anyone to know about it. I now have opened up conversations about it and even have a blog about overcoming depression. In a way, this has set me free from feeling ashamed of depression and at the same time helps others to see it differently. Thanks for writing this!
Karen, thank you so much for sharing your story. You are right about how sharing our stories breaks stigma and helps us find support. I am so happy to hear that you blog about how you're overcoming depression. Keep on educating others and let's end stigma for good!
Thanks! I've found that writing has helped a lot in sharing my story. I'm able to share things on my blog (OvercomingAtHome.com) that I maybe wouldn't have the courage to talk about face-to-face with someone.
Yes, it is often easier to write about our depression experiences than it is to talk about them. Thank you for sharing your blog with me. I'm looking forward to reading it.
Leave a reply