Retirement is Depressing
35 years at Southwestern Bell/ AT&T, and struggling to make ends meet.
40 years as a union rep and labor foreman for a large highway construction company and his entire pension could be affected by whether there is a contract from the current negotiations.
33 years at Chrysler and faced with the decision to move or take a questionable buyout. Spending years saving in order to "retire early", and then finding himself with nothing to do.
These are the stories I've recently heard from people who DO have a positive work ethic. Men and women who have shown loyalty to their employers for decades only to find themselves lost at the end of their careers. When my mother retired at 62 my father-in-law warned her, "Watch out, the first year is hard."
Depression Was Not Expected
What? There's a downside to retiring? To my friends in our 40's, retirement is the allusive end of the stress, end of the worries, do-what-I-want time of life. But now I hear from my parents' generation that retirement is not all it's cracked up to be. Worries about money, health, prescription expenses, Medicare. Loss of independence as we age, our bodies not being able to do what our minds still want them to do. And suddenly, after being a dedicated employee, going to work every day, in sickness and in bad weather, putting their needs and families and recreation on hold to make a good living and provide a good home, they suddenly find themselves with nothing to do.
For a generation that defined themselves by their job and were proud of it, they now find themselves with too much time on their hands, too much time to think. They're not sure what to do because they have been such good employees, they don't know how to do what THEY want.
They tell me they want to be happy. I ask them what would make them happy. They say they don't know. They haven't thought about it. I asked someone, what are your goals? She said, I don't have any goals. This was the goal.
Retirement is Not Depressing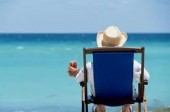 So now we discuss what comes next. We create a new way of thinking about personal growth, about what will you do now that you finally have the time to do it. Now that the kids are grown, and your schedule is your own, and you still have the ability to go and do, how will you fill our time?
What I hear is, more work. A part-time job. Or finishing years of unfinished projects around the house. And, of course, these are fine. And certainly better than sitting and wallowing. This is your time to do what you want. If that means work, so be it. For the first time in a long time, you get to decide what makes you happy.
This is new for some, to have a choice. The first step is to wrap the mind around it. To realize it is okay to sit sometimes, to go sometimes, to say no if you want, or stay up late if you want, or spend some money on you. We call this an adjustment. And after 35 years of doing it one way, it's no surprise it can feel a little weird.
APA Reference
Merz, A. (2012, June 26). Retirement is Depressing, HealthyPlace. Retrieved on 2023, December 7 from https://www.healthyplace.com/blogs/copingwithdepression/2012/06/retirement-is-depressing
Author: Amie Merz, LPC, NCC
I am 71 years old engineer who retired voluntarily three years ago from a nice and lucrative job. I had no plans for retirement but just decided sitting on an airport on why I am working. Being an immigrant who have lived in seven countries I have no hobbies and do not know how to spend money that I saved up. My wife is 63 years old and has her own business and works lot of hours so we cannot travel that Ilike to do. I found consulting work after retirement that enabled me to travel almost everywhere in the world from Asia, South Africa, Europe, and South America. These assignments have now stopped because the organization I worked for had age limit of 70. I now do lot of volunteer work like helping the refugees and building projects for non profit. Money is not an issue. Being a private person, I listen to all others problems but I do not share any issues I have with any one. Some days when I am alone at home, it is the time the sense of depression hits. I try to go to gymnasium to get over it. Lately it is getting worse.
I am at the place where working is depressing because the others kmow you are going and retiring will be depressing I have a lot to do at my house but when I fix one thing five things break wish I couls just find a hole and crawl in it
Leave a reply