Teen Girls in 2015 Need Good Communication Skills
HealthyPlace Mental Health Newsletter
Here's what's happening on the HealthyPlace site this week:
Teen Girls in 2015 Need Good Communication Skills
What teen girl doesn't struggle with interpersonal relationships and trying to figure out who they are and how they fit in? Teen girls face complicated social interactions, especially in today's all-consuming social media world. Dealing with parents, school, romantic relationships, bullying, friends drama and Facebook miscommunication can be fraught with stressful and high-crisis situations for which most teen girls are unprepared. That's why our Building Self-Esteem blogger and therapist, Emily Roberts, MA, LPC, came out with Express Yourself: A Teen Girl's Guide to Speaking Up and Being Who You Are. Emily talks more about the book in this video.
A Teen Girl's Guide To Speaking Up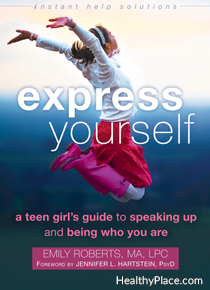 Why is this book important? Most girls have never been taught the skills or had enough experience to manage these complicated environments effectively. Express Yourself provides step-by-step communication and confidence guidelines for typical common stressful situations. The chapter titles include:
Communicating with Confidence
Friends and Frenemies
Family Frustrations and Building Better Bonds
Digital Drama and Texting Troubles
The Social Butterfly: You with Your Peers
Romantic Relationships
Powerful Adults and Professionals
Whether you're a teen girl or a parent or grandparent of one, Express Yourself provides an understandable, easy-to-digest, way of getting insight into potential communication problems and providing the tools and solutions to deal with them. With Express Yourself, you get a book that provides technology skills in tandem with confident communication skills; something every girl needs, and every parent needs to understand, in today's world.
Articles Related to Teen Girls and Self-Esteem
Your Thoughts
Today's Question: Does your teen daughter have healthy or low self-esteem? What do you attribute that to? We invite you to participate by commenting and sharing your feelings, experiences and knowledge on the HealthyPlace Facebook page and on the HealthyPlace Google+ page.
---
---
Share our Stories
At the top and bottom of all our stories, you'll find social share buttons for Facebook, Google+, Twitter, Pinterest and other social sites. If you find a particular story, video, psychological test or other HealthyPlace feature helpful, there's a good chance others in need will too. Please share.
We also get many inquiries about our linking policy. If you have a website or blog, you can link to any page on the HealthyPlace website without asking us beforehand.
Most Popular HealthyPlace Articles Shared by Facebook Fans
Here are the top 3 mental health articles HealthyPlace Facebook fans are recommending you read:
If you're not already, I hope you'll join us/like us on Facebook too. There are a lot of wonderful, supportive people there.
------------------------------------------------------------------
From the HealthyPlace Mental Health Blogs
On all our blogs, your comments and observations are welcomed.
Feel free to share your thoughts and comments at the bottom of any blog post. And visit the mental health blogs homepage for the latest posts.
------------------------------------------------------------------
Stand Up for Mental Health
Thousands Have Joined the Stand Up for Mental Health Campaign
But we still need you. Let others know there's no shame in having depression, anxiety, bipolar disorder, trichotillomania, OCD, ADHD, schizophrenia or any other mental illness.
Join the Stand Up for Mental Health campaign. Put a button on your website or blog (buttons for family members, parents, mental health professionals and organizations too). We also have covers for Facebook, Twitter and Google+.
------------------------------------------------------------------
Latest Mental Health News
These stories and more are featured on our mental health news page:
Use Of Certain Painkillers Linked With Increased Risk Of Homicide
Study Finds That 5.8% Of The General Population Have Experienced Psychotic Episodes
Spouses' Mood May Impact The Well-Being Of Cancer Survivors
Research Links Impulsivity And Binge Eating
Weak Electric Current To The Brain May Improve Thinking In People With Schizophrenia
Alzheimer's Culprit Causes Memory Loss Even Before Brain Degeneration
Tuberculosis Drug Can Improve Effect Of CBT
That's it for now. If you know of anyone who can benefit from this newsletter or the HealthyPlace.com site, I hope you'll pass this onto them. You can also share the newsletter on any social network (like facebook, stumbleupon, or digg) you belong to by clicking the links below. For updates throughout the week:
APA Reference
Staff, H. (2015, June 1). Teen Girls in 2015 Need Good Communication Skills, HealthyPlace. Retrieved on 2023, December 8 from https://www.healthyplace.com/other-info/mental-health-newsletter/teen-girls-in-2015-need-good-communication-skills
Last Updated: June 2, 2015