One Depression Management Technique That Works
Here's what's happening on the HealthyPlace site this week:
---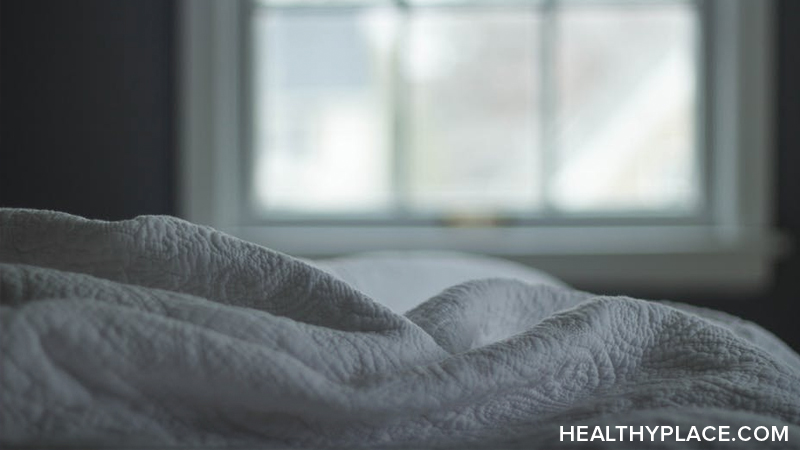 One Depression Management Technique That Works
Depression can be hard to manage. Depression can zap someone's energy and zest for life, often making it difficult just to get up and out of bed. Because depression, and the people it affects, are complex, there aren't quick-fixes or cure-alls. However, there are things that can be done consistently to manage and overcome depression.
A man who once lived with severe depression shared a depression management technique that worked for him and his depression: every single morning, get up and immediately make your bed. This man explains to people that this was one of the hardest things he had to do. He didn't want to get up, let alone make his bed. He did so because his therapist asked him to try an experiment.
Once he did, he discovered that this small action exhausted him yet gave him a flicker of empowerment. Even if he accomplished nothing else the rest of the day, he had started his day with action. Even if he lay down on the bed and fell asleep, he wasn't in the bed. This made it easier for him to get up again. Making his bed came to symbolize that he was more powerful than his depression, and when he needed to retreat, he couldn't do it fully because he had made his bed.
Related Articles Dealing with Depression Management
Your Thoughts
Today's Question: In order to make your bed, you have to get out of it. What tips do you have for getting out of bed when depression wants to keep you in? We invite you to participate by sharing your thoughts, knowledge, and experiences on the HealthyPlace Facebook page and on the HealthyPlace Google+ page.
---
---
From the HealthyPlace Mental Health Blogs
On all our blogs, your comments and observations are welcomed.
Feel free to share your thoughts and comments at the bottom of any blog post. And visit the mental health blogs homepage for the latest posts.
------------------------------------------------------------------
From HealthyPlace YouTube Channel
I'm Hannah. I Have Bipolar 2
Bipolar and ADHD: A Double Whammy!
Living with bipolar disorder and ADHD. Imagine that challenge. (Watch Hannah)
I'm Veronica. This is My Life with Depression
I'm excited to introduce you to Veronica Lombo. Veronica is our new depression vlogger on the HealthyPlace YouTube channel. She will be posting every Tuesday morning.
Veronica has been living with major depression for 15+ years. To learn more about Veronica, watch her video and read the text beneath the video.
I'm Veronica. This is My Life with Depression
------------------------------------------------------------------
Most Popular HealthyPlace Articles Shared by Facebook Fans
Here are the top 3 mental health articles HealthyPlace Facebook fans are recommending you read:
If you're not already, I hope you'll join us/like us on Facebook too. There are a lot of wonderful, supportive people there.
------------------------------------------------------------------
Mental Health Quote
"Felling like you´re about to cry when someone points out you´re doing something wrong."
Read more anxiety quotes.
------------------------------------------------------------------
That's it for now. If you know of anyone who can benefit from this newsletter or the HealthyPlace.com site, I hope you'll pass this onto them. You can also share the newsletter on any social network (like facebook, stumbleupon, or google+) you belong to by clicking the links below. For updates throughout the week, circle HealthyPlace on Google+, follow HealthyPlace on Twitter or become a fan of HealthyPlace on Facebook. Also, check out HealthyPlace on Pinterest and share your mental health pins on our Share Your Mental Health Experiences board.
back to: HealthyPlace.com Mental-Health Newsletter Index
APA Reference
Peterson, T. (2017, August 28). One Depression Management Technique That Works, HealthyPlace. Retrieved on 2023, December 2 from https://www.healthyplace.com/other-info/mental-health-newsletter/one-depression-management-technique-that-works
Last Updated: September 6, 2017