Is Depression Making You Bully Yourself?
Here's what's happening on the HealthyPlace site this week:
---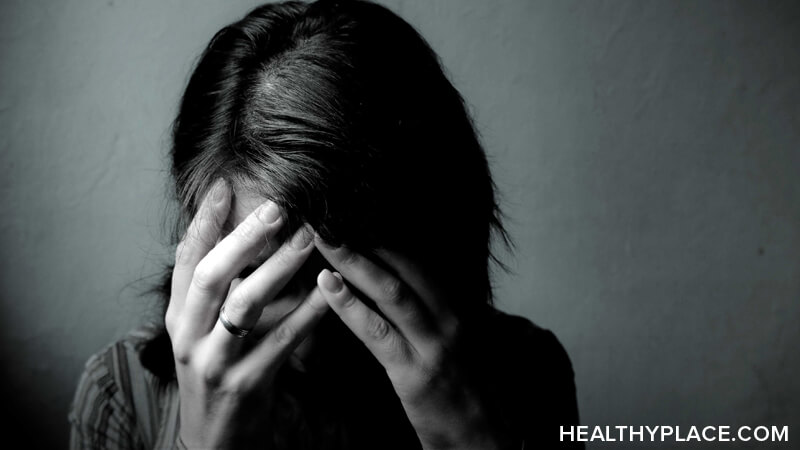 Is Depression Making You Bully Yourself?
Bullying yourself. One of the cruel things about depression—and there are so many—is that it turns someone into his own worst enemy. Depression involves having automatic negative thoughts, many of which are self-critical.
These thoughts are exactly what the name says. They're automatic, which means they're in our head, and we buy into them without really thinking about it. They're also negative. They're critical, harsh, and distorted.
Someone with depression bullies herself relentlessly as part of these automatic negative thoughts. Have you ever caught yourself thinking things like this?
These statements are hurtful, and they can worsen depression. It's easy to get stuck in a cycle of despair and self-bullying.
Start noticing how you're talking to yourself. When you notice criticisms, you can interrupt and reduce self-bullying. You might not believe this right now, but it's true: you don't deserve to be so hard on yourself.
Related Articles Dealing with Depression and Self-Bullying
Your Thoughts
Today's Question: When you're bullying yourself, how do you break away from the harsh criticism? We invite you to participate by sharing your thoughts, experiences, and knowledge on the HealthyPlace Facebook page and on the HealthyPlace Google+ page.
---
---
From the HealthyPlace Mental Health Blogs
On all our blogs, your comments and observations are welcomed.
Feel free to share your thoughts and comments at the bottom of any blog post. And visit the mental health blogs homepage for the latest posts.
------------------------------------------------------------------
From HealthyPlace YouTube Channel
I'm Hannah. I Have Bipolar 2
Bipolar Disorder and Self Harm
Self-harm is not a symptom of bipolar disorder, but it is something that a lot of people with bipolar struggle with, including myself. Because of that, I'm sharing my experience with self-harm and bipolar disorder.(Watch Hannah)
------------------------------------------------------------------
Most Popular HealthyPlace Articles Shared by Facebook Fans
Here are the top 3 mental health articles HealthyPlace Facebook fans are recommending you read:
If you're not already, I hope you'll join us/like us on Facebook too. There are a lot of wonderful, supportive people there.
------------------------------------------------------------------
Mental Health Quote
"You need to look after yourself too. If you need to rest, rest. If you need time alone, retreat."
Read more mental health quotes.
------------------------------------------------------------------
That's it for now. If you know of anyone who can benefit from this newsletter or the HealthyPlace.com site, I hope you'll pass this onto them. You can also share the newsletter on any social network (like facebook, stumbleupon, or google+) you belong to by clicking the links below. For updates throughout the week, circle HealthyPlace on Google+, follow HealthyPlace on Twitter or become a fan of HealthyPlace on Facebook. Also, check out HealthyPlace on Pinterest and share your mental health pins on our Share Your Mental Health Experiences board.
back to: HealthyPlace.com Mental-Health Newsletter Index
APA Reference
Peterson, T. (2018, February 5). Is Depression Making You Bully Yourself? , HealthyPlace. Retrieved on 2023, December 1 from https://www.healthyplace.com/other-info/mental-health-newsletter/is-depression-making-you-bully-yourself
Last Updated: February 7, 2018