Introverts, Extroverts: Mental Health Awareness Month Tips
Here's what's happening on the HealthyPlace site this week:
---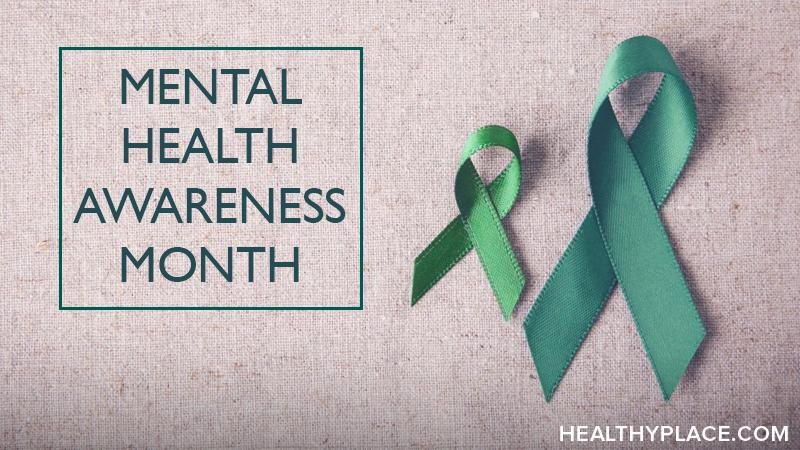 Introverts, Extroverts: Mental Health Awareness Month Tips
May is Mental Health Awareness Month, a time for actively spotlighting mental health (Importance of Mental Health Awareness Month). For many extroverts, this month is energizing in its opportunities to interact with others and raise awareness of a cause dear to them. For many introverts, this is a month of inner conflict. While the desire to raise awareness is there, the thought of having to go public is dreadful.
Here are some tips for both introverts and extroverts for participating in Mental Health Awareness Month.
Extroverts:
Host a themed poster-making party to create and hang signs.
Participate in a local event, such as a walk or run.
Grab some friends, hit the beach or a park (you might need permission), set up chairs and a sign, and invite people to sit and chat.
Introverts:
Use your creativity to make things to give to close friends or family members.
Make bookmarks containing mental health tips, take them to the library, and leave them on tables or on shelves between books.
Invite a few people over to watch and discuss a movie about mental health or illness.
If you want to participate in raising awareness during Mental Health Awareness Month, do it your way. Introvert or extrovert, do something that fits you.
Related Articles Dealing with Introverts and Extroverts
Your Thoughts
Today's Question: In what ways, big or small, are you participating in Mental Health Awareness Month? We invite you to participate by sharing your thoughts, knowledge, and experiences on the HealthyPlace Facebook page and on the HealthyPlace Google+ page.
---
---
From the HealthyPlace Mental Health Blogs
On all our blogs, your comments and observations are welcomed.
Feel free to share your thoughts and comments at the bottom of any blog post. And visit the mental health blogs homepage for the latest posts.
------------------------------------------------------------------
From HealthyPlace YouTube Channel
Some of us with bipolar disorder also face body image challenges. The negative thoughts about my body started developing before I was diagnosed with bipolar 2. This eventually led to my having an eating disorder.
------------------------------------------------------------------
Most Popular HealthyPlace Articles Shared by Facebook Fans
Here are the top 3 mental health articles HealthyPlace Facebook fans are recommending you read:
If you're not already, I hope you'll join us/like us on Facebook too. There are a lot of wonderful, supportive people there.
------------------------------------------------------------------
Mental Health Quote
"The darkest place I've ever seen was inside me, and nothing scared me more."
Read more mental health quotes.
------------------------------------------------------------------
That's it for now. If you know of anyone who can benefit from this newsletter or the HealthyPlace.com site, I hope you'll pass this onto them. You can also share the newsletter on any social network (like facebook, stumbleupon, or google+) you belong to by clicking the links below. For updates throughout the week, circle HealthyPlace on Google+, follow HealthyPlace on Twitter or become a fan of HealthyPlace on Facebook. Also, check out HealthyPlace on Pinterest and share your mental health pins on our Share Your Mental Health Experiences board.
APA Reference
Peterson, T. (2017, May 1). Introverts, Extroverts: Mental Health Awareness Month Tips, HealthyPlace. Retrieved on 2023, December 7 from https://www.healthyplace.com/other-info/mental-health-newsletter/introverts-extroverts-mental-health-awareness-month-tips
Last Updated: May 8, 2017