Hesitant About Mental Health Therapy? Consider This
Here's what's happening on the HealthyPlace site this week:
---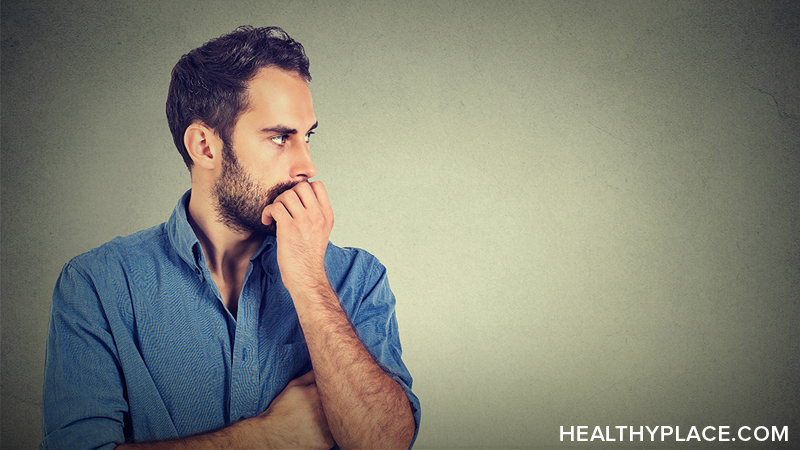 Hesitant About Mental Health Therapy? Consider This
If you've considered seeking mental health therapy but are uncertain whether or not it's for you, you're not alone. Currently, many factors can prevent someone from seeking therapy for a mental health problem. Sometimes, good mental health care can be hard to find. Even when it is readily available, fear of the unknown can keep people away. And of course there's the "s" word: stigma. Unfortunately, negative perceptions about therapy still exist.
Yet therapy can yield tremendous mental health benefits. Working with a therapist can help you process information you're reading on your own, understand your symptoms, get out of your head and back into life, and develop lasting skills for thriving.
If you're still not convinced, consider this research-based information summarized by the American Psychological Association1. Therapy:
works for a wide variety of mental health disorders and works across cultures, genders, and age groups;
is effective in increasing life functioning and decreasing symptoms;
decreases medical costs, disability, and the need for psychiatric hospitalization;
is often more effective than medication or mediation alone;
provides lasting results that increase over time, even after therapy has stopped.
Therapy might not be for everyone. Given the numerous benefits, though, mental health therapy is worth considering.
Source: American Psychological Association (2012). Recognition of Psychotherapy Effectiveness. Washington: American Psychological Association. Retrieved from http://www.apa.org/about/policy/resolution-psychotherapy.aspx
Related Articles Dealing with Mental Health Therapy
Your Thoughts
Today's Question: What was the number 1 benefit you received from therapy? We invite you to participate by sharing your thoughts, knowledge, and experiences on the HealthyPlace Facebook page and on the HealthyPlace Google+ page.
---
---
From the HealthyPlace Mental Health Blogs
On all our blogs, your comments and observations are welcomed.
Feel free to share your thoughts and comments at the bottom of any blog post. And visit the mental health blogs homepage for the latest posts.
------------------------------------------------------------------
From HealthyPlace YouTube Channel
Bipolar Disorder: Insecurities and Self-Doubt
Yes, I have bipolar 2. However, my natural personality is that I'm a little bit out there. I get energetic and excited about things when I'm talking with friends. And most of the time, nobody says a word about my behavior. Yet, after I leave, my bipolar insecurities start to creep in. And I start questioning myself. Was I obnoxious? Was I too out there?.
------------------------------------------------------------------
Most Popular HealthyPlace Articles Shared by Facebook Fans
Here are the top 3 mental health articles HealthyPlace Facebook fans are recommending you read:
If you're not already, I hope you'll join us/like us on Facebook too. There are a lot of wonderful, supportive people there.
------------------------------------------------------------------
Mental Health Quote
"This is one of the most frustrating things about having an anxiety disorder; knowing as you're freaking out that there's no reason to be freaked out. But lacking the ability to shut the emotion down."
Read more anxiety quotes.
------------------------------------------------------------------
That's it for now. If you know of anyone who can benefit from this newsletter or the HealthyPlace.com site, I hope you'll pass this onto them. You can also share the newsletter on any social network (like facebook, stumbleupon, or google+) you belong to by clicking the links below. For updates throughout the week, circle HealthyPlace on Google+, follow HealthyPlace on Twitter or become a fan of HealthyPlace on Facebook. Also, check out HealthyPlace on Pinterest and share your mental health pins on our Share Your Mental Health Experiences board.
APA Reference
Peterson, T. (2017, July 4). Hesitant About Mental Health Therapy? Consider This, HealthyPlace. Retrieved on 2023, December 3 from https://www.healthyplace.com/other-info/mental-health-newsletter/hesitant-about-mental-health-therapy-consider-this
Last Updated: July 10, 2017