Duetact Type 2 Diabetes Treatment - Duetact Patient Information
Brand Name: Duetact
Generic Name: Pioglitazone Hydrochloride and Glimepiride
Duetact, pioglitazone hydrochloride and glimepiride full patient information
Why is Duetact Prescribed?
Duetact is used, along with diet and exercise, to treat people with type 2 diabetes. It contains two medications, pioglitazone and glimepiride, that work together to help keep blood sugar levels under control. Type 2 diabetes usually stems from the body's inability to make good use of insulin, the natural hormone that helps to transfer sugar out of the blood and into the cells, where it's converted to energy. Duetact works by improving your body's response to its own natural insulin supply. It also helps increase the amount of insulin produced by the pancreas.
Most Important Fact about Duetact
Always remember that Duetact is an aid to, not a substitute for, good diet and exercise. Failure to follow a sound diet and exercise plan can lead to serious complications, such as dangerously high or low blood sugar levels. Remember, too, that Duetact is not an oral form of insulin, and cannot be used in place of insulin.
How Should You Take Duetact?
Duetact should be taken once a day with the first meal of the day.
If you miss a dose...
Take it as soon as you remember. If you miss a dose on one day, skip it and go back to your regular schedule. Never take two doses at once.
Storage instructions...
Store at room temperature, away from moisture.
What Side Effects may Occur?
Side effects cannot be anticipated. If any develop or change in intensity, inform your doctor as soon as possible. Only your doctor can determine if it is safe for you to continue taking Duetact.
Side effects may include:
Diarrhea, headache, lower blood sugar, nausea, pain in legs, upper respiratory tract infection, urinary tract infection, weight gain
Why Should Duetact Not be Prescribed?
Do not take Duetact if you are allergic to any of its ingredient, or if you have diabetic ketoacidosis. This problem should be treated with insulin.
---
---
Special Warnings about Duetact
Tell your doctor about all prescription, over-the-counter, and herbal medications you are taking to avoid an interaction with Duetact. Also, talk to your doctor about your complete medical history, including heart problems and all other type 2 diabetic medications you have taken.
In rare instances, pioglitazone, one of the medications in Duetact, causes swelling that can lead to congestive heart failure. Contact your doctor immediately if you develop symptoms of this problem, such as rapid weight gain, water retention or swelling, fatigue, and shortness of breath. Drug therapy with pioglitazone is not recommended for people with congestive heart failure.
During periods of stress—such as infection, fever, trauma, or dehydration due to diarrhea or vomiting—your medication requirements may change. Be sure to consult your doctor during such times.
For further recommendations, see the individual entries for pioglitazone and glimepiride.
Special Information if You Are Pregnant or Breastfeeding
Talk to your doctor if you are pregnant, planning to become pregnant, or nursing. Duetact is not recommended for pregnant women; blood sugar levels should be maintained with insulin during pregnancy. Also, Duetact may pass into breast milk. If you plan on breastfeeding, talk to your doctor about your options.
Recommended Dosage for Duetact
ADULTS
Duetact is taken as a single tablet once daily. The tablet strength your doctor prescribes will be based on the usual starting doses of the ingredients pioglitazone and glimepiride. The tablet is available in two strengths: 30 milligrams/2 milligrams and 30 milligrams/4 milligrams, with the first number being the amount of pioglitazone and the second number being the amount of glimepiride.
Overdosage
Any medication taken in excess can have serious consequences. If you suspect an overdose, seek medical attention immediately.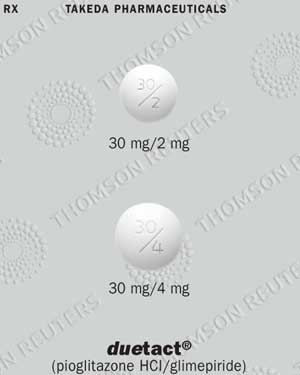 Last Updated: 09/07
Duetact, pioglitazone hydrochloride and glimepiride full patient information
Detailed Info on Signs, Symptoms, Causes, Treatments of Diabetes
back to:Browse all Medications for Diabetes
APA Reference
Staff, H. (2007, September 30). Duetact Type 2 Diabetes Treatment - Duetact Patient Information, HealthyPlace. Retrieved on 2023, December 1 from https://www.healthyplace.com/diabetes/medications/duetact-pioglitazone-diabetes-2
Last Updated: July 17, 2014