Home - Make it Your Personal Sanctuary
Because my business life is so busy, my home is really my sanctuary. That is where I reflect and spend quality time… ~Rachel Roy
Essence of Home
Is your life hectic? Are you constantly moving at Mach 2? Do you have a special place where you can breathe a sigh of relief and throttle back? Do you have a place you can call your personal sanctuary?
"Humble abode," in essence, means a home marked by meekness in the air. Your home should be your creation—a true expression and extension of you. Life can be hectic and the daily grind can take its toll. Often times you may feel out of sorts and out of balance. But when you arrive home, you should feel comfortable, at ease and in harmony with your surroundings. Being in your home should make you feel good.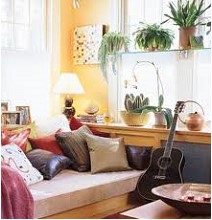 I vividly recall when I first moved into my current residence, for the first two months the only home goods I had was an air-mattress and an iron. Now, granted, that may be a privilege given the world we live in, but I did not feel comfortable, at ease or in harmony with my surroundings. Frankly, it was a restless period of time. Finally, my furnishings arrived and I begin to create the surroundings that made it feel like home and a place where I could retreat from the zany world.
Home should be a place that will help you regroup and center yourself for a restful sleep and start of a new day. When you walk through your door, you should feel free to hang up the coat named hectic and put on the slippers of harmony. Your home should be your personal sanctuary. It should be a place you can go to rest, restore and recharge. Having a home with balance, peace and good energy is fundamental to your journey of living a blissful life. Let's get started.
Seven basics to creating your personal sanctuary:
Pick a spot. Select a space in your home with little to no foot traffic.
Declutter the space. Get rid of "stuff." It will inspire good energy flow.
Invite the sun. Let in natural light. It can improve your mood.
Create calm. Add something that makes the space feel relaxing to you.
Play soothing sounds. Relaxing sounds of nature creates a sensation of calm.
Freshen the air. Add fresh scents that are pleasing to your senses.
Meditate. Close your eyes. Take a long deep breath. Slowly exhale, then inhale and repeat five times.
You can also find Dr. Savion on her website, Google+, Twitter, Linkedin and Facebook.
APA Reference
Savion, S. (2014, March 22). Home - Make it Your Personal Sanctuary, HealthyPlace. Retrieved on 2023, December 5 from https://www.healthyplace.com/blogs/livingablissfullife/2014/03/home-make-it-your-personal-sanctuary
Author: Sydney Savion, D.Ed.