More Ideas on Managing Your Bipolar Medication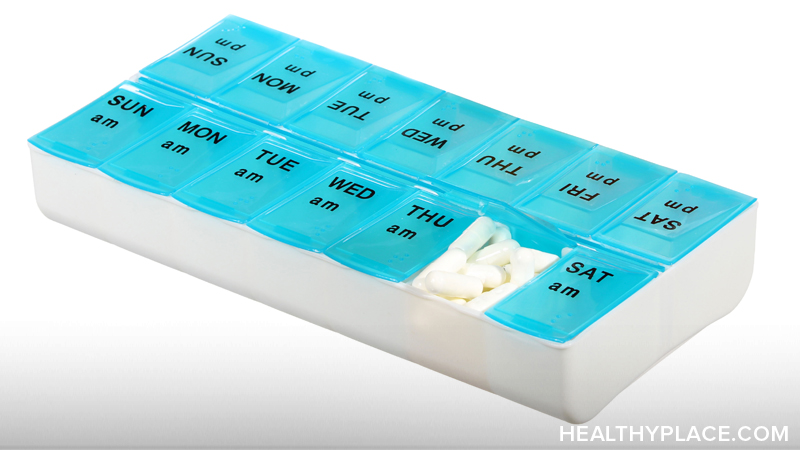 Often people who have bipolar disorder take a lot of pills every day. Here are ways to make sure you take the right pill at the right time and learn what you should know about your medications.
Here's How:
Always read the package inserts on new medications. If you find a drug interaction with something else you are already taking listed, call your doctor right away.
Save the inserts or know where you can look up the possible effects and side effects of all your meds.
When you start a new drug or have a dosage change on a med, pay attention to how you feel and behave for a few days to a week in case of adverse reactions.
Consider keeping a medication journal where you record your prescriptions and dosages and keep track of changes and how you responded to them.
Consider making a daily list and checking off the pills as you take them.
Purchase a pill case or "med minder" that has compartments for days and/or time of day, depending on your own needs.
Choose a day of the week or a time of day to put the proper pills in the proper compartments of your pill case.
Set alarms to go off when it is time to take the next pill(s). Use clocks, watch, computer programs, electronic organizers - whatever works for you.
If you always take certain pills with meals, put them in a little bowl by your place setting before the meal starts.
For something attractive at home, think about using a spice rack to hold your pills. Re-label the bottles appropriately. These bottles are large enough to hold vitamins, too.
Tips:
When you travel, always put your medications in your carry-on luggage so you will have them if your checked baggage goes astray. If you might run out, get refills early.
Check your prescriptions at the pharmacy, if possible, to make sure the proper medication has been dispensed.
Consult your doctor before mixing prescriptions with over-the-counter drugs or herbal supplements. Check package inserts for food interactions, too.
APA Reference
Tracy, N. (2021, December 28). More Ideas on Managing Your Bipolar Medication, HealthyPlace. Retrieved on 2023, December 6 from https://www.healthyplace.com/bipolar-disorder/medication-noncompliance/more-ideas-on-managing-your-bipolar-medication
Last Updated: January 7, 2022