Cutting Help and Treatment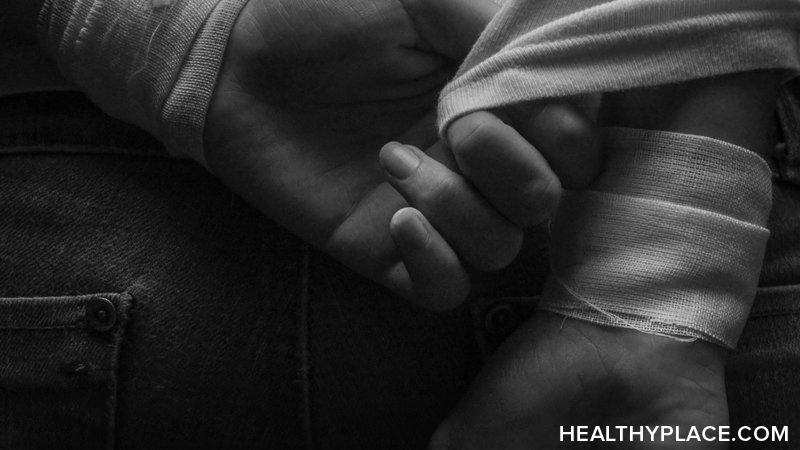 Cutting help and cutting treatment is available and is effective. Self-injury cutting is a possibly lethal form of self-harm that injures many people per year.
Cutting treatment can be provided in residential facilities, in outpatient programs, in groups or even one-on-one. Anyone who wants to stop self-harm can do it by engaging with cutting help and treatment for cutting.
Cutting is any form of self-harm that breaks the skin and causes bleeding. Any form of cutting should be taken seriously because while likely not a direct suicide attempt, self-harm is correlated with a higher-than-average risk of suicide. (More on self-harm and suicide and the effects of self-injury)
Inpatient Cutting Help
Some facilities offer inpatient (live-in) cutting help and treatment. This type of cutting treatment might be a good idea for someone who has previously tried and had unsuccessful treatment or for someone who frequently cuts and believes they cannot stop without direct supervision. An inpatient cutting treatment program may include:1
Different types of therapy such as individual, group and family
Self-injury evaluation
Impulse control management classes
Education on self-harm
Medication management (where needed)
Case management
Collaboration with other professionals
Planning for care after leaving the facility
Programs that offer cutting treatment often involve multiple professionals to aid in care. Part of the program might be:
A psychiatrist
A psychologist
A registered nurse
Support staff
Specialized therapists
Inpatient programs can be very expensive ($20-30,000/month) and intense and so require a commitment on the part of the patient that they do want to stop cutting and will try their hardest during cutting treatment.
Outpatient Cutting Treatment
Some cutting treatment programs are still very intensive but operate on an outpatient basis; where the patient attends treatment during the day but continues to live at home. This type of cutting help often includes similar types of services to inpatient cutting treatment but requires greater individual responsibility over not cutting due to the lesser oversight.
When attending cutting treatment, the patient is often asked to sign a document promising they will not harm themselves while in the program. A patient may also be asked to identify alternative self-injury coping methods up-front and be expected to use these instead of self-harming. (Self-Injury Self-Help: Self Help Coping Skills for Self Harm)
Therapeutic Cutting Help
A person may instead elect to seek out less intensive cutting therapy. This may be in the form of group therapy or individual counseling. Therapists who are licensed and specialize in self-harm are the best choice for cutting help. This type of therapy might be found through a treatment center but can also be found in the community or through mental health organizations. Common forms of therapy for cutting treatment include:
Cognitive behavioral therapy (CBT)
Dialectical behavior therapy (DBT)
Interpersonal psychotherapy
Medication Cutting Help
Medication is rarely prescribed for cutting treatment, when cutting or self-harm is the only problem present. Many people who cut, however, also have underlying mental illnesses and so those must be treated when undergoing treatment. These underlying illnesses, such as bipolar disorder, depression or borderline personality disorder, may require the use of psychiatric medication and other specialized treatment.
APA Reference
Tracy, N. (2021, December 24). Cutting Help and Treatment, HealthyPlace. Retrieved on 2023, December 2 from https://www.healthyplace.com/abuse/self-injury/cutting-help-and-treatment
Last Updated: March 25, 2022